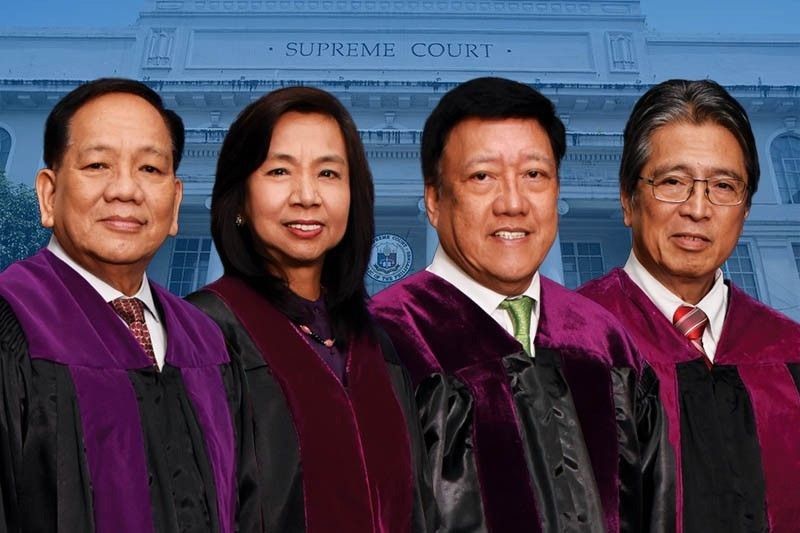 Associate Justices Diosdado Peralta, Estela Perlas-Bernabe, Andres Reyes Jr. and Jose Reyes Jr. are vying for the chief justice post.
Composite photo by Philstar.com/Junats Asuncion, photos from Supreme Court website
Still no new CJ as Bersamin retires
DAVAO CITY, Philippines – President Duterte has yet to appoint the next chief justice, replacing Lucas Bersamin who retired yesterday.
Executive Secretary Salvador Medialdea told The STAR that the President has not yet appointed anyone.
Sources, however, said Duterte had picked Supreme Court (SC) Associate Justice Andres Reyes Jr. as the next chief justice.
Medialdea denied reports that Duterte has picked Senior Associate Justice Diosdado Peralta to succeed Bersamin.
The President is expected to appoint the next chief justice soon based on three justices endorsed by the Judicial and Bar Council (JBC).
On Tuesday, the JBC submitted to Duterte a shortlist of candidates for the post, which included the names of Peralta, Reyes and Associate Justices Estela Perlas-Bernabe.
Reyes is a third generation justice in his family and was appointed by Duterte to the SC. A graduate of Ateneo Law School, Reyes will retire on May 11 next year.
Peralta was appointed to the Supreme Court in 2009 by former president Gloria Macapagal-Arroyo. Bernabe had served in local courts in Makati before being appointed to the Court of Appeals and later the SC.
Vice President Leni Robredo yesterday appealed to whoever Bersamin's successor may be to always protect the integrity of the Supreme Court.
"We always have the same message not just for the chief justice but for the entire judiciary, that the judiciary is the pillar of the democracy," Robredo said in an interview in Camarines Sur.
"The obligation of the one holding the position is to protect the institution... not to lose the people's trust in the judicial system," she said.
Meanwhile, US Ambassador Sung Kim yesterday congratulated Bersamin on social media for his "productive tenure."
On his Twitter account, Kim posted, "Congratulations to Lucas Bersamin on his productive tenure as Philippine Supreme Court Chief Justice. We appreciated his leadership on important rule of law initiatives and look forward to seeing his continued advocacy for justice as a private citizen."
Bersamin finished his law degree at the University of the East. He was appointed as a Quezon City regional trial court judge in 1986.
He was promoted to the Court of Appeals in 2003 and appointed to the Supreme Court in 2009 by Arroyo.