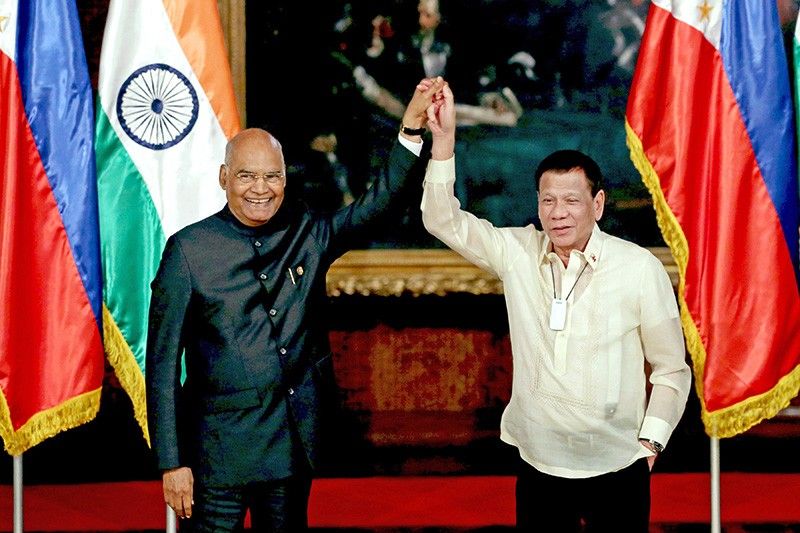 President Duterte poses with Indian President Ram Nath Kovind during a joint press conference at Malacañang yesterday. The Indian leader is in the Philippines for a five-day state visit.
Duterte, Kovind commit to boost Phl-India maritime ties
MANILA, Philippines – President Duterte and Indian President Ram Nath Kovind yesterday committed to strengthen ties in maritime cooperation, especially in their shared interests in the Pacific and Indian Oceans.
"As countries strategically located in the Pacific and Indian Oceans, we affirmed our shared interest to protect our maritime commons and advance the rule of law in our maritime domains," Duterte said.
Emerging from a bilateral meeting, the President said they also agreed to continue working together in combatting "terrorism, violent extremism and other trans-boundary threats."
Describing their talks as fruitful, Duterte said he and Kovind also discussed maritime security and economic integration.
"With the signing of bilateral agreements, we have likewise widened the path toward enhancement of our engagement in maritime security, science and technology, tourism and cultural cooperation," he said.
During their joint press statement, Kovind cited the importance of sovereign nations being co-equals.
The Indian leader's visit to the Philippines is a landmark year as the two countries are celebrating 70 years of diplomatic relations.
Duterte underscored the Kovind administration's independent foreign policy anchored on "mutual respect and sovereign equality."
"The era of (zero-sum) games and the 'us vs them' approach to world affairs is over. What we need now is open and inclusive cooperation based on mutual respect and sovereign equality," he said.
"Just as India is deepening its presence in our region through the 'Act East Policy,' the Philippines is expanding the boundaries of its diplomacy in pursuit of a truly independent foreign policy, as mandated by our Constitution," Duterte said.
On the other hand, Kovind underscored the need to respect international law and sovereign equality.
"As two vibrant democracies that believe in a rules-based international order, respect for international law and sovereign equality of nations, the Philippines and India are natural partners in the pursuit of their respective national development and security objectives," he said.