DOH chief signs IRR of Universal Health Care
October 11, 2019 | 12:00am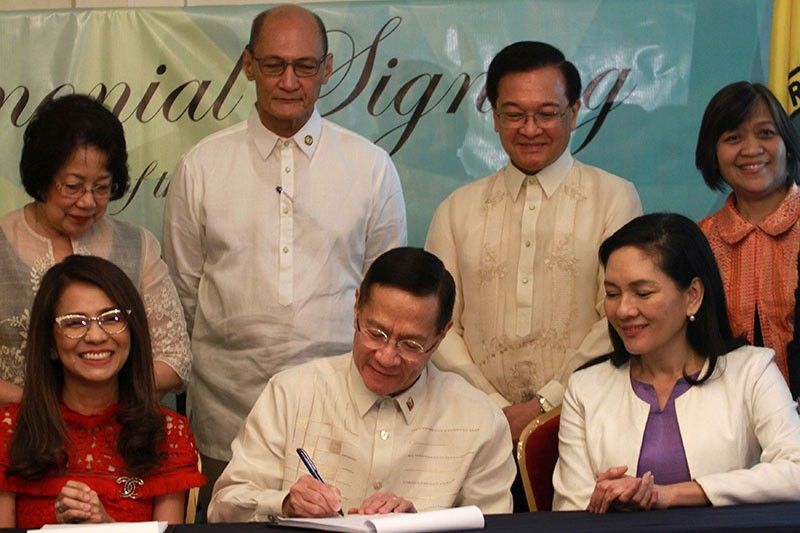 MANILA, Philippines — With a required funding of P1.5 trillion until 2024, the government is eyeing a progressive implementation of the Universal Health Care (UHC) law after Health Secretary Francisco Duque III signed yesterday its implementing rules and regulations (IRR).
"The implementation of the law is going to be universal in scope, but progressive in rollout," Duque said.
He said the issuance of the IRR would pave the way for the implementation of a holistic health care system for every Filipino.
Under Republic Act 11223 or the UHC law, all Filipinos are automatically enrolled in the Philippine Health Insurance Corp. (PhilHealth) and will be eligible to "No Balance Billing" or free hospitalization.
According to Duque, free hospitalization covers ward or basic accommodation in public or private hospital for any disease covered by PhilHealth.
Duque said the availability of basic ward accommodation would be ensured through prescribed basic-private bed ratios: 90:10 for public health facilities, 70:30 for public specialty health facilities and a minimum of 10:90 for private hospitals.
But he said the public could not fully enjoy the benefits of the UHC law all at once.
"The universal health care is not as if it's going to happen like magic the moment the IRR has been signed," Duque said, citing the challenges in its implementation.
The health chief said P257 billion is needed in the first year of the law's implementation, with incremental increases of about 10 to 15 percent per year for a total of P1.5 trillion until 2024.
At this time, Duque said PhilHealth could only afford to cover 75 to 85 percent of members' hospitalization expenses.
The government targets to cover 100 percent, but Health Undersecretary Mario Villaverde said it would take several years to make it a reality.
"That's why we are pilot-testing it first in 33 incubation sites nationwide so we can study how to improve the implementation of the UHC law," he explained.
Villaverde said there will be a transition period until the people can fully avail of the no balance billing.
While the law is yet to be fully realized, Duque said patients would have to shell out a little money from their own pocket when seeking medical services.
Duque said PhilHealth members would have to pay 0.25 percent increase in premium to be shared by the worker and the employer.
PhilHealth president Ricardo Morales assured the public that with the implementation of the UHC next January, the agency will be providing health benefits even to indirect or non-paying members.
"We have P100,000 health package for breast cancer that will be available to all, even indigents who cannot pay premiums," Morales said.