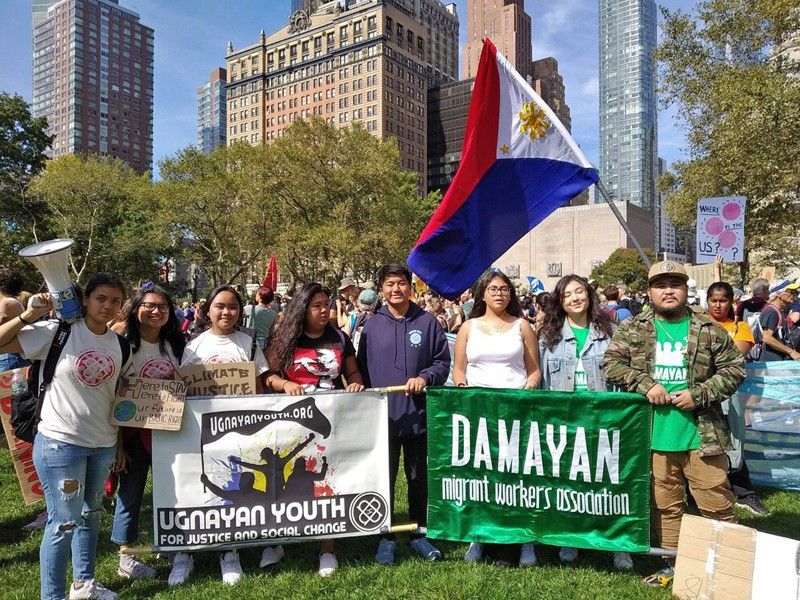 Young Filipinos carry an inverted Philippine flag during the climate strike, participated in by around half a million people, in New York City on Friday.
Janvic Mateo
Filipino youth join global strike for climate action
Janvic Mateo
(The Philippine Star) - September 22, 2019 - 12:00am
NEW YORK CITY – As world leaders gear up for the historic Climate Action Summit at the United Nations headquarters here next week, millions of youth around the globe took to the streets on Friday to press their call for concrete solutions to address the climate crisis.
In the Philippines, Climate Secretary Emmanuel de Guzman led the climate strike at the University of the Philippines campus in Quezon City, where dozens of advocates expressed solidarity with the youth in taking a stand against climate change.
"Today is a historic day for the climate movement, as millions of school youths across the globe, including Filipino youths, are on strike for the climate," de Guzman said in his solidarity message to the youth.
"They demand bold and fast actions from world leaders – to stop global warming and to secure a safer and more sustainable future for all and the generations to come. Clearly, a climate emergency is at hand, and we must deliver the solutions unnaturally fast. We are literally running out of time," he added.
Young survivors of Super Typhoon Yolanda also held the strike in Tacloban City, known as ground zero of the devastation brought by the strongest typhoon ever to make landfall in world history.
Over four million youth around the world took part in the strike, according to 16-year-old Swedish environmental activist Greta Thurnberg, who has become the face of the climate action after gaining worldwide attention for holding school climate strikes last year.
Here in New York City where the climate strike culminated, an estimated half a million youth, including Thurnberg, took part in the march in downtown Manhattan on Friday afternoon (early Saturday in Manila).
Filipinos, including former Climate Change Commission commissioner and current Greenpeace Southeast Asia executive director Yeb Saño, also joined the strike here at the Big Apple.
"The people are rising up and standing up against greed and arrogance and the very system that has brought us this climate crisis," he wrote on Twitter.
Terrenze Rienton, community defense organizer of Damayan Migrant Workers' Association, led a group of young Filipinos and Filipino-Americans in the event.
"We're here proudly carrying the Philippine flag to show that we are also affected by this issue," Rienton told The STAR. "We're here to urge our politicians and our leaders to really start looking into solutions for climate change."
Rienton's group paraded an inverted Philippine flag during the strike, saying this symbolizes the different conflicts currently faced by the Philippines and the Filipino people.
Cecilia Lim, board member of Ugnayan Youth for Justice and Social Change, noted that the Philippine islands are among the countries heavily impacted by climate change.
"We have been experiencing for years the devastation of our environment so we need to be here, we need to be on the frontlines," she said.
Bea Cañete, regional coordinator of Kabataan Alliance, said their participation in the strike is one way of showing solidarity with Filipinos in the Philippines.
"It is important for us Filipinos here in America to show solidarity with Filipino people back home who are at the brunt of environmental degradation," she said.
"The archipelago is prone to natural disasters because of neoliberal policies that have caused a lot of manmade environment degradation in the Philippines. We also have to show solidarity with our kababayans and allies who are fighting for the environment, defending the ancestral lands of indigenous peoples back home," she added.
Youth action
Friday's climate strike worldwide preceded the Youth Climate Summit and the Climate Action Summit that will be organized by the UN at its headquarters here this week.
During the student observance of the International Day of Peace on Friday, UN Secretary-General Antònio Guterres stressed the significance of the youth movement in calling for climate action.
"Peace with nature is the theme of this universal day of peace because it is essential to be in harmony with nature and because it is also an important factor to strengthen the possibility of peace among human beings," he said.
"What is extremely important to see today is that even if governments are still lacking political will, even if we are still unable to make full peace with nature, there is a huge hope in what the youth is doing all over the world. And the youth is clearly telling my generation that we need to change course and that we need to do it now," he added.
The Climate Action Summit, to be attended tomorrow by world leaders, is expected to feature bold actions and multi-stakeholder initiatives that will address high-impact areas such as transition to renewable energy, adaptation and nature-based solutions.
"We will showcase promising initiatives aiming at moving away from coal, putting a price on carbon, stopping subsidies for fossil fuels and cutting the pollution that damages our health," Guterres said at an earlier press briefing.