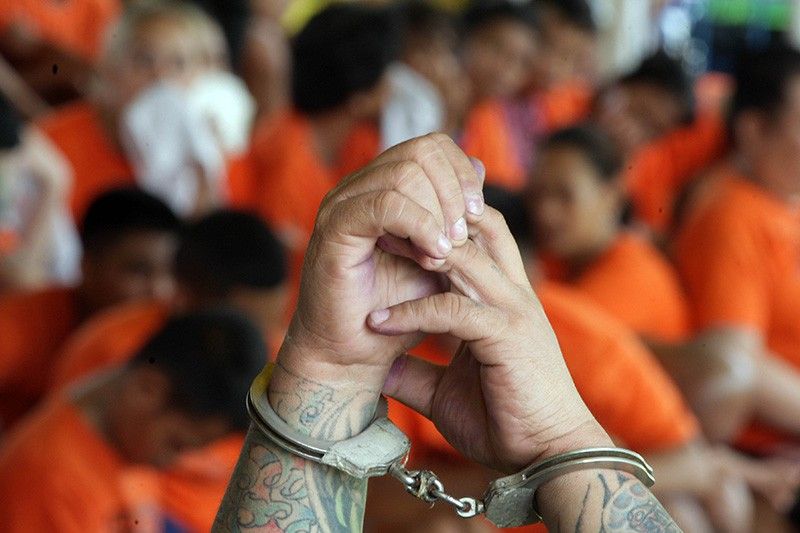 President Rodrigo Duterte ordered the freed convicts of heinous crimes released through GCTA law to surrender themselves to authorities until September 19, or they will be considered fugitives.
The STAR/Krizjohn Rosales
DOJ orders suspension of re-arrest of convicts of heinous crimes
MANILA, Philippines — The Department of Justice has requested the police to suspend the re-arrest of convicts freed through a controversial law who did not surrender within President Rodrigo Duterte's 15 "days of liberty."
In an interview with DZBB early Friday morning, Justice Undersecretary Markk Perete said they asked the police to put on hold the request around 1:00 a.m. of September 20.
"We understand that tracker teams have been activated but we communicated last night that they do put on hold re-arresting," Perete, who is also DOJ spokesperson, said in a mix of English and Filipino.
According to the Southern Police District, at least two freed convicts were arrested in Makati City and Muntinlupa City overnight.
Asked what will happen to those who were arrested in the wee hours of Friday, Perete replied: "We will validate first these reports."
DOJ on Thursday said: "The period to surrender will lapse 11:59 tonight, after that, re-arrest will take effect."
This directive followed Duterte's earlier directive. On Tuesday night, Duterte said: "I said, I will just set the timeline and then the P1 million prize is available to those who can capture them dead or alive but maybe dead would be a better option."
National Union of Peoples' Lawyers President Edre Olalia told Philstar.com that Duterte's directive is "dangerous and may be illegal." Justice Secretary Menardo Guevarra came to the president's defense and claimed that the order should not be taken literally.
Erroneous list
Perete said that as the deadline lapsed midnight of September 20, 1,950 freed convicts have turned themselves in at the Bureau of Corrections.
The number is higher than what was in the initial list of the BuCor that showed 1,914 convicts of heinous crimes were freed through the GCTA law.
The list, however, was proven erroneous as it listed convicts with a different crime committed or contained double entries of inmates.
RELATED: Napoles in custody despite 'erroneous' inclusion in GCTA release list
Fr. Eli Lumbo, executive director of the Philippine Jesuit Prison Service Foundation Inc., told ANC's Early Edition on Thursday that at least 20 of those who surrendered at the BuCor told him that they were not freed through GCTA. Some were released through parole, and at least two were already acquitted, but they still turned themselves in.
"They'd rather be on the safe side, surrender even though they are not under the heinous crime category," Lumbo also said.
Lumbo said the freed convicts he met were enveloped with "sadness, sense of loss, sense of uncertainty."
The DOJ, meanwhile, said that they will give a "cleaned up" list to the Department of Interior and Local Government to guide them in implementing the re-arrest.