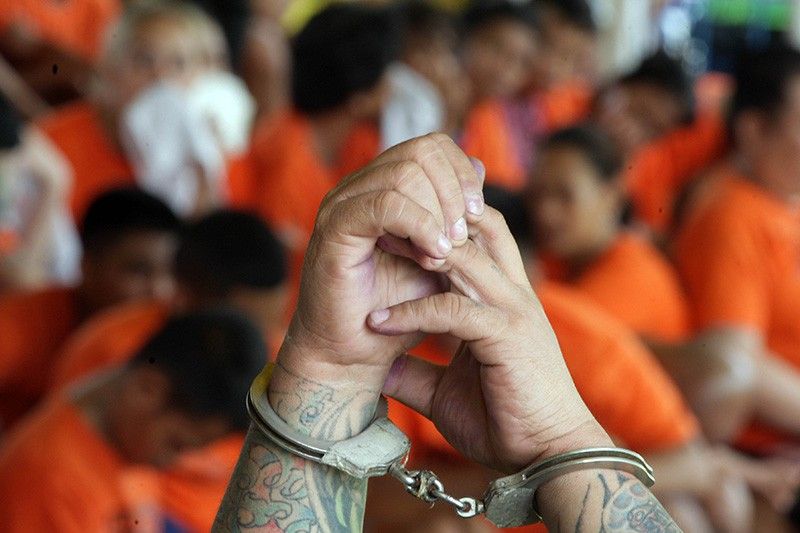 President Rodrigo Duterte ordered the freed convicts of heinous crimes released through GCTA law to surrender themselves to authorities until September 19, or they will be considered fugitives.
The STAR/Krizjohn Rosales
More than 1,000 freed convicts surrender on eve of Duterte's deadline
MANILA, Philippines — It is the day before the deadline President Rodrigo Duterte set for convicts earlier freed under a controversial law, and more than 1,000 of them have already turned themselves in.
Justice Undersecretary Mark Perete told reporters that as of 2:27 p.m. of September 18, a total of 1,025 convicts yielded at the Bureau of Corrections in Muntinlupa City.
Also on Wednesday night, two of the convicts in the rape and murder of the Chiong sisters in 1997 surrendered to authorities.
Perete earlier said that the Department of Justice received raw information that Josman Aznar and Anthony Uy showed up at Gate 1 of the New Bilibid Prison, around 6:30 p.m. of Wednesday.
Earlier released Bureau of Corrections data showed that 1,914 convicts of heinous crime were released since 2013.
But the Department of Justice said that in its interpretation of the law, heinous crime convicts are ineligible to the benefits of the law that expanded time credits for prisoners' good conduct.
Duterte ordered the freed convicts through GCTA law to surrender until September 19, or they will be considered fugitives. He put up a P1 million bounty for their capture, "dead or alive but maybe dead would be a better option."
National Union of Peoples' Lawyers president Edre Olalia told Philstar.com that Duterte's directive is "dangerous and may be illegal." Justice Secretary Menardo Guevarra came to the president's defense and claimed that the order should not be taken literally.
EXPLAINER: A look at the Supreme Court rulings behind Duterte's order to re-arrest freed convicts
DOJ to draft new list for DILG
Perete said that the DOJ is set to transmit to the Department of the Interior and Local Government a new list of convicts of heinous crimes that will face re-arrest after September 19.
"The list will contain a number of details of those [Persons Deprived of Liberty] prematurely released via GCTA, their offense, their last known address and also their picture to minimize mistaken identity in the course of the arrest," Perete, who is also DOJ's spokesperson, said.
The list will also serve as a guide of the DILG in implementing the re-arrest of those who will not turn themselves in past Duterte's deadline.
The Philippine National Police earlier said they are ready to deploy tracker teams to arrest the freed convicts.
READ: PNP: No shoot-to-kill order vs convicts
Fear, uncertainty envelope surrendered ex-inmates
A number of former inmates that surrendered to the BuCor, however, were not released under the GCTA law, said Fr. Eli Lumbo, executive director of the Philippine Jesuit Prison Service Foundation Inc.
Lumbo told ANC's Early Edition on Thursday that at least 20 of those who surrendered told him that they were not freed through GCTA. Some were released through parole, and at least two were already acquitted, but they still turned themselves in.
Lumbo said the freed convicts he met were enveloped with "sadness, sense of loss, sense of uncertainty."
"We don't really know because the current situation, [the] eeling or thought of people now is sense of fear given the President's directive that they should surrender before the 19th, which is today, so many if not all are afraid including their own families," the priest added.
"They'd rather be on the safe side, surrender even though they are not under the heinous crime category," Lumbo also said.