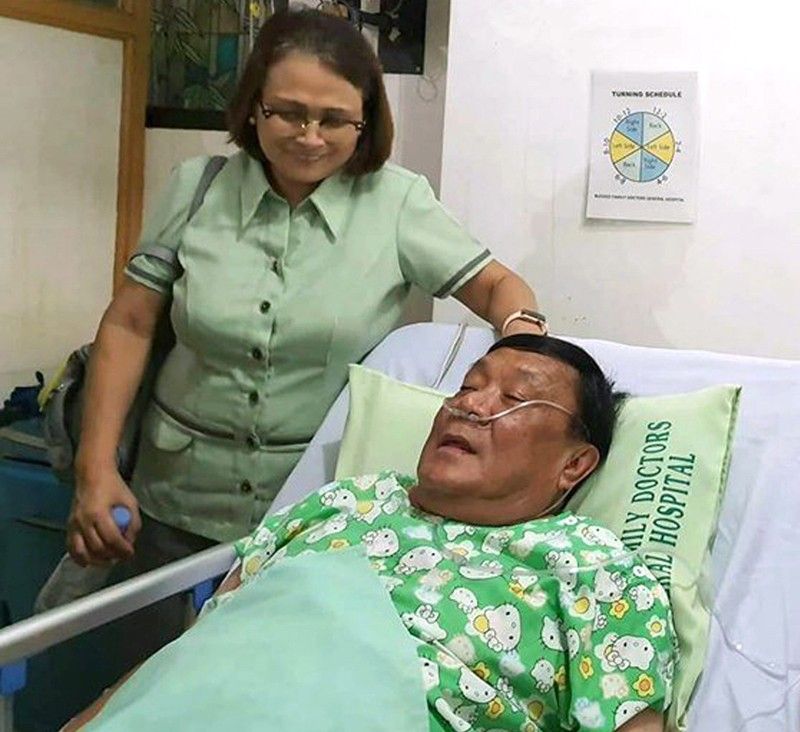 Photo from DWCM Aksyon Radyo Pangasinan shows former Pangasinan governor and congressman Amado Espino Jr. recuperating at the Blessed Family Doctors General Hospital in San Carlos, Pangasinan following an ambush in the city yesterday.
Ex-Pangasinan gov survives ambush; bodyguard killed
MANILA, Philippines — Former Pangasinan 5th District representative Amado Espino Jr. was wounded while one of his bodyguards was killed after they were ambushed by armed men in San Carlos City, Pangasinan yesterday.
Espino's wounded driver, Aga Cuison, managed to bring the former congressman to the nearby Blessed Family Doctors General Hospital. He was reported in stable condition.
Killed was Espino's security aide Cpl. Richard Esguerra who was in a black Innova backup vehicle.
Police said two other security aides, who were not immediately identified, were wounded in the attack.
The ambush took place in Barangay Magtaking at around 4:30 p.m., Philippine National Police spokesman Brig. Gen. Bernard Banac told reporters in a text message.
Espino, 71, and his escorts were attacked by an undetermined number of gunmen, Banac said.
"The motive has yet to be determined," he said.
Ilocos police director Brig. Gen. Joel Orduna said they were still investigating the incident.
He said Espino was on board a black Toyota Land Cruiser while his security escorts were riding two Toyota Innova multipurpose vehicles.
Orduna, who was heading to the scene of the incident when contacted by The STAR, said they did not receive information of any threat on Espino.
Espino, also a former governor, was among the politicians previously implicated in illegal drug trade.
President Duterte later apologized to Espino after they found out he was not involved in illegal drugs. – With Eva Visperas