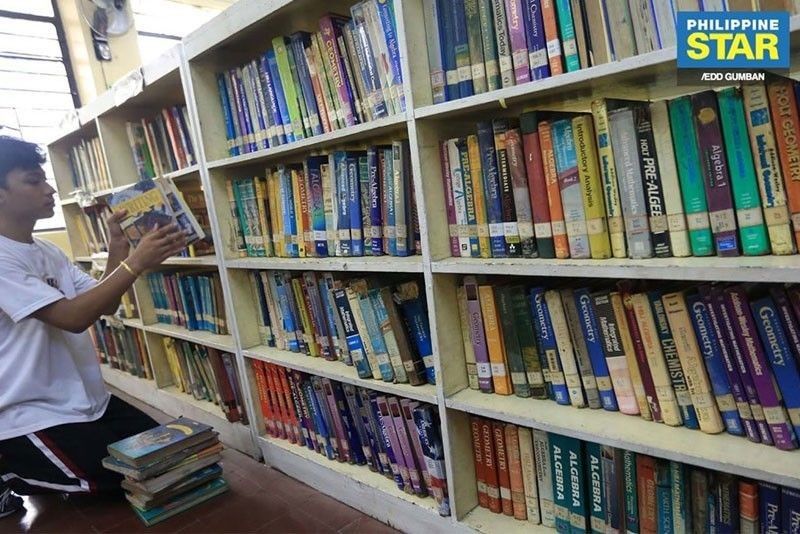 On the issue of errors in textbooks, the official said many of the "notable errors and deficiencies" found by COA are matters of usage and editorial preference. While there may be grammatical errors in textbooks, he said these are far from being "error-filled."
File
DepEd exec clarifies errors in textbooks
Janvic Mateo
(The Philippine Star) - August 24, 2019 - 12:00am
MANILA, Philippines — Textbooks in public schools are not "error-filled" and there are no irregularities in the conduct of teacher training and the existence of millions of unused learning materials, an official of the Department of Education (DepEd) said.
Speaking with "The Chiefs" aired on Cignal TV's One News on Thursday night, Education Undersecretary Nepomuceno Malaluan denied that there were anomalies in the agency following the recent observations made by the Commission on Audit (COA).
On the issue of errors in textbooks, the official said many of the "notable errors and deficiencies" found by COA are matters of usage and editorial preference. While there may be grammatical errors in textbooks, he said these are far from being "error-filled."
"(COA) presented a table on what it says are the notable errors and deficiencies found. As observed by the secretary, many of these are a matter of usage and editorial preference," he said, referring to the recent statements made by Secretary Leonor Briones that also disputed the reports on textbook errors.
State auditors, in their 2018 report of DepEd, flagged the agency for procuring over P254 million worth of Grade 3 learning materials that supposedly contained significant errors and deficiencies that "rendered these instructional materials of poor quality."
Auditors claimed to have found significant errors in the textbooks it reviewed, although it only released a list of 17 "notable errors/deficiencies" it found in the learning materials.
The DepEd said it has already conducted workshops involving academics and validators to verify comments and recommendations regarding learning resources and textbooks for kindergarten to Grade 10.
"Validated findings, description of errors found and recommendations on how to correct these will comprise the 'notes of teachers' that the department shall issue through a memorandum to the regions," the DepEd said in a separate statement.
Teacher training
In its audit report, the COA also flagged the department for spending P312.1 million on training, conventions and seminar workshops in 2017.
Malaluan, however, said that is a "reasonable amount," noting DepEd is the biggest government agency with more than 800,000 personnel, including public school teachers.
"The budget is P2,000 per head and it cannot go higher than that. All venues are procured and it goes through a bidding process," he said.
The DepEd earlier explained that the amount flagged by COA is equivalent to only 7.5 percent of its P4 billion annual budget for training and development programs.
"Budget estimates are strictly in accordance with existing budgeting, accounting, procurement, and auditing rules and regulations," it said.
"The selection of venues and facilities is approved only when it adheres to existing policies and guidelines on procurement, and with consideration to the need for prudence and economy in government service, suitability to the nature of activity, accessibility to the participants, and safety and security in the proposed location, among others," DepEd added.
Buffer stocks
Malaluan also denied irregularities in the existence of 3.4 million learning materials that were left idle in DepEd warehouses in Taguig.
He said these were buffer stocks that will serve as replacement for those that may be damaged by disasters, as well as for schools that will have larger enrollments in succeeding years.
"This 3.4 million, we looked at the inventory, this represented 137 titles. In the average, that's 25,000 in buffer per title… That's reasonable," he said, adding that they distributed 81 million books between 2016 and 2018.