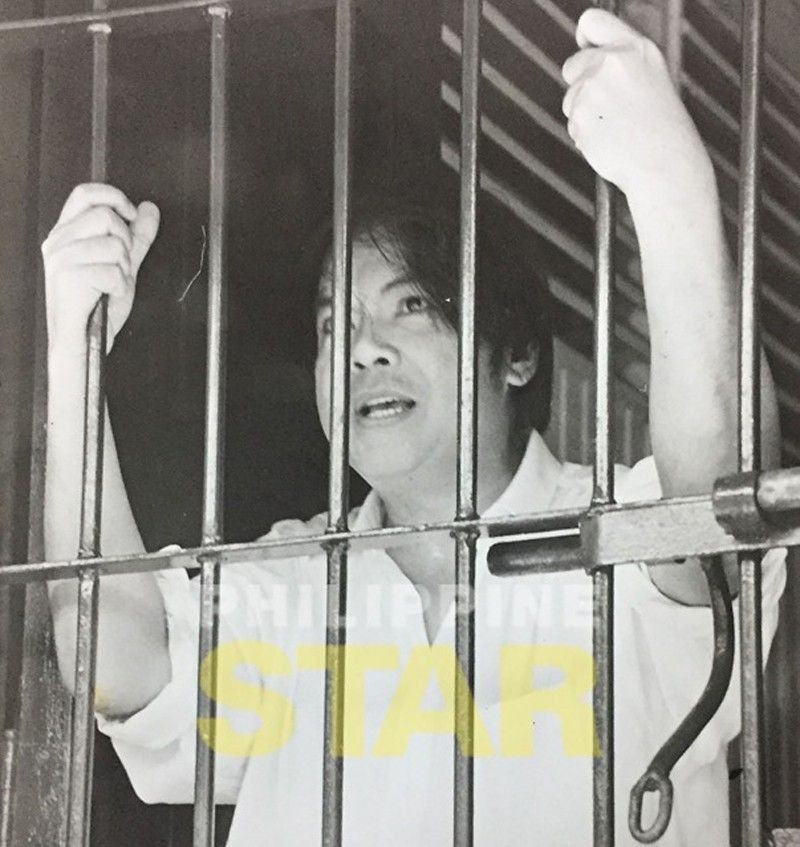 Antonio Sanchez is a former Laguna town mayor who was convicted for the murder of two college students, one of whom he also raped, more than two decades ago—a crime dubbed as a "plot seemingly hatched in hell."
The STAR, file
Palace backs DOJ: Sanchez ineligible for 'good conduct' release
MANILA, Philippines — Malacañang on Friday echoed the Department of Justice's position that convicted murderer and rapist Antonio Sanchez may not be eligible for the law expanding an inmates' good conduct and time allowances.
Presidential spokesperson Salvador Panelo, who used to be Sanchez's lawyer, said in a statement that a review of Republic Act 10592 "reveals that it is categorical in excluding recidivists, habitual delinquents, escapees and persons charged with heinous crimes from the benefit of its coverage."
"Thus, the inevitable conclusion is that all those convicted of a heinous crime, including Mr. Antonio Sanchez, would be ineligible and disqualified from availing the benefits of the GCTA," Panelo, who is also the presidential chief legal counsel, said.
READ: Good behavior? Prison violations, murder convictions mar Sanchez's record
The palace spokesman also said that the Palace supports the Department of Justice's directive to the Bureau of Corrections to thoroughly review the implementation of the GCTA for persons convicted on "high profile, heinous crimes or crimes so grave that show extreme moral depravity."
News broke Tuesday night that Sanchez may walk free soon following the retroactive application of RA 10952, the law that expands how much of an inmate's sentence is reduced through good behavior.
Panelo represented Sanchez in court but he said that he withdrew from the case when it was under appeal.
He acknowledged, though, that "any lawyer would feel happy if his former client is released to have a new life."
READ: Corrections chief: Ex-mayor Sanchez might not be released yet
DOJ: Sanchez ineligible according to Sec. 1, 3 of RA 10592
Justice Secretary Menardo Guevarra said Thursday that he believes Sanchez, convicted on heinous crime of murder and rape, is ineligible for GCTA, because of Sec. 1 of RA 10592, which holds that "recidivists, habitual delinquents, escapees and persons charged with heinous crimes are excluded from the coverage of this act."
That section amend Sec. 29 of the RPC, which discusses preventive imprisonment deducted from term imprisonment, former Supreme Court spokesperson Theodore Te noted.
Te, who is also a Constitutional law professor, said: "The limitations as to multiple offenses and recidivism and commission of heinous offenses apply only to Art. 29 (preventive imprisonment) not to Art. 97 (GCTA)."
The Justice secretary however said if an inmate is ineligible for preventive suspension (Section 1), then the person is also not qualified for good conduct time allowances.
Guevarra cited Section 3 of RA 10592, which amends Art. 97 of the RPC on Allowance for Good Conduct.
It reads in part: "The good conduct of any offender qualified for credit for preventive imprisonment pursuant to Art. 29 of this Code, or of any convicted prisoner in any penal institution rehabilitation center or any other local jail shall entitle him the following deductions."
Guevarra explained that while Sanchez falls under the "general class" as a "convicted prisoner," the former mayor's "specific qualification" is of someone convicted on heinous crime and thus ineligible for preventive imprisonment. The Justice secretary said that means Sanchez is disqualified for GCTA.
"The specific prevails over the general statcon rule," Guevarra said. Statcon refers to statutory construction, which means how to interpret legal terms.
EXPLAINER: Good law, bad man: RA 10592 and rape-slay convict Antonio Sanchez
Amend RA 10592?
With discussions on whether an inmate convicted on heinous crime can be let out early for good conduct continues, Guevarra said that "either SC interprets or Congress amends."
He admitted: "The wordings of the GCTA law (Sectionss 1 and 3) leave much to be desired, but that's the DOJ view."
Earlier Friday, SC spokesperson Brian Hosaka deflected questions on whether convicts of heinous crimes are ineligible for GCTA to the executive branch.
He said: "As far as the application of GCTA is concerned under RA 10592 they just left to a committee and, under the IRR, it is left to a committee to handle that."
RELATED: Supreme Court distances itself from Sanchez release
"Again I would like to go to my previous statement that those go into the implementation already of RA 10592 so perhaps we will just have to wait for the particular branch of government in this case the executive to rule on that or determine that," he added.
Two senators, one of whom is Senate President Vicente "Tito" Sotto III, have already filed resolutions to for hearings to review RA 10592.