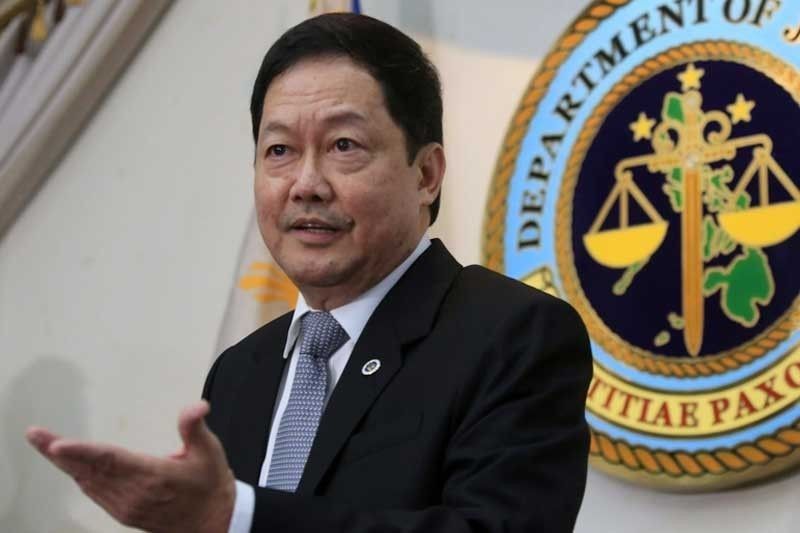 File photo shows Justice Secretary Menardo Guevarra in a press conference at the Department of Justice office in Padre Faura, Manila.
The STAR/Edd Gumban, file
Guevarra: Time to review law on expansion of inmates' good conduct, time allowance
MANILA, Philippines — Justice Secretary Menardo Guevarra said Thursday that the time has come for the Congress to review Republic Act 10592, which sought the expansion of good conduct and time allowance for inmates.
Sen. Franklin Drilon, a former Justice secretary, filed a resolution calling on the Committee on Justice and Human Rights to conduct an inquiry into the reported eligibility to RA 10592, and subsequent possible release of convicted murderer and rapist Antonio Sanchez.
The Justice department and the Bureau of Corrections earlier said that Sanchez may be one of the 11,000 prisoners who may soon walk free following the retroactive application of RA 10592.
Drilon raised that Sanchez's "alleged good behavior is questionable" due to incidences where illegal drugs were seized in his "kubol" or luxurious cottage inside prison.
The reports of Sanchez's pending release drew strong outrage as the public revisited the horrors of the rape and murder case of University of the Philippines Los Baños students Eileen Sarmenta and Allan Gomez.
READ: Good behavior? Prison violations, murder convictions mar Sanchez's record
Guevarra welcomed the conduct of the legislative inquiry as he stressed that "the people are reacting to the effects of the law that the Congress itself enacted in 2013."
"This maybe a good time for the Congress to review its own creation," Guevarra added.
RA 10592 was enacted into law in May 2013 during the administration of former President Benigno Aquino III. The Implementing Rules and Regulations of the said law stated that it was to be applied retroactively.
But inmates challenged this at the Supreme Court.
The tribunal in June ruled that the law should be applied retroactively, which means that those convicted before the law was enacted may benefit from it.
EXPLAINER: Good law, bad man: RA 10592 and rape-slay convict Antonio Sanchez
DOJ does not insist on Sanchez release
Guevarra also stressed said the Justice department "never insisted on the release of Mayor Sanchez."
"He doesn't have to threaten this department," Guevarra also said.
The Justice chief, in a separate press conference Thursday, said he directed BuCor Director General Nicanor Faeldon to review thoroughly the good conduct and time allowance of convicts in high profile case and in heinous crimes.
"I have given direct instructions to [Faeldon] that the review of the GCTA for those charged with high profile or heinous crimes may be computed with a lot of care, a lot of caution, a lot of circumspection," Guevarra said in a press conference.
Faeldon, earlier Thursday, said that reported violations of Sanchez such as seizure of drugs and maintenance of luxurious cottages may disqualify him from the GCTA.
The BuCor chief said the drugs seized inside Sanchez's luxurious cottage and his staying in the "kubol" is an "antithesis" of what the bureau considers "good behavior."
He stressed the fact that drugs were confiscated from Sanchez's kubol is "very grave."
"If we substract that, he will not earn any GCTA," Faeldon added.
READ: Corrections chief: Ex-mayor Sanchez might not be released yet
Guevarra, meanwhile, noted that Section 1 of RA 10592 states that "recidivists, habitual delinquents, escapees and persons charged with heinous crimes are excluded from the coverage of this act."
"Doon pa lang may process of elimination ka na," he said.
The provision, however, focused on amending Article 29 of the Revised Penal Code, that discusses "period of preventive imprisonment deducted from term imprisonment."
Guevarra said that from what he surmised, a person convicted on heinous crime is "no longer eligible... not qualified at all."
Former SC spokesman Theodore Te, however, said that the limitations—recidivism and commission of heinous offenses—stated on Article 1 of RA 10952 pertains to preventive imprisonment, and not to the GCTA law.
August 22, 2019
But the Justice chief said that it is up to the BuCor on how to appreciate the said provision.