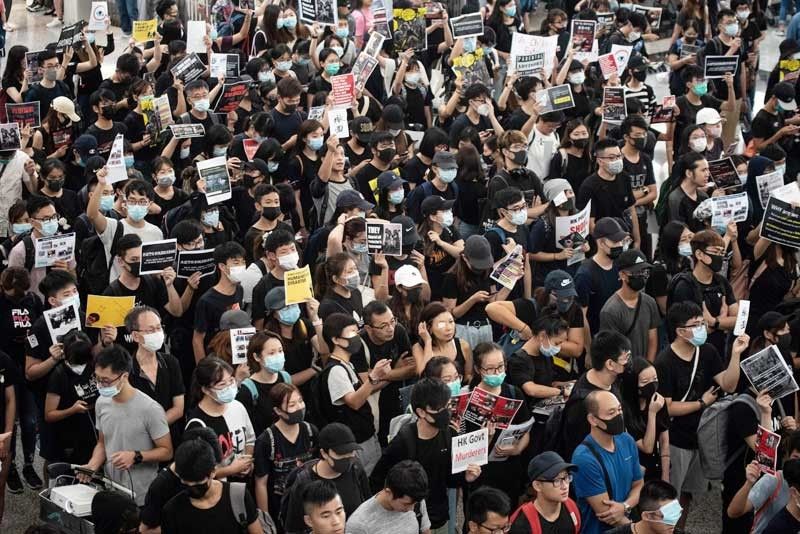 Labor Secretary Silvestre Bello III said foreign recruitment agencies in Hong Kong are also now required to pick up Filipino domestic helpers upon arrival at the airport.
AFP
Employers in HK set curfew for maids
MANILA, Philippines — Amid the worsening civil unrest in Hong Kong, employers have imposed stricter curfews for household helpers, including Filipinos, according to the Department of Labor and Employment (DOLE).
Labor Secretary Silvestre Bello III said foreign recruitment agencies in Hong Kong are also now required to pick up Filipino domestic helpers upon arrival at the airport.
"Most of the domestic workers have curfew during their day off. Since the riots usually occur in the evening, workers are also advised to stay at home by the end of their working hours," Bello said.
An extradition bill and a long-simmering anger at China have prompted a series of increasingly violent protests across Hong Kong. Residents see the bill as China's latest attempt to erode political freedoms, which they were assured of during the 1997 turnover of power from the British.
Bello said there is no penalty for those who will violate the curfew, but Filipino workers are still advised to follow these for their own protection.
"It is the worker who is advised not to go out and the employers can't do anything if they will not comply. But if something happens to them they can't blame the employer and our labor officers," Bello pointed out.
Bello noted that the Philippine Overseas Labor Office (POLO) recently met with foreign recruitment agencies to discuss OFWs concerns. The Hong Kong judicial system does not provide sufficient protection for domestic workers, but the labor secretary said Filipino workers are fully aware of what are prohibited activities.
"They know what to do and what not to do. Now to protect our OFWs, particularly our household service workers, our POLO office advised foreign recruitment agencies to be vigilant and to ensure that a representative will pick up the worker upon arrival at the airport whether old or first timer," Bello added.
OFWs are also requested to send their number to their local recruiters so they can immediately be located when necessary. Bello said employers are also prohibited to bring their workers in case they will join the rally.
The POLO will continue to remind employers of their duties and responsibilities to their Filipino workers considering the current situation in Hong Kong. The DOLE said OFWs have been reminded to go home immediately after work and avoid going to public places.
Until this time, Bello said DOLE is not inclined to impose a deployment ban to Hong Kong unless recommended by the Department of Foreign Affairs (DFA).
"So far there are no serious incidents that warrant our consideration of a ban especially since we have to get a signal from the DFA," Bello said.
Bello the government will impose a deployment ban when the situation is beyond the control of authorities and Filipinos are placed in dangerous condition. He, however, assured OFWs that POLO is in constant consultation with Hong Kong police and monitoring the situation.
The "one country, two systems" principle made Hong Kong a special administrative region of China and maintains independent legislative and legal systems that afford residents freedoms not available in mainland China.
But Hong Kong residents have been accusing Beijing of encroachment on Hong Kong's autonomy since the 1997 handover to China from 156 years of British rule, prompting unrest.
Thousands of anti-government protesters have also occupied Hong Kong International Airport as an act of civil disobedience that has caused hundreds of flights to be delayed or canceled. – With Rudy Santos, Pia Lee-Brago