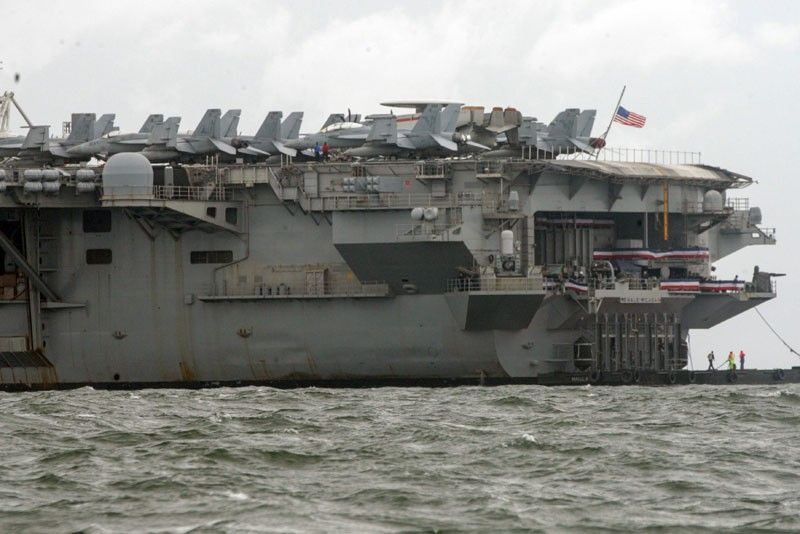 The US aircraft carrier USS Ronald Reagan is seen as its anchor in Manila Bay on Wednesday, August 07, 2019.
KJ Rosales
US warships to maintain presence in SCS
Jaime Laude
(The Philippine Star) - August 9, 2019 - 12:00am
MANILA, Philippines — With the increasing naval activity in the South China Sea, American warships will continue to maintain presence in the region to keep the peace and to ensure one of the world's busiest sea lanes remains open to navigation.
This was pointed out yesterday by Rear Admiral Karl Thomas, commander of Task Force 70 of the USS Ronald Reagan carrier strike group when he faced the media aboard the Nimitz-class aircraft carrier that dropped anchor in Manila for a brief port visit.
"We have defense treaty with the Philippines and we are in this part of the world to provide security and stability and this ship is very capable and ready to respond to a wide range of operations whether they be crisis, humanitarian disaster response, and certainly do whatever security tells us to do and we're ready to do it," Thomas said.
Asked of the challenges in ensuring freedom of navigation in South China Sea, Thomas said there are lots of warships already operating in the region.
Given that the South China Sea is a busy body of water in this part of the world, Thomas said everybody out there in the open sea is operating professionally.
"There were several warships we see often and it's but natural because it's a busy body of water in this part of the world… we operate professionally with one another though," he said.
While Thomas did not identify the warships in the region, several USS Ronald Reagan crewmembers said they are mostly Chinese vessels.
Thomas said the purpose of the aircraft carrier is to provide security and stability in the region while setting an environment for disputes to be solved in a peaceful manner.
"That's our goal, just to be able to sail and operate wherever international law allows," he said.
When asked if USS Reagan's dropping anchor in Manila can be interpreted as a show of force, Thomas said they are excited to be in the Philippines being the US' strongest ally and partner in the Pacific region.