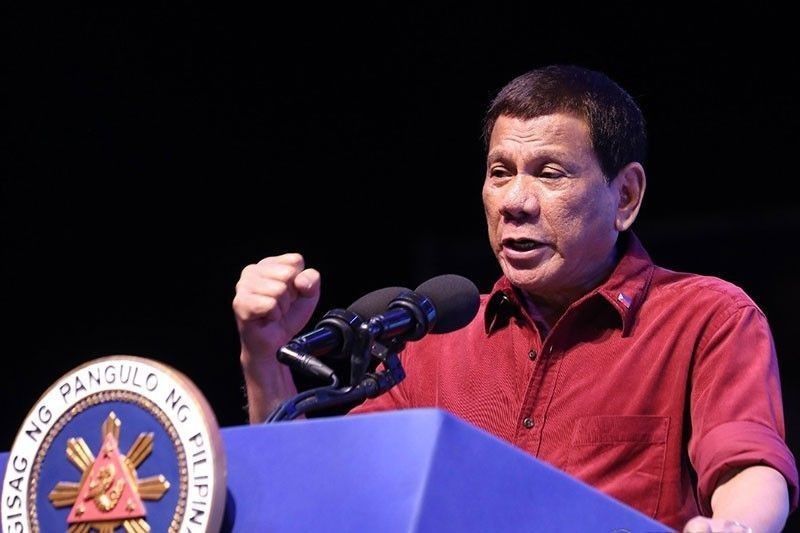 In this Feb. 24, 2019 photo, President Rodrigo Duterte delivers his speech during the PDP-Laban campaign rally at the Plaza Independencia in Cebu City.
Presidential Photo/Alfred Frias
Palace finds it odd that majority of Filipinos think publishing criticism of Duterte admin is dangerous
MANILA, Philippines — Malacañang is encouraging the public to express their views on state policies following the release of a poll indicating that more than half of Filipinos think printing or broadcasting anything critical of the administration is dangerous.
A Social Weather Stations nationwide survey conducted from June 22 to 26 found that 59% of Filipino adults agree that they can say anything they want openly and without fear, even if it is against the administration. Only 18% disagreed with the statement for a "very strong" net agreement score of +41.
However, the poll also found that 51% of Filipinos agreed that it is "dangerous" to print or broadcast anything critical of the administration, even if it is the truth. Only 29% of the 1,200 respondents did not agree with the statement for a net agreement of +31.
READ: Reports critical of Duterte administration being pulled down — report
Presidential spokesman Salvador Panelo said Malacañang was "curious" as to why 51% of the respondents thought it was dangerous to publicize anything critical of the administration.
He said there is no prior restraint or punishment for those who practice the freedom to dissent in the Duterte presidency.
"The president respects criticisms as long as the same is not baseless, unfounded or false. He even urges the people, including writers and reporters, to freely express whatever sentiments they have," Panelo said in a statement issued Saturday night.
"As long as the speech or expression is within the ambit of the constitutional guarantees, it will not face any government interference," he added.
READ: SWS: More Filipinos get news from Facebook than from radio, newspapers
Panelo said dissent against the administration and its policies is "loud and not curtailed," citing anti-Duterte opinions in the media and social networking sites.
"We reiterate our call to all Filipinos not to hesitate in articulating their thoughts on government policies, critical or otherwise," he said.
"Ours is a president who not only respects everyone's right to free speech but listens to our plight as he ensures that the fibers of our country's democracy are preserved and enhanced."
READ: Filipino journalists critical of gov't continue to face harassment — US State Dept
Panelo claimed the survey indicating that 59% of Filipinos think they can say anything they want openly and without fear was a repudiation of the opposition's claim that freedom of expression is being curtailed by the administration.
"The survey rating means we have a vibrant and robust exercise of those freedoms," the presidential spokesman said.
Palace: Respect Duterte's appointment power
The results of the SWS poll were released two days after Duterte hurled a string of insults at Sen. Richard Gordon for criticizing his appointment of former military officials to civilian posts.
Last Thursday, Duterte said Gordon is a "smart a**" who walks like a penguin. He also claimed the senator's stomach is "a fart away from disaster."
READ: Duterte said Gordon ran for vice president. He didn't.
Panelo insisted that the president's appointment power should be respected. He also defended Duterte's preference for former military officials, saying they are known for their discipline.
"Appointment is both a privilege and a right of a president. We have to respect it... If a soldier retires, he becomes a civilian," he said.
"You should be in favor of them because they are known for their discipline. Civilians do not have discipline. They argue too much."
READ: Gordon swallows Duterte's comments about stomach
Panelo claimed Gordon's experience won't deter lawmakers from expressing views critical of the administration. He said opposition Sen. Leila de Lima still criticizes the president even if she is in jail.
"Filipinos are not afraid to criticize. Look at social media. The criticisms of those who do not like him (Duterte) are relentless. That's our nature," Panelo said.
READ: Filipino journalists identify poor wages, cyber attacks as key threats — report