Filipino journalists identify poor wages, cyber attacks as key threats — report
December 21, 2018 | 12:40pm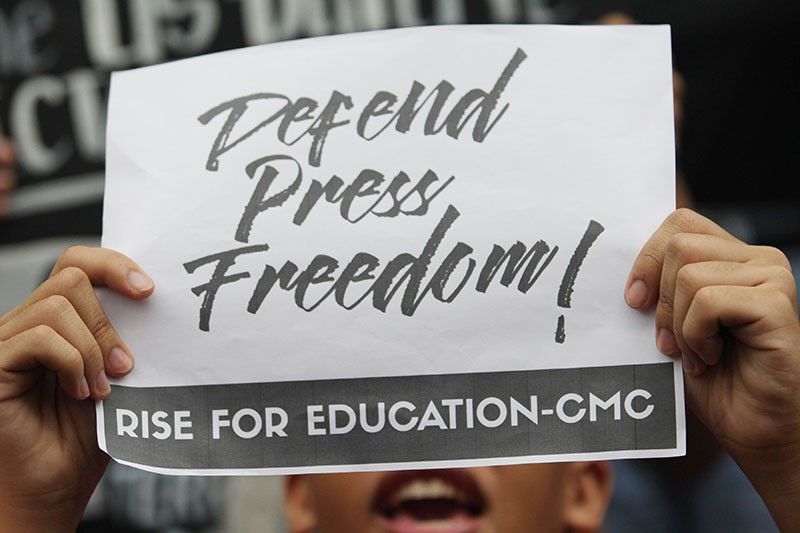 MANILA, Philippines — Poor wages and working conditions and attacks online are identified as the top threats faced by journalists in the Philippines, a report of the International Federation of Journalists showed.
The IFJ, in its Southeast Asia Media Freedom Report 2018 titled "Underneath the Autocrats," noted that Filipino journalists also have to deal with challenges to their economic and psychological well-being aside from the dangers to their physical safety.
Most of the survey respondents (27.2 percent) said the greatest threat they faced was low wages and poor working conditions.
"Many Philippine media workers, whether in major news organizations, or in small community outfits, earn very low wages and work in difficult conditions. Security of tenure, along with the benefits and privileges that go with it, is diminishing as more and more media companies replace retired or laid-off workers with contractual hires," the report said.
The report noted that small community outlets in the provinces are also hard hit, with many of them unable to pay their news staff even the legal minimum.
It also stressed that most media companies do not provide hazard pay or other compensation and even gear to journalists assigned to cover hazardous assignments.
"Unfortunately, worsening labor and economic conditions have forced some journalists to turn to unethical practices. But discussions on media ethics still tend to revolve around individual responsibility; journalists who are caught are unceremoniously axed and their reputations tarnished," IFJ said.
Cyber attacks
The IFJ report also revealed that online harassment or trolling is the second worst threat (25 percent) faced by Filipino journalists.
It noted the online attacks hurled at Reuters reporters Manuel Mogato and Karen Lema after reporting President Rodrigo Duterte's self-comparison to Adolf Hitler and reference to the Holocaust, and Julie Alipala who was accused by a Facebook page of having been paid to defend the Abu Sayyaf after reporting on the massacre of seven young Tausug men.
The report also stressed that Duterte's "troll army" is "well-funded and professionally managed and hurled insults at the media accusing detractors of corruption and misconduct without basis 'in fact or in law.'"
Attacks by the "troll army" also target the sexuality of women journalists, it added.
Other threats faced by journalists in the country are censorship and government attacks on the workplace, according to the report.
'Resilient' journalists
The report stressed that despite the bleak situation for Filipino journalists, they keep their duty to keep the public informed.
"It was fiercely independent Filipino journalists who kept the flame burning when the dictator Ferdinand Marcos shut down the media in 1972 after declaring martial law. Emerging from the shadows as the 'mosquito press,' newspapers were clandestinely produced, helping reveal the worst excesses of Marcos' tyrannical rule," it said.
The report also said that journalists, despite being besieged, "remain just as jealously protective of their rights and freedoms."
"The greater challenge may be the threats from within the industry that endanger their economic, professional and psychological welfare. Now, more than ever, they need to unite and build strong unions and associations to protect and advance their rights, improve their skills and strengthen their ethics," it added.