Philippines-Indonesia boundary agreement takes effect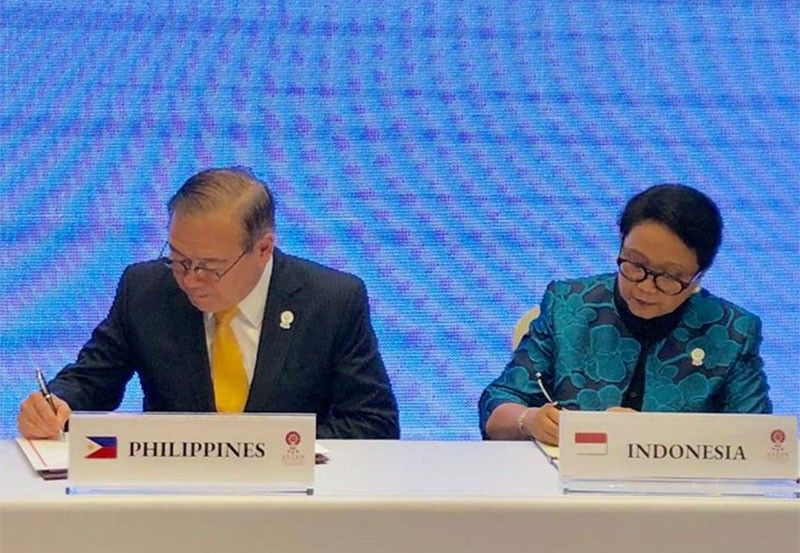 MANILA, Philippines — The agreement on the delimitation of the exclusive economic zone boundary in the Mindanao and Celebes Seas took officially entered into force Thursday after the ratification of the deal.
Foreign Affairs Secretary Teodoro Locsin Jr. and Indonesian Foreign Minister Retno Marsudi signed the Protocols of Exchange of the instruments of ratification in a special ceremony in Bangkok, Thailand.
The two foreign ministers signed the ratification on the sidelines of the Southwest Pacific Dialogue, one of the side events at the 52nd ASEAN Foreign Ministers Meeting in Bangkok.
"The Agreement is expected to benefit both countries, economically and politically, by promoting more bilateral cooperation in the EEZ in order to advance the common interest of managing and preserving the resources in the EEZ and further strengthening maritime security cooperation between the two countries," the DFA said in a statement.
The Philippines and Indonesia have overlappoing EEZs in the Mindanao Sea and Celebes Sea, as well as in the southern part of the Philippine Sea in the Pacific Ocean.
As parties to the 1982 United Nations Convention on the Law of the Sea (UNCLOS), both Manila and Jakarta are entitled to a 200-nautical mile EEZ.
Under Article 56 of the UNCLOS, states have sovereign rights "for the purpose of exploring and exploiting, conserving and managing the natural resources" in the EEZ.
The Philippines and Indonesia first discussed the boundary agreement in June 1994 but it was only signed in May 2014 in Manila.
President Rodrigo Duterte ratified the agreement on February 2017 while the Indonesian Parliament approved it in April 2017.
The Senate concurred with the ratification on June 3. Under the constitution, all international treaties or agreements need concurrence by at least two-thirds of the Senate. — Patricia Lourdes Viray