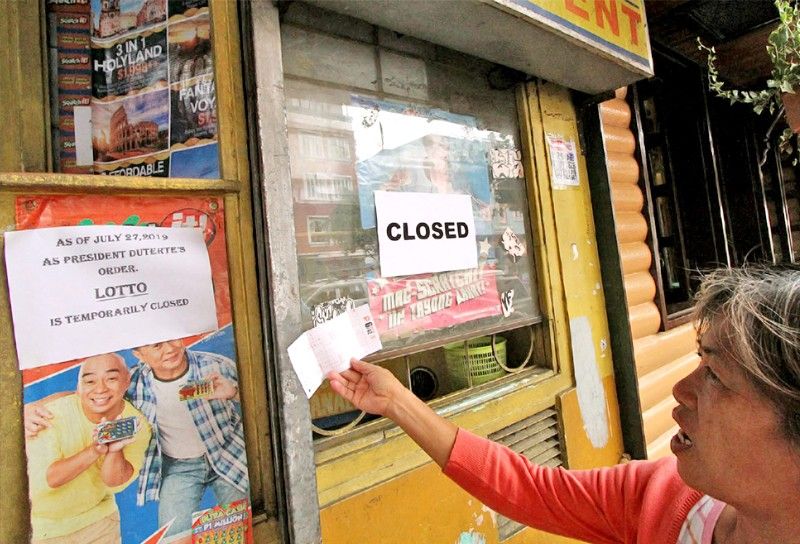 A bettor approaches a closed lotto outlet in Baguio's central business district on Saturday. President Duterte ordered the Philippine Charity Sweepstakes Office's gaming operations stopped on Friday night over reports of alleged widespread corruption.
Andy Zapata
'STL fronts of jueteng earn P73 billion annually'
Paolo Romero
(The Philippine Star) - July 29, 2019 - 12:00am
MANILA, Philippines — Senators backed yesterday the shutdown of gaming operations of the Philippine Charity Sweepstakes Office, saying gambling lords and corrupt officials pocketed at least P73 billion annually from the illegal numbers game jueteng that used PCSO franchises as fronts.
The senators also proposed the privatization of the state-owned firm's operations.
Sen. Panfilo Lacson, who previously spearheaded a congressional probe into the proliferation of jueteng, said regular collections from the illegal numbers game in Metro Manila, the Cordillera Administrative Region and Regions 1 to 5 alone reach P200 million daily.
He said almost all jueteng operators use small town lottery (STL) franchises issued by the PCSO as fronts for illegal gambling operations, leaving the state gaming firm with only P4 billion a year, "a big chunk of which is not even in cash remittances but recorded as collectibles."
"We do not need an Albert Einstein to figure out how much goes to the individual pockets of STL franchise holders, corrupt politicians, policemen and PCSO officials," Lacson said.
He added that no matter how many congressional hearings are conducted, "the palms of these people continue to be greased by gambling money."
Lacson said jueteng merely masquerades as a legitimate STL for seven days a week, without fail, and whose "kubrador" (collectors) are armed with PCSO IDs to avoid arrest.
However, although agreeing with President Duterte's order, he stressed that the Chief Executive should have spared lotto since there are no reports of revenue cheating as far as its operations are concerned. Lotto operations, he added, are computerized, automated and closely monitored.
He also said that if Duterte's intention was to stop gambling altogether, then all forms of gambling, including the games regulated by the Philippine Amusement and Gaming Corp. (Pagcor) like casinos and online games should have been included in his directive.
Senate President Vicente Sotto III said Duterte seems to be only targeting the corruption-prone PCSO franchises. "It can always open once the corruption is unearthed and cleansed," he said.
'Privatization'
Sen. Sherwin Gatchalian proposed yesterday an alternative to the total banning of PCSO gaming activities—let the private sector operate lotto and casinos and then collect guaranteed proceeds.
The proceeds, he added, could be remitted directly to the Department of Social Work and Development (DSWD) to fund social service programs.
"This way we can avoid the mishandling of funds that are supposed to be allocated to help the poor," Gatchalian said.
With the closure, former senator Joseph Victor Ejercito, principal sponsor of the Universal Health Care (UHC) Law due for implementation soon, warned that the shutdown will make the funding gap for the program wider.
"I'm hoping that the PCSO corruption issues can be resolved soon in time for the UHC implementation. But I cannot blame the President, he must have heard enough of the corruption issues in the agency," Ejercito said.
However, Sen. Francis Tolentino allayed fears of the UHC being crippled by lack of funding as he said that Republic Act 11346 or the Sin Tax Law and other sources of funds might be able fill the gap.
"But then again the President has the prerogative to ensure that system sources of funds for health and social amelioration programs be cleansed of graft," he said.
Opposition Sen. Risa Hontiveros wants Duterte to disclose to the public the details of the alleged corruption in the PCSO as she expressed suspicion that the directive was meant to divert the workers' outrage over his veto of the Security of Tenure Bill or the "end endo" bill.
She also questioned his drastic action against PCSO and his apparent "soft stance" on the Chinese-dominated Philippine offshore gaming operations.
Sen. Lito Lapid, chairman of the Senate committee on games and amusement, also asked the President to take steps to ensure that charity assistance to the poor will continue even as he cleans up the agency.
Jueteng resurgence
Meanwhile, the National Capital Region Police Office (NCRPO) is closely monitoring the resurgence of the illegal numbers game jueteng in Metro Manila following the closure of all PCSO gaming operations.
"I'm warning these gambling lords not to return to their old illegal business of jueteng as they would be dealt with accordingly," said NCRPO director Maj. General Guillermo Eleazar. He directed his five police districts to monitor the street whether bet collectors continue their illegal activities as chances are they are now working for jueteng lords.
He also ordered a tight watch on the resurgence of jueteng after Lt. Col. Rogarth Campo, head of the Regional Special Operations Unit (RSOU), arrested five bet collectors in Quezon City hours after Duterte ordered the closure of all PCSO gaming activities and to file charges against the suspects, including their boss Don Ramon Preza, who also operates jueteng in Laguna province under the cover of small town lottery.
"We should monitor these STL and Peryahan ng Bayan as they are being used as cover for the jueteng operations. We should not allow them to put one over us with regard to the order of the President," Eleazar said.
This developed as Eleazar reported the NCRPO's full compliance to the directive of Duterte to close all PCSO gaming activities in Metro Manila as of 11 p.m. Saturday.
A total of 1,653 lotto and 349 STL outlets were shut down by the NCRPO, including those found in malls and other business establishments. At least 19 Keno outlets and 55 Peryahan ng Bayan were also closed down across the metropolis.
"The order of the President for the PNP (Philippine National Police) to help the implementation of his declaration that lotto and other PCSO-licensed games as illegal was already 100 percent complied with in Metro Manila," Eleazar said.
He added that the NCRPO "immediately implemented the order before the opening of lotto outlets on Saturday to make sure that there will be no more bettors who would shell out money to place bets." – With Non Alquitran