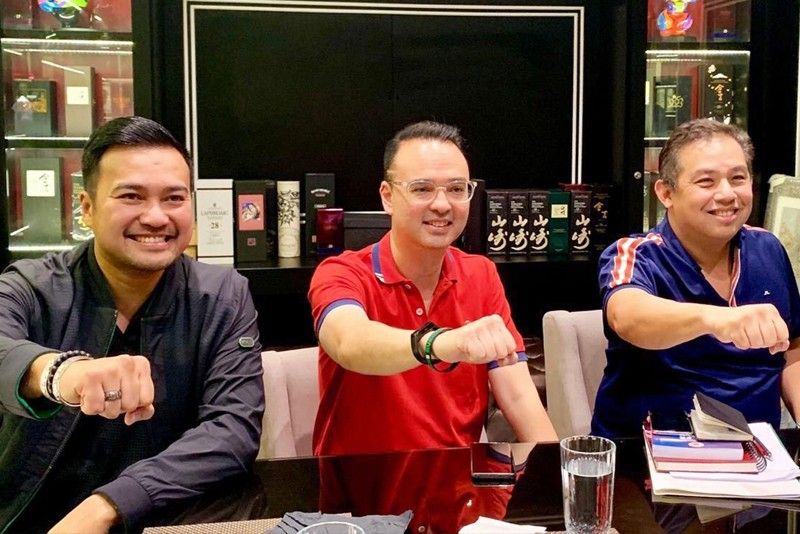 Presumptive House leaders and former speakership rivals Taguig Rep. Alan Peter Cayetano (center), Marinduque Rep. Lord Allan Velasco (left) and Leyte Rep. Martin Romualdez attend an all-party caucus in Taguig City yesterday ahead of President Duterte's State of the Nation Address.
MANILA, Philippines — On the eve of the State of the Nation Address (SONA), several congressmen revealed the fight for the leadership in the House of Representatives may not be over, with one lawmaker saying there might be a "tumultuous" session today.
Except for lawmakers identified with the camp of presumptive speaker Alan Peter Cayetano, some congressmen hinted the race may not yet be over since President Duterte's son, Davao City Rep. Paolo, has not made any categorical support for him.
"The speakership fight is still full of confusion. It ain't over till it's over. Expect a tumultuous session," one administration legislator remarked.
"It's also confusing to hear the repetitive statements of President Duterte and presidential spokesman Salvador Panelo that the term-sharing agreement was a mere recommendation and congressmen may not follow it," he added.
Several congressmen stressed the President's choice of Cayetano as speaker is not "etched in stone."
"We got word that Polong may challenge the speaker's choice of his father. It is not clear, however, if he himself will run or he might endorse someone else," another lawmaker said, referring to the younger Duterte of Davao City's first congressional district.
The younger Duterte and his sister Davao City Mayor Sara Duterte-Carpio had openly opposed term sharing for the House leadership.
Under the agreement, Cayetano of Taguig will be holding the post for 15 months while Lord Allan Velasco of Marinduque will preside for 21 months.
The erstwhile leading candidate, Leyte Rep. Martin Romualdez was chosen to serve as House majority leader in full term.
The siblings are pushing for their colleague Rep. Isidro Ungab of the third district as "compromise candidate" to serve the full three-year term.
"Nothing is certain at this point. Maybe until after breakfast there may be some clear picture as to who will we vote for Speaker," a senior legislator said, referring to the breakfast Rep. Duterte and Cayetano will separately sponsor today.
"It's a battle of the breakfast meetings," another administration lawmaker remarked, revealing that so far, more than 200 congressmen have confirmed to attend the Duterte-sponsored breakfast.
There have been a series of meetings by various political groups and influential power blocs in preparation for the election of speaker, including the meeting called by Cayetano with political leaders late afternoon yesterday.
"There had been meetings here and there. What is funny is that we are getting confused by these meetings especially Polong has not given a hint of whom he will support," said another congressman.
The lawmaker said he heard Polong will "discuss" with Cayetano the latter's offer for him to become deputy speaker for political affairs only if the Taguig-Pateros congressman wins the election.
"I understand from what I heard that Polong will talk about the offer (deputy speaker) only after Cayetano's election as Speaker," the lawmaker clarified.
Several sources revealed that while the Chief Executive succeeded in breaking the impasse, the siblings Paolo and Sara are opposed to Cayetano, most particularly his plan to install so-called "Big Brothers" in the House.
Cayetano had revealed he plans to increase the current 14 deputy speakers who are chosen by region and geographical location. He named two of them as Reps. Duterte and Neptali Gonzalez II, deputy speakers for political and internal affairs, respectively.
There will also be other deputy speakers for finance, education, economy and the like which some said will be mere redundancies.
Sara and her younger brother, Davao City Vice Mayor Sebastian Duterte, had served notice they will not be attending their father's fourth SONA today – the former owing to her 60-day medical leave and the latter due to matters involving local government.
Dark horse
Albay Rep. Joey Salceda, who initially supported Romualdez but jumped over to Cayetano after the presidential endorsement, however, dropped hints of a potential "dark horse" in the never-ending and puzzling speakership fight.
"I would say Cayetano would still be the front-runner. But there may also be a dark horse," Salceda told dzBB in an interview.