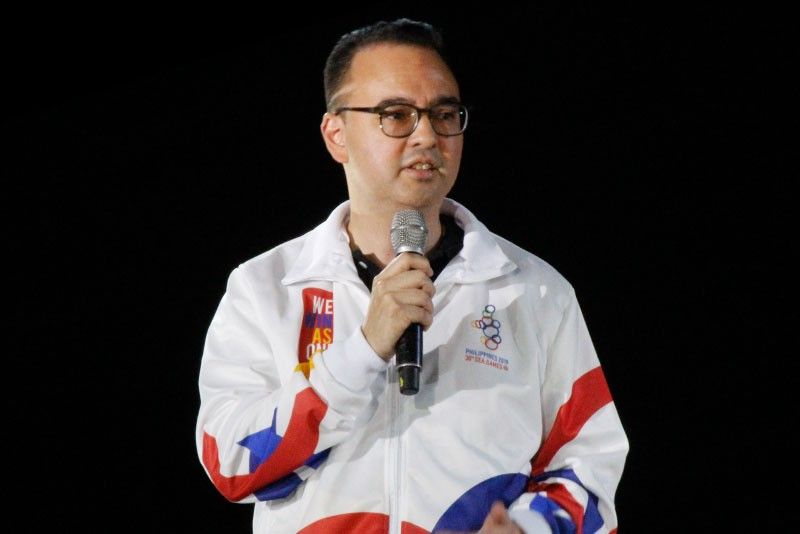 "A House divided will fall. We will be reaping only what we have sown," the returning Taguig congressman told his colleagues in a meeting over the weekend.
PIA/File
Alan Peter Cayetano: House divided will fall
MANILA, Philippines — A week before the 18th Congress convenes, presumptive speaker Alan Peter Cayetano called on his colleagues from opposing camps to do away with squabbles as a "divided" House of Representatives will achieve nothing and will only fail.
"A House divided will fall. We will be reaping only what we have sown," the returning Taguig congressman told his colleagues in a meeting over the weekend.
Cayetano tried to persuade his colleagues to unite to achieve harmony and redeem Congress' old glory.
In a meeting with Marinduque Rep. Lord Allan Velasco and Leyte Rep. Martin Romualdez, Cayetano called for a "majority caucus" this week before Congress opens on July 22.
President Duterte named Cayetano as his choice for speaker for 15 months with Velasco serving the rest of the three-year term under the term-sharing agreement. Romualdez, meanwhile, will serve as House majority leader in full term.
"We're going to put some ground rules," Cayetano told his colleagues.
While the speakership will have a term-sharing agreement as per Duterte's wishes, there should be no such setup in the committee chairmanships, Cayetano stressed.
"If we can have the best and the brightest from among our camps let's have a healthy compromise so that we will not disrupt all the committees," Cayetano said.
"If we can do that together we will have shown the world that 304 kingpins in their districts can sacrifice their own interest for the greatest interest of the country," he said.
Cayetano urged his colleagues to support him in reforming the House.
"We will have to reform the House before we reform others, because what credibility do we have if others have done so but we ourselves could not do it," he added.
Cayetano designated Mandaluyong Rep. Neptali Gonzales II as deputy speaker for internal affairs to handle the reforms.
As it is now, the committee chairmanships, those who will comprise the 12-member House contingent in the powerful Commission on Appointments, the 14 deputy speakers, those who will be sitting at the House of Representatives Electoral Tribunal are now being ironed out.
A congressman from the south said most of his colleagues had already accepted the "Solomonic" wisdom of the President in naming Cayetano and Velasco to divide the three-year term of speaker.
"There have been no more rumblings of new developments in the House after the President has spoken. So far," the source told The STAR.
"We have not heard of any unusual movement and there have been no instructions to vote for this or that. It's really silent now," the source said.
The lawmaker expressed doubts of a major movement against the wishes of the President to install Cayetano as speaker.
Duterte had expressed confidence that Cayetano would become the next speaker as he has the numbers for the votes needed on July 22 for his election as the House top honcho.
The President earlier brushed aside the insinuation of his son and Davao City Rep. Paolo Duterte that Cayetano might not be voted as speaker in the coming 18th Congress.
Cayetano last week proposed for extension of the current three-year term for congressmen to either a four-year term with no term limits or a five-year term with three term limits when Congress tackles the proposal to amend the Constitution.
The losing running mate of Duterte in 2016 polls argued that extending their terms is necessary in order to avoid "administrative restrictions and limitations" as the current three-year term is too short.
Several Catholic prelates objected to his proposal.
Manila Auxiliary Bishop Broderick Pabillo and Sorsogon Bishop Arturo Bastes both believed that such proposal is self-serving to lawmakers.
"This is something that is very self serving. The politicians will really want to entrench themselves in power. Are they the only ones qualified to get elected?" Pabillo remarked.
Bastes, for his part, said the proposal demonstrates the elected officials' greed to stay in power.
"This is very bad. They are really like crocodiles. They want to rule the country forever through their dynasties," Bastes said. – With Edith Regalado, Edu Punay