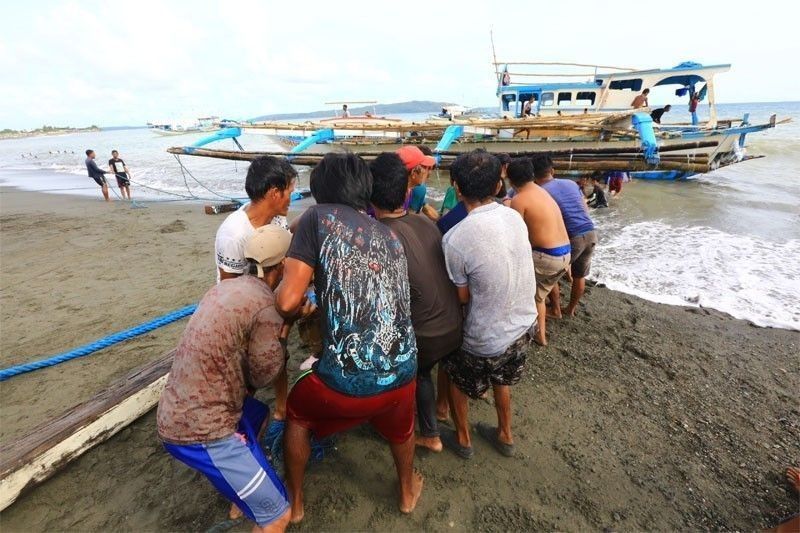 Investigators from the Philippine Coast Guard (PCG) and the Maritime Industry Authority (Marina) described in a report the loss of F/B Gem-Ver 1 as "very serious maritime casualty."
File
Duterte: GemVer incident small because nobody died
MANILA, Philippines — While investigators have described the June 9 sinking of a Filipino fishing boat by a Chinese vessel in Recto Bank as a serious concern, President Duterte dismissed it as a "very small" incident because he said had left no casualty.
"It is serious but when you talk about marine transportation, it is a maritime incident. And that is very small because nobody died," Duterte said in a chance interview Monday night at Malacañang.
Investigators from the Philippine Coast Guard (PCG) and the Maritime Industry Authority (Marina) described in a report the loss of F/B Gem-Ver 1 as "very serious maritime casualty."
In his fourth State of the Nation Address (SONA) on July 22, Duterte said he might lecture his detractors about the constitutionality of his decision to allow China to fish in the West Philippine Sea. "Tama talaga ako, at hindi (I'm right and it's not) unconstitutional yan," he said.
"By any stretch of imagination, hindi yan unconstitutional. As a matter of fact, it is keeping with the law," the President said.
"Mga kababayan ko wala akong kasalanan dyan sa Constitution (My countrymen, I have done no wrong to the Constitution)," he said.
"Don't mind those constitutionalists – those Carpios," he said, apparently in mocking reference to critic Supreme Court Senior Associate Justice Antonio Carpio.
Duterte again challenged the United States to bring its entire Seventh Fleet to the South China Sea if it really wants Chinese forces to stay away from the area.
He said he would join such flotilla and dared critics – former foreign affairs secretary Albert del Rosario and former ombudsman Conchita Morales – to go with him, and that he would tell the Americans, "Sige, pasabugin na natin lahat (OK, blast them all)."
The two former officials had filed a complaint of crime against humanity against Duterte and Chinese President Xi Jinping before the International Criminal Court for the two leaders' role in the plunder and destruction of marine resources in the South China Sea.
"Tingnan... Wala. 'Yan man ang gusto nila, away talaga (Let's see. Nothing. That's all they want, war)," Duterte added.
The President maintained that the Philippines cannot enforce the 2016 ruling by the UN-backed Permanent Court of Arbitration, which invalidated Beijing's massive claim in the South China Sea and upheld the Philippines' maritime entitlements.
"What would really result if we – I go there and insist on driving them out? You would think China would – would allow itself to be bullied? Papayag kaya ang China? My question to you is, who is in the possession of the property under the claim of the legitimate ownership?" Duterte said.
"Tayo ang nagsabi illegitimate. Pero ang China is there which says, 'This is ours and we claim it.' Tayo naman, 'Go out because that is ours.' But if you say I committed a constitutional infraction because I allowed the Chinese fishermen to fish, hindi nila pinag-aralan talaga (They did not really study it)," he added.