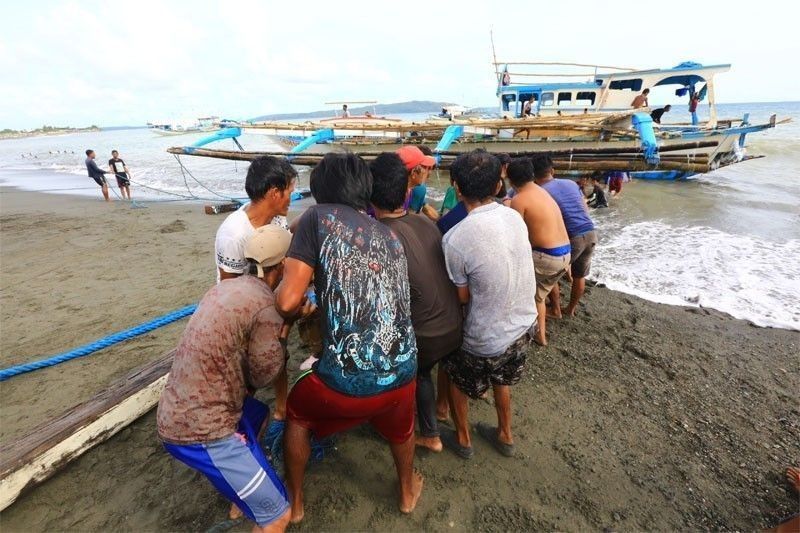 Justice Secretary Menardo Guevarra explained that the joint inquiry would not touch on the poaching issue, which he said would be best addressed in another forum.
File
Duterte open to 3rd party in Recto Bank probe
Tells fishermen: Sorry, but…
MANILA, Philippines — Amid opposition to a joint investigation with China, President Duterte yesterday expressed willingness to have a third party conduct a probe of the sinking of a Filipino fishing boat after it was hit by a Chinese vessel near Recto Bank on June 9.
Duterte also apologized yesterday to the 22 Filipino fishermen as he explained why he called their ordeal a "little" maritime incident.
The government is setting aside the poaching issue in any joint probe with China, Justice Secretary Menardo Guevarra said yesterday. He explained that the issue of Chinese poaching in Recto Bank was best addressed in another forum.
Duterte, when asked about bringing a third party into the probe, said, "Well, if it's going to be a marine board of inquiry – whatever satisfies the requirements of fair play and due process. Due process (means) everybody should be heard."
"Fair play is there is no one that is under suspicion of siding with the other and you can only do that if you have a board," he told reporters during the premiere of the movie "Kontradiksyon" in Pasig.
He could not identify the possible third party, but said "they are talking about it in the lower levels."
Duterte said China is free to conduct its own probe even if the Philippines already has a preliminary report.
"If they want another investigation, I am amenable to that," he said, referring to the Chinese. "Or they can always also investigate on their own and we can confront each other with our evidence."
Duterte said he described the sinking as a "little" incident because it did not lead to bloodshed.
"Well I'm sorry but that's how it is. It is a maritime incident, little in a sense that there was no confrontation, there was no bloody violence. If you want to get back at them, that is not, that is not a reason to go to any military exercise there. If you do that, it will lead to war," Duterte said.
He was asked to react to the statement of the owner of the Filipino fishing boat who felt that their ordeal was belittled.
"I'm sorry if that's their feeling. But they know that area is claimed by both (countries). For China, it happened within their jurisdiction. For us, it was within our jurisdiction, because we have two conflicting claims," he said.
"This was not to belittle anything. There was damage but luckily nobody died. Maliit itong bagay na ito for anybody to bring in the war, the gray ships," he added.
Asked if China could be prevented from fishing within the Philippines' exclusive economic zone, Duterte replied: "I don't think China will do that. Why? We're friends. And they are of the same view that it should not result in a bloody confrontation."
Duterte said he has received the preliminary report of the Philippine Navy and Philippine Coast Guard on the incident.