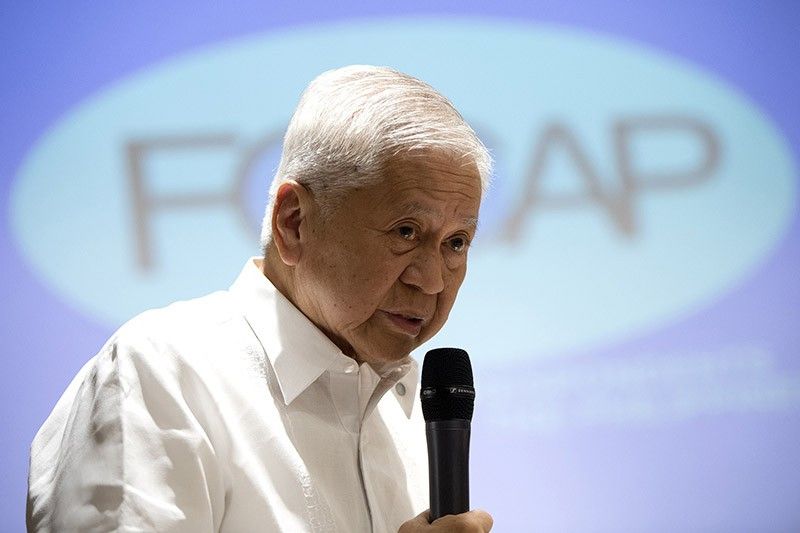 In this file photo taken on March 26, 2015, Foreign Affairs (DFA) Secretary Albert del Rosario answers questions during the Foreign Correspondents Association of the Philippines (FOCAP) forum in Manila. Former Philippine foreign minister Albert del Rosario, a critic of Beijing's claims to the South China Sea, was denied entry to Hong Kong on June 21, 2019 and sent home, his lawyer said.
AFP/Noel Celis
Ex-top diplomat Del Rosario back in Manila, calls Hong Kong's denial of entry a harassment
(Philstar.com) - June 21, 2019 - 5:12pm
MANILA, Philippines (Update 2, 6:22 p.m.) — Former top diplomat Albert Del Rosario has arrived in Manila after he was held at the Hong Kong International Airport for almost six hours then later denied entry to the semiautonomous Chinese territory.
In a televised interview upon returning in Manila, Del Rosario said that he was being "harassed."
"I think the reason might be, if you follow the trend, the honourable [former] Ombudswoman [Conchita Carpio-Morales] is here, she went through the same experience and the link to that experience which turned out to be consequential to use was the communiqué we sent to the [International Criminal Court]," he told reporters.
"Neither the ombudswoman nor I had problems with Hong Kong Immigrations in the past, until we filed that case," he said.
The two former top officials of the government submitted a communication to the International Criminal Court alleging crimes against humanity against Chinese President Xi Jinping.
Del Rosario explained that he was using a diplomatic passport, a privilege given to former head of the Foreign Affairs department, and he never had problems with it until Friday.
He stressed that the Hong Kong consulate wrote a letter to the Hong Kong authorities that he would be arriving, using his diplomatic passport but "apparently nobody knew where that letter was or had they received it."
He said that the June 21 trip is his first trip going to Hong Kong after they filed the communication to the international tribunal.
Further actions?
Del Rosario said that he would first consult with former Ombudsman Conchita Carpio-Morales on the next steps they would be take after the Hong Kong Immigration officials barred him from entering.
"I have also received a suggestion from the [Department of Foreign Affairs] that we should look into the possibility of protesting the failure of the Hong Kong authorities to respect the diplomatic passport and this would be a violation of the Vienna convention," he said.
Del Rosario said he expected that he may be denied entry to Hong Kong—like what happened with Morales—but he was not sure.
"We tested it, and this was the result. I think I was ready for something like this because I had to pursue it since I have business in Hong Kong," he explained.
Asked if he would still return to Hong Kong after he was turned away earlier Friday, he said he would "have to find out" if the Immigration would accept him.
Morales met with Del Rosario upon his arrival at the Ninoy Aquino International Airport.
Del Rosario was supposed to attend the board meeting of First Pacific on Friday. — Kristine Joy Patag