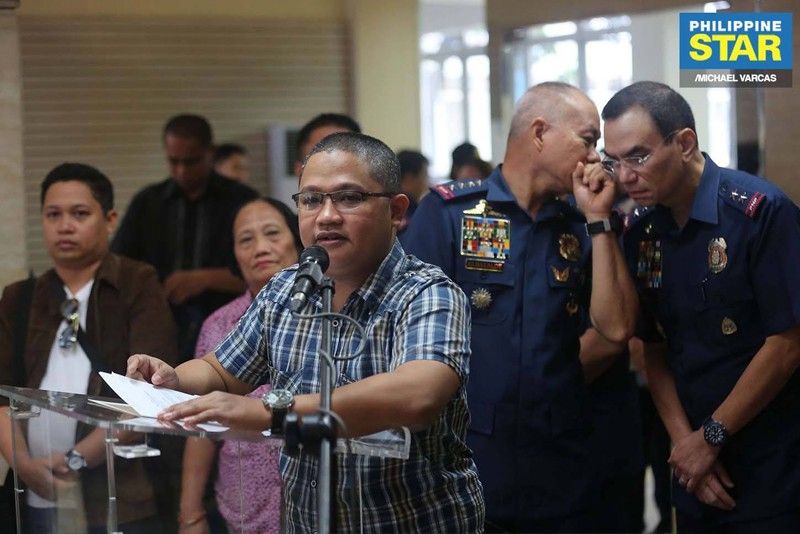 Peter Joemel Advincula left Camp Crame after he posted bail for different estafa charges filed against him.
File
No proof of 'Bikoy' claims vs opposition — PNP
MANILA, Philippines — The man claiming to be "Bikoy" in the "Ang Totoong Narcolist" videos left the Philippine National Police (PNP) headquarters at Camp Crame on Saturday afternoon without submitting a sworn statement or any piece of evidence that police investigators can use to verify his allegations against opposition leaders who reportedly plotted to oust President Duterte.
Peter Joemel Advincula left Camp Crame after he posted bail for different estafa charges filed against him.
Advincula, claiming to be the narrator behind the videos linking Duterte's family and allies to the illegal drug trade, detailed a supposed ouster plot against the President by Vice President Leni Robredo, Sen. Antonio Trillanes IV, the Liberal Party and other opposition leaders and supporters.
He vowed to put his allegations into writing and present evidence but left Camp Crame without giving the police any evidence to back his claims.
PNP chief Gen. Oscar Albayalde earlier described Advincula as a con artist who would sell information, even false ones, in exchange for money.
Sought for comment, PNP spokesman Col. Bernard Banac said yesterday that Advincula was not able to submit a sworn statement and other pieces of evidence due to the absence of a lawyer of his choice.
"He promised to return to submit his evidence once he gets a lawyer," Banac said in a text message.
Another police official who spoke on condition of anonymity said Advincula vowed not only to give an affidavit detailing the alleged conspiracy to remove Duterte from power but other evidence in his possession.
"He is more than willing to submit his cellphone and laptops for digital forensics examination," the police official said in a text message.
Advincula earlier claimed he has communications with Trillanes, the alleged proponent of the ouster plot against Duterte.
He did not mention to the police the exact time when he will return with his evidence.
Maj. Gen. Guillermo Eleazar, National Capital Region Police Office (NCRPO) director, said Advincula's statements could lead to investigations.
He said Advincula's press briefing on Thursday in Camp Crame was not scripted, adding that the man talked to journalists in a spontaneous way.
Meanwhile, Philippine Drug Enforcement Agency (PDEA) director general Aaron Aquino said he knew from the start that the "Totoong Narcolist" video was mere black propaganda and did not merit an investigation.
He added that he did not watch the videos made by Bikoy, even if it mentioned a supposed drug syndicate that involved the President's son, Paolo, and Senator-elect Bong Go, among others.
Advincula said in a televised press conference at the PNP headquarters that the Liberal Party tapped him to create the videos that would lead to the ouster of President Duterte and lead Leni Robredo into power.
Aquino said it is only right that those who supported Advincula's claims before should now face investigation. He said that he supports the PNP in their ongoing investigations into Advincula's claims. – With Romina Cabrera