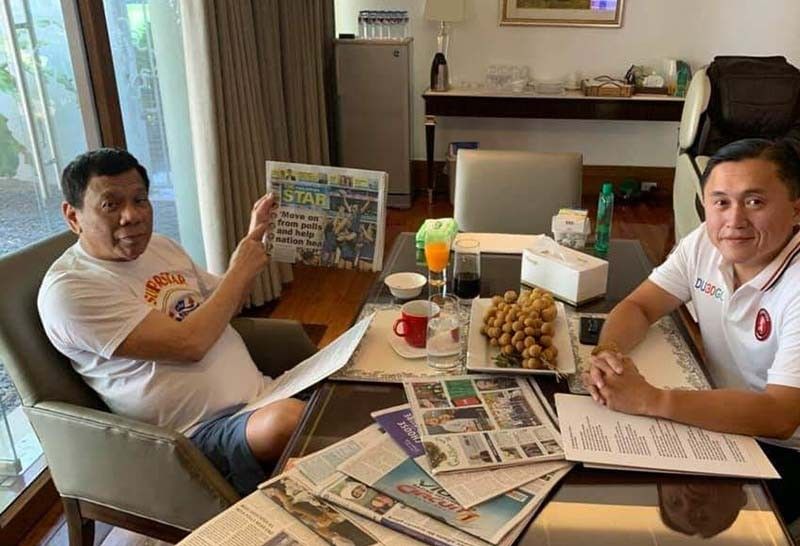 Former presidential aide Christopher Go has released photos of President Roridgo Duterte on Sunday to dispel rumors that the president is confined in a hospital.
Handout photo from former presidential aide Christopher Go.
Duterte dispels hospitalization rumors
MANILA, Philippines — President Rodrigo Duterte's week-long absence from the public eye has triggered fresh speculations about his health.
Rumors swirled Sunday that Duterte was confined in Cardinal Santos Medical Center in San Juan, the same hospital where the president underwent an endoscopy last year.
Some social media users said the hospital was placed on code blue alert and its parking area was restricted to the public because a VIP (very important person) was in the emergency room.
According to medical website MedicineNet, a code blue is an emergency situation in which a patient is in cardiopulmonary arrest, requiring a team of providers to rush to specific location and begin immediate resuscitative efforts.
Malacañang denied that the 74-year-old president was confined in the hospital but it was unclear whether he went there for a medical checkup.
"There is no truth to the rumor circulating that President Rodrigo Roa Duterte is confined in Cardinal Santos Medical Center in San Juan," presidential spokesman Salvador Panelo said in a statement.
"The president is in his residence at the Palace signing papers. I just talked to him, he is neither confirming nor denying that he went to the hospital," he added.
Executive Secretary Salvador Medialdea also said in a text message that the rumors were "not true."
Asked about the president's whereabouts, Medialdea replied: "He should probably be in his quarters and resting."
To dispel rumors that Duterte is confined in a hospital, former presidential aide Christopher Go released photos showing the president reading newspapers in Bahay Pangarap, his residence within Malacañang compound.
Clad in a white shirt and blue shorts, Duterte was seated on a chair and was holding a copy of Sunday's issue of The Philippine STAR.
Duterte was last seen in public on May 13, when he cast his vote for the midterm polls in Davao City. He did not have public engagements for the rest of the week.
It was not the first time Duterte was out of the public eye for at least five days. He did not have official activities from June 12 to 16, 2017; from June 20 to 26 in the same year; and from April 29 to May 4 this year.
Officials would claim that the president, known for his hectic schedule and lengthy, freewheeling speeches, was resting or was doing paperwork.
Duterte previously admitted suffering from various ailments but officials insist he is capable of performing his responsibilities. The president had said he has acute bronchitis, a migraine related to a spinal injury he sustained in a motorcycle accident in the 1960s, and Buerger's disease, an ailment related to smoking.
Last September, Duterte revealed he had undergone endoscopy and colonoscopy, medical procedures that he said were related to the Barrett's Esophagus he got when he was younger. Endoscopy examines a patient's digestive tract while colonoscopy tracks changes in the large intestine.
Duterte later on said he had been tested negative for cancer. A month ago, Duterte admitted getting blood tests almost every other day.