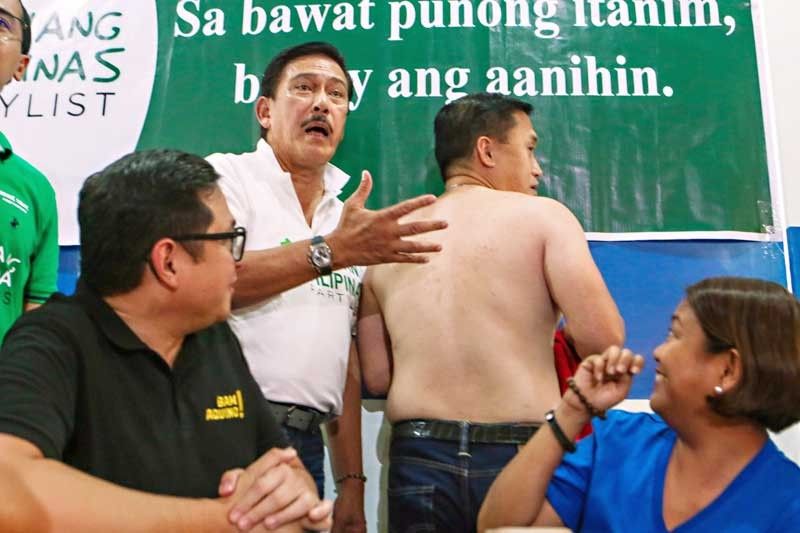 Senate President Vicente Sotto III shows the tattoo-free back of former special assistant to the president Christopher 'Bong' Go as reelectionist senators Benigno 'Bam' Aquino IV and Nancy Binay react during a press conference in Calamba, Laguna yesterday.
Geremy Pintolo
Bong Go strips anew: No tattoos, just PSNBB
MANILA, Philippines — Senatorial candidate Christopher "Bong" Go yesterday belied accusations of Bikoy that he was involved in illegal drugs and took off his shirt during a party-list press conference in Calamba, Laguna to prove he does not have a tattoo on his back.
In a statement, Go said the accusations and counter-accusations were all the fruit of the political season, with the midterm elections just a week away.
"I've answered that before. On my back are PSNBB: pimples, stretchmark, nunal (mole), balat (birthmark), bilbil (fat)," he said at the launching of "10 Million Trees Challenge" of Luntian Pilipinas party-list, one of whose nominees is Ciara Sotto, daughter of Senate President Vicente Sotto III.
Aside from Go, other candidates endorsed by the green group are reelectionist senators Bam Aquino, Nancy Binay and Sonny Angara.
Go said Bikoy, who had alleged President Duterte and his relatives and associates to be the real drug lords in the country and bore tattoos as proof, should have gone to the mental hospital instead of the Integrated Bar of the Philippines.
"He once said that if I showed my back then he'd stop. I did so and you saw no tattoo. Maybe he wants to see body fat. If you want to see it again I can oblige you," the former special presidential assistant said, as he proceeded to remove his shirt.
He said this would be the last time he would take off his shirt as doing so a third time would make him a fool, and vowed to his accuser that the war on drugs, corruption and criminality would continue whoever gets hurt.
Go said Bikoy was merely an agent of black propaganda prevalent during election season with everything given political color.
He said he'll just continue the change started by his boss, and that it's up to the voters if they will believe Bikoy.
"They're painting us black so they'll come out white," he said, adding that during the campaign it's to-each-his-own black propaganda.
"Malicious. Panahon ng election. Kanya-kanyang siraan," he said. If voters believe in Bikoy, they can vote for Otso Diretso, he said.
Go, however, clarified he was not accusing the opposition, one of whose stalwarts is Aquino, of being behind Bikoy, whose real name is Peter Joemel Advincula.