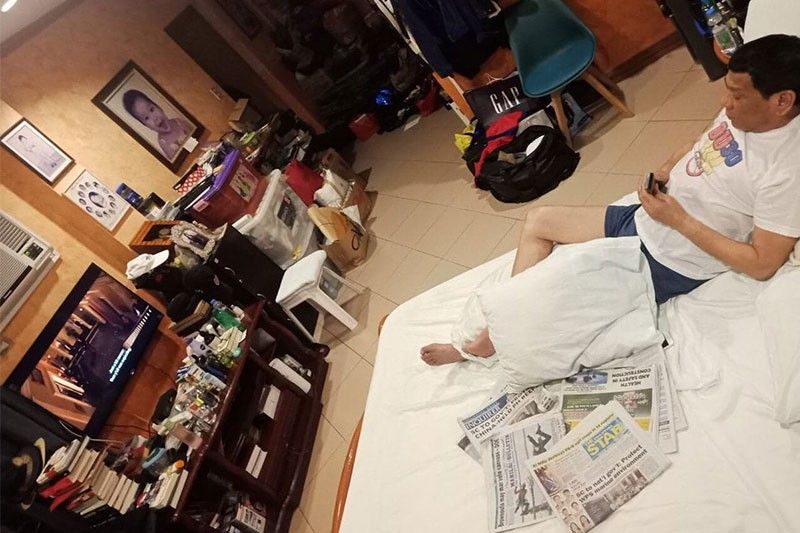 President Rodrigo Duterte sent a photo of him watching Netflix at home to Tourism Secretary Bernadette Romulo-Puyat when the latter asked him over his week-long absence.
Tourism Secretary Bernadette Romulo-Puyat/Released
Palace: 'Punishing' China trip pushed Duterte to 'work from home'
(Philstar.com) - May 6, 2019 - 7:44pm
MANILA, Philippines — President Rodrigo Duterte wanted to "focus on his work" that's why he has been out of the public eye for a few days, Malacañang said Monday.
A few days ago, Tourism Secretary Bernadette Romulo-Puyat a photo of the president with newspapers while watching Netflix in his room at home.
Duterte sent the photo to Puyat when the secretary asked him why he had been off the grid for five days.
RELATED: Duterte: Paperwork and Django Unchained
Dismissing speculations that the president is seriously ill, presidential spokesperson Salvador Panelo cited the Telecommuting Act in a television interview.
"You don't have to be suffering from any ailment for you to work in the house," Panelo told CNN Philippines.
In a press briefing at Malacañang, Panelo mentioned that Duterte had a "very punishing schedule" during his recent trip to Beijing.
"The only reason why the picture was released that he was watching and reading the newspaper at the same time was to ease the concern that he was sick to show that he was okay," Panelo said.
Duterte recently attended the second Belt and Road Forum in Beijing and met with Chinese President Xi Jinping. Panelo also noted that the president had to miss one meeting in China as he had a migraine attack.
Upon returning to the country from China, the president attended the Palarong Pambansa in his hometown Davao City on April 28, where he spoke at the opening ceremony.
Panelo said the president might have wanted to finish signing documents that piled up on his desk while he was away that was why he decided to work from home.
Telecommuting Law
Asked if Republic Act 11165 or the Telecommuting Law, which allowed employees to work from home, was applicable to Duterte, Panelo said he was only mentioning that the law exists.
Last January, Duterte signed the law allowing employees in the private sector to work from an alternative workplace to ease traffic congestion and to promote work-life balance.
"Because they are asking — why is he working from home? That is my answer. We already have a law allowing work from home... Kumbaga masyado kayong nitpicking and hairsplitting lahat na lang," the Malacañang mouthpiece said. — Patricia Lourdes Viray