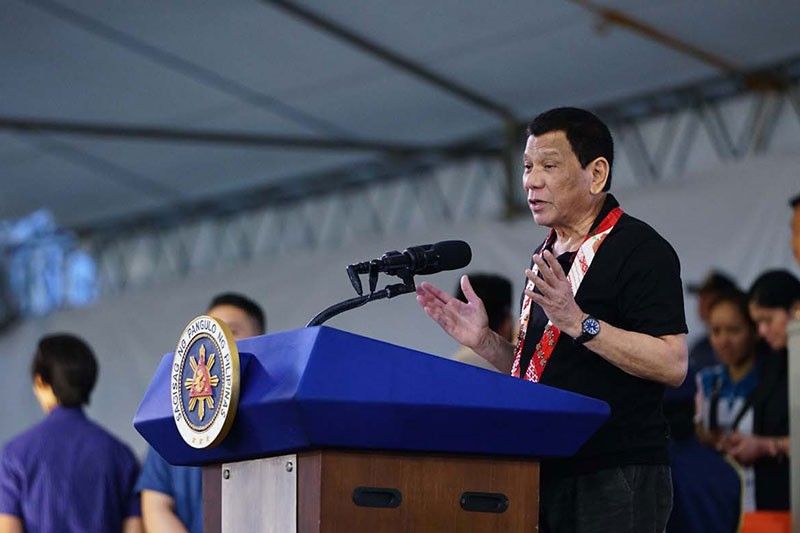 President Rodrigo Duterte delivers his speech during the opening ceremony of the 2019 Palarong Pambansa at the Davao City-UP Sports Complex on April 28, 2019.
Presidential Photo/Joey Dalumpines
Threats over trash from Canada just 'figure of speech,' Palace explains
(Philstar.com) - April 29, 2019 - 3:56pm
MANILA, Philippines — Echoing a previous statement by Defense Secretary Delfin Lorenzana, presidential spokesperson Salvador Panelo explained President Rodrigo Duterte's threats of war against Canada are just a "figure of speech", a common explanation for the president's remarks.
The president earlier threatened he would declare war on Canada if it does not take back garbage that a Canadian company shipped to the country illegally in 2013.
Duterte also said the Philippines could beat Canada if the country would declare a war.
"Pang-asar lang 'yun (That wasjust to tease them) but my statement... We will send them back to your shores if you don't get that and the president said last night 'throw them to your beach,'" Panelo said in a press briefing Monday.
The Malacañang spokesman added that Duterte's remarks against Canada were just an "expression of outrage."
"I don't think any country would want to trigger another world war because all of us will be annihilated," Panelo said.
The president's supporters and spokespersons have at times had to explain that his pronouncements are not necessarily policy statements.
In 2017, Duterte declared that he was ordering all ambassadors from European Union countries to leave the Philippines.
"Now the ambassadors of those countries listening now: tell me because we can have the diplomatic channel cut tomorrow. You leave my country in 24 hours. All of you. You must have taken the Filipino for granted," the president said in October 2017 after EU parliamentarians came to the Philippines and raised concerns on human rights.
The Palace clarified days later that there was no formal directive to eject the envoys and explained that it was also an expression of outrage.
Palace: Trash issue puts ties at risk
Last week, Malacañang released a statement warning Canada that its inaction on the dumping of garbage in the Philippines was disruptive of bilateral relations.
More than 100 container vans of garbage from Canada arrived in the Philippines from 2013 to 2014, an issue that Canadian Prime Minister Justin Trudeau earlier vowed to address.
"The 70 years of diplomatic relations between the two countries will be put to naught if Canada will not act with dispatch and finality the resolution of this undiplomatic episode to which we take outrage," Panelo also said last week.
This was in response to a statement by the Canadian Embassy in Manila that Canada is committed to finding a "timely resolution" to the waste issue. Canada also said representatives from both countries have already been working to solve the problem.
"We are committed to working collaboratively with the Government of the Philippines to ensure the material is processed in an environmentally responsible way," the Canadian Embassy said. — Patricia Lourdes Viray