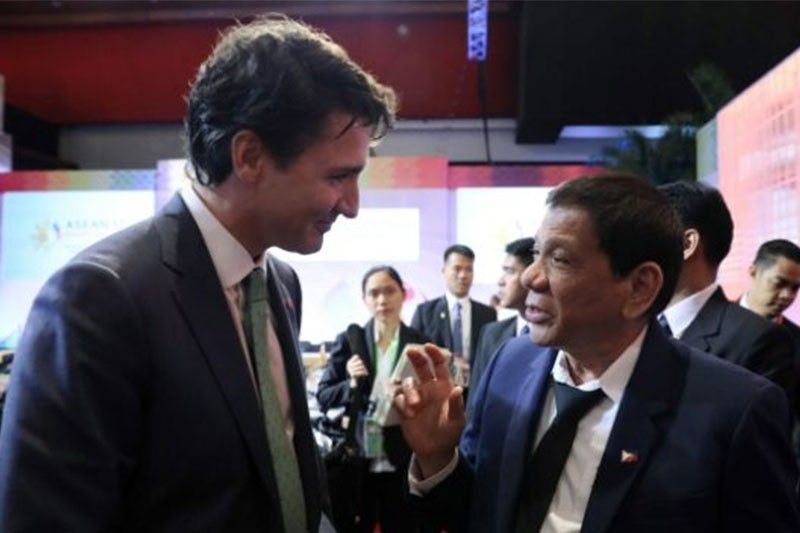 In this November 2017 photo, Canadian Prime Minister Justin Trudeau talks with President Rodrigo Duterte on the sidelines of the 2017 ASEAN Summit in Manila.
Presidential Photo, File
Palace: Canada's inaction on waste issue disruptive of bilateral relations
MANILA, Philippines — Malacañang warned Canada of a possible strain in diplomatic relations with the Philippines if it will not act on the dumping of garbage in the country.
"The seventy years of diplomatic relations between the two countries will be put to naught if Canada will not act with dispatch and finality the resolution of this undiplomatic episode to which we take outrage," presidential spokesperson Salvador Panelo said in a statement released Thursday.
This statement comes after the Canadian Embassy in Manila released a statement saying Ottawa was working for a timely resolution on the issue.
Malacañang, however, described this response from Canada as "vague" in relation to the earlier remarks of President Rodrigo Duterte earlier this week.
The president warned Canada that he would be sailing to the North American country to dump their trash back.
"We take note that its response is not appropriate to the strong statement we made against its throwing its garbage to our land," Panelo said.
Panelo stressed that the position of the Philippine government on Canada's disposal of waste in the country is non-negotiable.
"It can not dilly dally on getting them back. It must retrieve them pronto or we throw them back to its shores," he added.
Canada's disposal of garbage to the Philippines is "dangerously disruptive of our bilateral relations," according to Malacañang.
The Canadian Embassy earlier said Canada had amended its regulations on waste shipments to other nations in 2016.
"We are committed to working collaboratively with the Government of the Philippines to ensure the material is processed in an environmentally responsible way," the Canadian Embassy said.