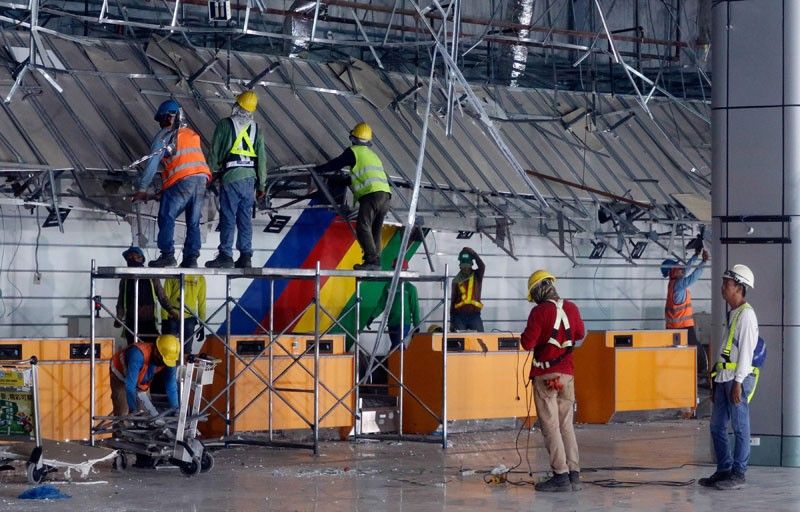 Workers on repair the damage caused by a strong earthquake that rattled the Clark International Airport in Angeles, Pampanga on Tuesday, April 23, 2019
KJ Rosales
Clark airport partially opens today
CLARK FREEPORT, Pampanga , Philippines — A total of 108 international and domestic flights remained suspended at the Clark International Airport here since Monday's earthquake, stranding at least 1,500 passengers as of yesterday.
But Clark International Airport Corp. (CIAC) president Jaime Melo announced during a press conference at the airport's departure area Tuesday morning that partial operations could resume today.
He said structural engineers from CIAC, Clark Development Corp. (CDC) and Civil Aviation Authority of the Philippines have finished inspection and declared no damage to the airport's two runways and taxiway. The tower also did not have any significant damage.
"I hope that partial operations could resume (today) despite the damage to the passenger terminal, particularly at the check-in area where the ceiling had collapsed. We can look for another site for temporary check-in counters," Melo said.
He clarified though that the engineers were still checking on the integrity of the vertical and horizontal structures at the terminal as of yesterday morning and that they have yet to assess damage and reliability of the terminal area.
Mercy Canay was among the 1,500 passengers waiting to board their flights at Clark when the earthquake struck past 5 p.m. Monday. She sustained minor injuries when a portion of the collapsed ceiling at the check-in area hit her cheek and hip.
The 22-year-old Canay, a resident of Taguig City, was able to free herself from the debris and run outside the building.
"I later retrieved my baggage which was already damaged, but I could no longer find my passport," she told The STAR yesterday morning after spending the night on a bench in front of the passenger terminal.
Canay was bound for Dubai on an Emirates flight. Airport officials reportedly told her that she could be scheduled for alternative flight via the Ninoy Aquino International Airport.
Seven other passengers, Melo said, sustained minor injuries.
Other passengers, like 43-year-old Jojo Abalos who was bound for Davao City, just opted to go back home. Abalos said he went back to his family in Pangasinan due to the lack of assurance on when he could fly to Davao where he is employed.
Philippine Airlines personnel Romalyn Garces, who manned one of the passenger information desks set up at Clark's main terminal, said passengers were assured of either refund or rebooking of flights.
"The passengers arrive here but had to be told flights have been suspended. All of them were disappointed but seem to understand that the situation arose from a natural cause that no one wanted to happen," she explained.
In a joint statement yesterday, the CDC and the Bases Conversion and Development Authority (BCDA) reported "zero casualties in Clark as technical teams conduct a continuing assessment of the situation since the magnitude 6.1 earthquake badly hit Pampanga and other parts of Central Luzon."?"CDC has also designated temporary shelters for travelers and tourists who might be affected by the closure of operations of Clark International Airport (CRK) and may not be able to afford to stay at the hotels. These include the Training Center at HSD, the pavilion at Bicentennial Park, the Philippine Air Force Gym and the Clark Parade Grounds. Water and food are also being provided for these shelters," it said.?The BCDA reported that there has been "no damage at the ongoing construction of the Clark International Airport New Terminal Building, as well as facilities at the New Clark City Phase 1 – which includes the government center and the sports stadium, the aquatics center and the athletes' dormitory which are being readied for the SEA Games this November."
Secretary Arthur Tugade of the Department of Transportation (DOTr) said his agency is looking into possible shortcomings in the construction of the old passenger terminal building at Clark.
"I have already ordered to see if there is a shortcoming. I'm not saying there is and I am also not saying there is none. What I am saying is let us take a look and compare. Once we compare, then that is the time we make a judgment," he said.
He stressed the need to study the matter, explaining: "Every time we see something collapse, our automatic assumption is it's substandard. But this is not the only place where the ceiling collapsed. There are many possible reasons that would cause something to collapse. So, if we will say something is substandard, we should get the job description or contractual commitment and compare to what we see."
According to CIAC, the contractor of the old passenger terminal building, which opened in 2013, was E.M. Cuerpo Inc. Based on its website, E.M. Cuerpo has obtained a category "AAA" contractor license from the Philippine Contractors Accreditation Board. Its projects comprise mainly infrastructure projects such as building construction, steel fabrication, construction and development of real properties.
"We can do that (hold them liable) but there are some requirements to hold them liable, like proof that works were substandard. This was done six years ago," Melo said.
Tugade said the government needs at least P30 million to repair the damage at Clark airport. He has ordered the CIAC to implement the emergency procurement for all equipment and facilities needed to repair the airport's old passenger terminal.
"Because of this experience, we will be more meticulous in looking at the capabilities and structures that will have to address situations like climate change, earthquake and flood," he added.
Manila International Airport Authority (MIAA) general manager Ed Monreal ordered the operations team to admit flights that cannot be accommodated at Clark and to follow the standard operating procedures in slotting for orderly landing, parking and take-off.
He also warned airline companies against taking advantage of the earthquake to arbitrarily delay or cancel flights.
In a statement, the MIAA said the quake did not damage its runway and taxiway facilities as well as terminal buildings.?Grifton Medina, Bureau of Immigration Port Operations Division chief at the Ninoy Aquino International Airport, also assured passengers, including those diverted from Clark, of enough personnel to process documents following an expected increase in arrivals and departures.
"I have asked our primary line officers to extend the period of their sacrifice in the name of public service. Their services are much needed now with the influx of more passengers as a result of flight diversions from Clark airport," Medina said.
In a travel advisory, Philippine Airlines said it has cancelled its domestic flights to and from Clark. These include those to and from Cebu, Davao, Cagayan de Oro, Tagbilaran, Bacolod, Puerto Princesa, Caticlan, Basco, Busuanga, Siargao, Catarman, Antique, Calbayog, Cauayan, San Vicente, Basco and Kalibo.
It also diverted an Incheon-to-Clark flight to NAIA Terminal 2.
The advisory also said passengers may choose to rebook their flights within 30 days on the same cabin class without fees; refund their tickets (full fare including taxes and surcharges) or reroute their flights on the same cabin class within three days and without fees.
Meanwhile, the DOTr said in a statement that the Metro Rail Transit 3 (MRT-3), Light Rail Transit (LRT) 1 and 2 as well as the Philippine National Railways (PNR) resumed operations yesterday after inspection found them fit for operation.
"With structural and track inspections completed for LRT-1, LRT-2, MRT-3 and PNR, all lines were found fit for operations," it said, adding that regular operations of the railway systems started at 5:30 a.m. with sufficient number of train deployments for all railway systems.
The operations of MRT-3, LRT-1, LRT-2 and the PNR were temporarily suspended Monday afternoon after the magnitude 6.1 earthquake struck Metro Manila. – With Richmond Mercurio, Rudy Santos, Evelyn Macairan, Robertzon Ramirez