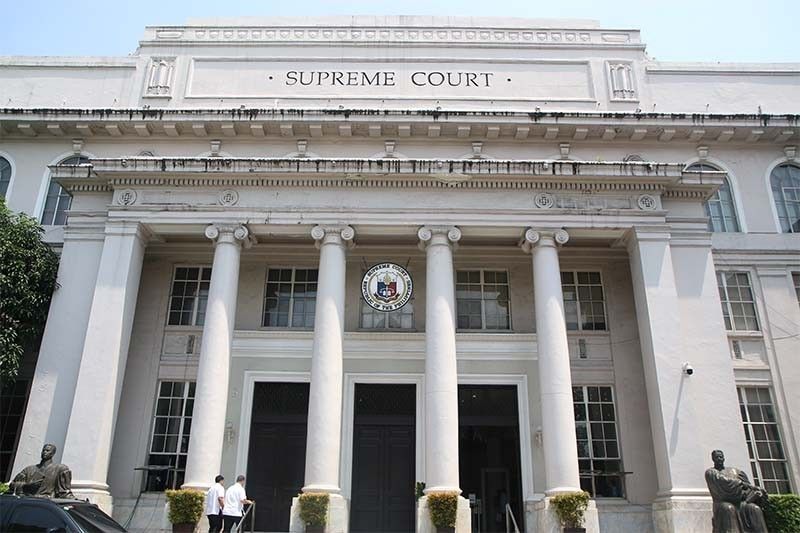 The suspension order covers the SC and Court of Appeals in Manila, Sandiganbayan and Court of Tax Appeals in Quezon City as well as trial courts in the National Capital Region and Central Luzon.
File
Work in courts suspended for quake damage checks
Edu Punay
(The Philippine Star) - April 24, 2019 - 12:00am
MANILA, Philippines — The Supreme Court (SC) suspended work yesterday in all courts in Metro Manila and Central Luzon provinces that were hit by the magnitude 6.1 earthquake last Monday.
"Pending inspection of the safety and structural integrity of court houses, work in all courts in Metro Manila and Central Luzon is suspended today, 23 April 2019," the SC said in an advisory released by its public information office at 6 a.m.
The suspension order covers the SC and Court of Appeals in Manila, Sandiganbayan and Court of Tax Appeals in Quezon City as well as trial courts in the National Capital Region and Central Luzon.
The SC left to the discretion of executive judges in other affected areas the suspension of work in their respective jurisdiction.
Aside from work suspension, Chief Justice Lucas Bersamin also ordered Court Administrator Midas Marquez to conduct an inspection of all halls of justice in areas affected by the earthquake.
The SC chief ordered the inspection of all courts "to ensure the structural integrity of court houses as well as the safety of all judges, court personnel, lawyers and the public."
Bersamin inspected the old SC building in Padre Faura St., Manila and found damaged ceilings in the offices.
Marquez said there was no immediate damage or injuries of court personnel in halls of justices in affected areas as of yesterday.
Consular offices
The Department of Foreign Affairs (DFA) consular offices (CO) in Pampanga and Metro Manila were closed yesterday.
Applicants with confirmed appointments yesterday may visit instead from April 24 to May 10 except Saturdays.
The DFA said applicants should bring their confirmed appointment packets, including their e-receipts.
Courtesy Lane services may be limited on these dates to accommodate those with appointments.
Passport and authentication services resume today.
Banks closed
Some branches of big banks in Luzon were closed, while the Bangko Sentral ng Pilipinas (BSP) is assessing the impact of the earthquake on the banking sector.
BDO Unibank Inc. said its branch in Clark, Pampanga was closed, while selected branches in Angeles, Balanga, Bataan, Olongapo, Pampanga, Subic and Zambales were open on shortened banking hours.
Bank of the Philippine Islands (BPI) said some of its branches in North Luzon were closed due to site safety issues, including Clarkfield Philexcel, Olongapo City and BPI Family Bank in Tarlac and Gapan.
East West Banking Corp. announced in an advisory the temporary closure of eight branches in Pampanga – San Fernando-Dolores, Pampanga-Angeles City, Pampanga-Apalit, Angeles-Balibago, San Fernando-Sindalan, Pampanga-Guagua, San Fernando-JASA and Pampanga-Clark.
BSP Deputy Governor Chuchi Fonacier said the central bank is assessing the impact of the disaster on bank operations.
"We're still awaiting reports from banks in the provinces. Here in Metro Manila, no damage reported so far," Fonacier said.
BSP Governor Benjamin Diokno issued Memorandum Order No. 2019-012 suspending treasury operations, including the dollar/peso trading, after Malacañang suspended work in all government offices due to the earthquake.
The central bank's clearing, settlement and cash operations, however, remained open.
Safety measures
Meanwhile, the country's largest labor group yesterday urged commercial establishments to inspect worksites and ensure the safety of their workers.
The Trade Union Congress of the Philippines (TUCP) criticized employers who required their employees to continue working even after the quake.
TUCP president Raymond Mendoza said employers have the obligation to inspect their workplace for possible damage caused by the tremor to prevent future workplace catastrophe.
Under the law on Strengthening Compliance with Occupational Safety and Health Standards, Mendoza said, workers have the right to refuse to work if they know that the workplace is unsafe to work in.
"If workers were forced to work despite the notice of unsafe workplace, employers, contractors and business-owners are administratively liable," Mendoza noted.
He said they received reports from workers that their managers, supervisors and employers did not evacuate them and kept them from going home.
"This company practice or policy is a form of abuse and it must be condemned because it imperils the lives of their employees and jeopardizes the safety and health of workers," Mendoza stressed.
Meanwhile, the BPO Industry Employees' Network (BIEN) urged companies to ensure that workers' lives and safety are their top priority.
BIEN expressed shock over reports from BPO workers that their companies did not evacuate them after the earthquake. ?
Damage to churches
For his part, Manila Archbishop Luis Antonio Cardinal Tagle yesterday instructed his priests in the Archdiocese of Manila to check on the condition of their parishioners, if there were people affected by the earthquake.
"Please see if some people in your area were hurt or displaced, so they could be attended to," Tagle said over Radio Veritas.
He also appealed to the rectors of churches and heads of Catholic schools and universities to make a thorough inspection of their buildings.
"Please check also the parish church, rectory, pastoral halls and schools for possible cracks or damages, so appropriate action could be taken," Tagle added
The San Fernando, Pampanga Archdiocese-Social Action Center told Radio Veritas that two of their churches suffered major damage and six churches sustained cracks as a result of the strong tremor.
Radio Veritas said the churches affected were the 17th and 19th century Church of Saint Agustine in Lubao, Pampanga and Santa Catalina de Alexandria in Porac, Pampanga.
Those that sustained cracks were churches and shrines in Angeles City, Sta. Rita, Guagua and Betis in Pampanga.
As this developed, the Archdiocesan Committee on Cultural Heritage (ACCH) in Pampanga posted on its Facebook account that the ACCH Secretariat recommended the lockdown on all 24 heritage churches in the province.
Catholic Bishops' Conference of the Philippines president Archbishop Romulo Valles yesterday offered prayers for those who were affected by the strong quake.
"It is again time to tell ourselves to prepare for such calamities which are difficult to predict like an earthquake. So let us continue to pray for ourselves and for the suffering people," Valles added. – With Mayen Jaymalin, Evelyn Macairan, Lawrence Agcaoili, Pia Lee-Brago