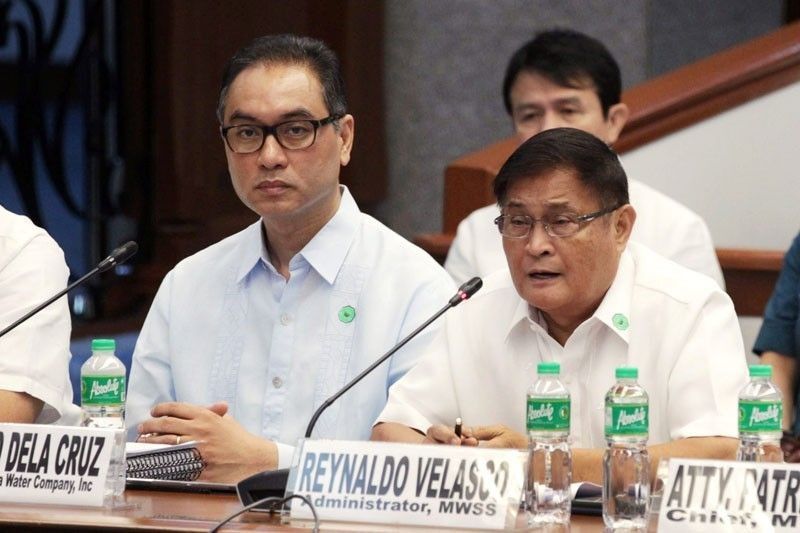 In this file photo, Manila Water president Ferdinand dela Cruz and MWSS administrator Reynaldo Velasco face the Senate hearing on water shortage affecting parts of Metro Manila and nearby provinces.
Geremy Pintolo, file
Duterte defers decision on MWSS officials, water firms
MANILA, Philippines — President Rodrigo Duterte needs more time to decide on the fate of the officials of the Metropolitan Waterworks and Sewerage System and water concessionaires whom he had scolded over a water shortage in Metro Manila and nearby areas.
Duterte previously said he would decide whether to terminate the MWSS officials and the contracts of the water utilities by April 15. Malacañang did not release information on the president's decision last Monday.
Cabinet Secretary Karlo Nograles said the president has decided to give himself more time to study the matter by extending his self-imposed deadline to April 22.
"The April 15 (deadline) has been moved to April 22," Nograles said during Thursday's Kapihan Sa Manila Bay media forum.
"He probably needs time to talk to some people or read some documents. You have to understand the president has several sources of information. All of that has to be validated, all of that to be vetted, all of that has to pass through some process of validation," he added.
Nograles said the extension would provide Duterte a chance to "study everything."
Last month, Duterte lambasted MWSS officials and water concessionaires Manila Water and Maynilad over the water interruption that caused long lines for water rations in Metro Manila and Rizal.
The water shortage was in the east concession zone, which includes Mandaluyong, Makati, Pasig, Pateros, San Juan, Taguig, Marikina, and parts of Quezon City and Manila as well as parts of Rizal.
Duterte warned water regulators and concessionaires to "shape up or ship out" and demanded that they resolve the water supply lack.
Earlier this month, Duterte criticized the MWSS for allegedly failing to prepare for El Niño and condemned what he described as "rich guys" who tried to make profits out of the water crisis.
"They didn't plan on opening it because they were waiting for an increase. Only then will they release the water. That's true. These rich people, these sons of b**** are milking us dry," the president said in a speech delivered last April 13.
Duterte chided the MWSS and water concessionaires anew in a campaign rally speech delivered last Tuesday.
"This week I will be firing...you know the MWSS...It comes with regularity, the El Niño. Son of a b****, you have been there for years and you do not prepare for it?" the president said.
"I called Maynilad, I said 'Son of a b****,' I will arrive noontime. If there is no water yet by that time, son of a b****, I will turn your heads into faucets. Your heads will turn," he added.
Duterte said he would not hesitate to fire MWSS officials if water supply issues persist. He said several Filipino engineers abroad whom he said are smarter, brighter, and more capable than MWSS officials are waiting for opportunities in the Philippines
"There are millions of Filipinos waiting outside...brighter than you. But they are not known because they are not politicians. I will not hesitate to replace you all," he added.
Nograles was mum when asked whether MWSS officials are in danger of being fired.
"Let us wait for April 22. He (Duterte) himself will reveal (his decision)," the cabinet official said.