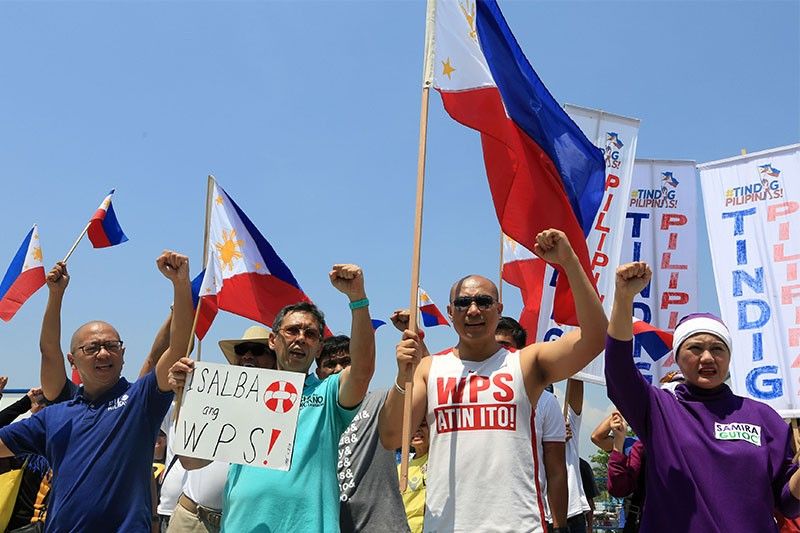 Otso Diretso senatorial bets Florin Hilbay, Chel Diokno, Gary Alejano and Samira Gutoc went to Masinloc, Zambales to reiterate their firm resolve to stand for the right of Filipino fishers to Scarborough Shoal, which is also called Bajo de Masinloc.
The STAR/Edd Gumban
Opposition bets wave Philippine flag in Scarborough jump-off point
Coast Guard denies them permit to go to Panatag
MANILA, Philippines — Opposition senatorial candidates waved Philippine flags alongside with local fishermen on the shores of Masinloc, Zambales to assert the Philippines' claim over Scarborough Shoal or Bajo de Masinloc.
The municipality of Masinloc has jurisdiction over Scarborough Shoal, where Filipino fishers are reportedly being kept away by the Chinese Coast Guard. The Armed Forces of the Philippines has said it has not received reports of harassment.
Senatorial aspirants Rep. Gary Alejano (Magdalo Party-list), human rights lawyer Chel Diokno, Marawi civic leader Samira Gutoc and former Solicitor General Florin Hilbay initially intended to go to the shoal and plant a Philippine flag.
The Philippine Coast Guard refused to issue a permit to boat owners if there would be recording equipment in the boat that was supposed to carry the senatorial bets, according to a statement from Otso Diretso.
Diokno expressed disappointment for not being allowed to go to Scarborough Shoal, a traditional fishing ground off the coast of Zambales.
"Bakit pati ang media hindi pinapayagan pumunta sa Scarborough Shoal? ...Palagay ko ayaw nila malaman ng taumbayan kung ano talaga 'yung nangyayari doon," Diokno said in an ambush interview.
Gutoc, on the other hand, called out the Philippine government's supposed inaction on the reported Chinese harassment of Filipino fishermen, which she said was "unacceptable."
The Marawi civic leader stressed that the government should not get tired of filing diplomatic protests if it is really sincere in protecting the country's sovereignty and its citizens.
"I am shaking my head in disbelief at this response. We are telling our people we can't protect them while they fish in our own territory. That they can fish at their own risk. Kailan pa ho tayo nawalan ng dignidad when it comes to China?" Gutoc said.
Alejano, a former Marine officer, expressed the same sentiments against the Duterte administration's policy toward China.
"Bakit maamo sila sa dayuhan pero malupit sa kapwa Pilipino? Kayo ang simbolo ng pang-aapi na pinapakita ng dambuhalang China. Tinutulak, binobomba ng tubig. Inapi tayo dati, at hindi nagpagapi. Insulto sa ating mga ninuno kung papalagpasin natin ito," Alejano said.
The Armed Forces of the Philippines earlier insisted that there have been no reports of Filipino fishermen being harassed by Chinese nationals in the vicinity of the Scarborough Shoal.
The US Indo-Pacific Command, however, has a different take on the matter.
In a Congressional hearing a few weeks ago, Adm. Philip Davidson told the US House services committee that Chinese coast guard vessels "regularly harass and intimidate fishing vessels" from the Philippines.