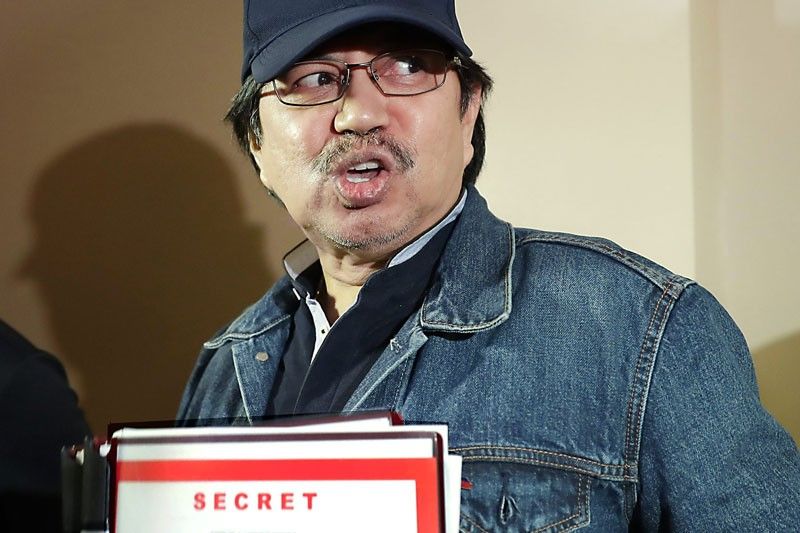 Presidential spokesman Salvador Panelo said Acierto could be ill-motivated since he has been placed in the President's list of personalities believed to be involved in the proliferation of illegal drug activities in Metro Manila.
File
Palace claims ex-cop trying to discredit Duterte
MANILA, Philippines — Dismissed police Col. Eduardo Acierto could just be trying to discredit President Duterte and his close allies to get back at the administration for exposing the police official's alleged illegal drug activities.
Presidential spokesman Salvador Panelo said Acierto could be ill-motivated since he has been placed in the President's list of personalities believed to be involved in the proliferation of illegal drug activities in Metro Manila.
"Obviously, the motive is – since he has been accused of involvement in drugs, he wants to get back, that's why he is pointing fingers at whoever," Panelo said during a regular press briefing in Malacañang yesterday.
Although he had expressed fear for his life due to a supposed P15-million bounty on his head, Acierto surfaced over the weekend accusing President Duterte and his trusted aide, Christopher "Bong" Go, of giving protection to Chinese trader Michael Yang and another businessman, Allan Lim.
Panelo turned the tables on Acierto for dragging Yang into the controversy.
"I already said yesterday that if indeed what he was saying is true, he should have filed it when he was still connected with the PDEA (Philippine Drug Enforcement Agency). In fact, that is what the PNP chief is also saying, why didn't you do something about it if that's true?" he said.
But Acierto had argued that he was placed in Duterte's so-called narco-list after he had called the attention of higher-ups, including officials close to the President, on Yang's alleged illegal drug activities.
On the contrary, Panelo said the President won't tolerate any person close to him to be linked to illegal drugs, and adopting the same policy in the fight against corruption.
Panelo reiterated that he is banking on the statement of Chinese Ambassador Zhao Jianhua who personally knows Yang.
"Not only friendship. The fact alone that you are an ambassador of China and your government is against illegal drug industry, how can you be associating yourself with somebody you know to be involved in drugs?" he said.
"Obviously, he's really not involved. Why would he associate with him?" Panelo added in Filipino.
Executive Secretary Salvador Medialdea said Yang's appointment expired on Dec. 31 last year. Yang received only one peso as annual compensation as presidential adviser.
Philippine National Police (PNP) chief Gen. Oscar Albayalde debunked allegations by Acierto that Yang is involved in the illegal drug trade.
Albayalde told reporters in Camp Crame, Quezon City that the PNP has no information that would link Yang to the illegal drug trade, contradicting the allegations of Acierto, a former official of the defunct PNP Anti-Illegal Drugs Special Operations Task Force.
"As far as the PNP is concerned, Michael Yang is not included in any watchlist or investigation of person with links to illegal drugs," he said.
"We also don't have information on Allan Lim, his name has only now surfaced," he said.
Acierto told a news conference late Sunday that President Duterte has been photographed with Yang and another Chinese Allan Lim who are allegedly involved in illegal drugs. Acierto claimed that he sent a report to the President to warn him about the two Chinese.
He said that he is not aware what government action has been taken after he submitted his report about the Chinese men to top police officials starting in December 2017.
Instead, Acierto said he's now facing illegal drug complaints and has recently been the target of threats that forced him to go into hiding.
Acierto had sought the help of the Catholic Church after he claimed that there is a P15-million bounty on his head.
He said that he passed an intelligence report to Albayalde when he was still in the police service.
Albayalde disputed Acierto's allegation, saying he could not remember receiving any copy of an alleged report on Yang's supposed drug links.
Acierto claimed Yang is part of the Johnson Chua drug syndicate where he facilitated the shipment of drugs in Davao City and Cagayan de Oro using his contact at the BOC.
He is known as alias Dragon in the drug group headed by Johnson Co, also known as Johnson Chua, a drug trafficker based in China.
Albayalde questioned why Acierto came out with his allegations only now, saying that the former police official had all the chance to testify during inquiries conducted in the Senate.
On Acierto's claim of threats to his life, Albayalde urged the police official to come forward and substantiate his claims.
Meanwhile, Marawi civic leader and Samira Gutoc asked for an explanation from the Duterte administration why it ignored the information linking Yang to the illegal drug trade.
Gutoc, a senatorial candidate of the opposition Otso Diretso alliance, also lamented that poor suspects are easily tagged in the narcotics trade while big businessmen who are close to those in power enjoy the benefit of the doubt.
Foreign Affairs Secretary Teodoro Locsin, Jr. blamed yesterday officials of past administrations for keeping the drug trade "covered."
Locsin turned to past administrations after President Duterte said that the illegal drug trade in the Philippines had worsened amid his administration's intensified anti-drug campaign.
"Maybe overturning the full to overflowing garbage can of the drug trade that past administrations kept covered, and spilling out its contents shows just how much was really there and how much more cleaning up needs to be done than we had thought just looking at the upright can," Locsin tweeted. – With Cecille Suerte Felipe, Pia Lee-Brago, Emmanuel Tupas