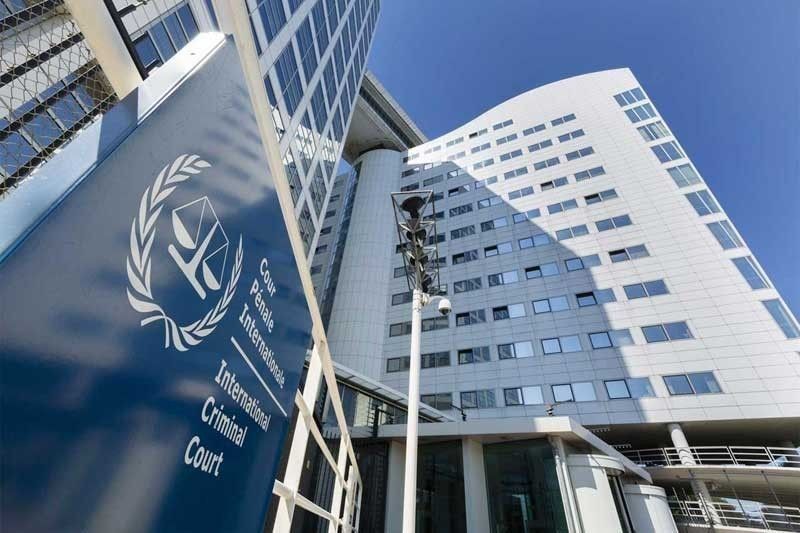 Malacañang also rejected the appeal of Assembly of States Parties president O-Gon Kwon of South Korea to reconsider its decision to withdraw from the Rome Statute.
File
Salvador Panelo claims International Criminal Court has no jurisdiction
MANILA, Philippines — The Philippines has no plan of returning to the International Criminal Court (ICC), at least during the time of President Duterte.
Malacañang also rejected the appeal of Assembly of States Parties president O-Gon Kwon of South Korea to reconsider its decision to withdraw from the Rome Statute.
Presidential spokesman Salvador Panelo shrugged off Kwon's idea that Manila's withdrawal from the Rome Statute that created the ICC was temporary.
"Not during the watch of this President," he said.
A year since the Philippines' withdrawal from being a party to the Rome Statute, Panelo said the country could not continue to be part of the ICC as he pointed out that "even other countries, powerful countries, share the same sentiment that ICC has weaponized human rights in the fight against drugs. It has been politically persecuting heads of states."
Panelo, who is also chief presidential counsel, thumbed down Kwon's claim that the ICC is an effective way or key to promote accountability among heads of states.
"I disagree. We have already pointed out that in this country we have a judicial system which is robust and functional, and very effective. And we have shown to the world that three presidents have been subjected to the machineries provided by the Constitution relative to ousting them with respect to certain abuses they have committed and we have demonstrated that," he stressed.
He also did not discount the possibility that ICC prosecutor Fatou Bensouda might be deported if she insists on coming to the country and, along the way, violate our processes.
"With respect to the ICC personnel who will come here and violate our sovereignty, they will be subjected to deportation," Panelo said.
Bensouda has been quoted as saying that the ICC will proceed with its preliminary investigation even if the Philippines has already withdrawn from the body.
But Panelo maintained that the ICC no longer has jurisdiction over the Philippines.
"Definitely, because they have no jurisdiction over us from the very start. More so if they believe that we have withdrawn, so what basis do they have to continue? Plus, there is a provision in the Rome Statute that outlines the procedure under which it can continue to assume jurisdiction, assuming that it has, it has not. They seem not to understand their own provisions of law," Panelo said.
He explained that the preliminary examination "is a process by which they want to determine or it will determine whether or not it can assume jurisdiction if there are present jurisdictional crimes."
As a lawyer, he stressed that there is a difference between preliminary examination and preliminary investigation – the former refers to the process in determining whether or not ICC can take jurisdiction while the latter means that it has already determined that it has jurisdiction.
"Because the Rome Statute is very clear, only when you started the preliminary investigation that you can commence even subsequent to the withdrawal of a state party; but there is none to speak of. Preliminary investigation shows or means that it has already determined that it has jurisdiction. So it has not even decided, so why are they continuing?" he said.
Panelo reiterated that Bensouda has an agenda in pursuing the examination against Duterte and that this is "the political persecution of this President."
Visit as tourists
Meanwhile, the Bureau of Immigration (BI) yesterday said ICC representatives would be allowed to visit the country as tourists but will be deported if they conduct a probe into the alleged extrajudicial killings (EJKs) in the country.
BI spokesperson Dana Sandoval pointed out that the ICC officers can visit the Philippines although their activities should be limited to tourism-related acts such as visiting the newly rehabilitated Boracay Island or other tourist spots.
"They are welcome to come here as tourists, perhaps to see the renewed beauty of Boracay. Foreign nationals are very much welcome to visit the Philippines as we encourage tourism, but visitors must respect and comply with our laws," she stressed.
If the representatives would insist on investigating the alleged drug-related killings under the Duterte administration, then they risk getting deported because "that could be a violation of the condition of their stay."
"As with any foreign national, violation of the conditions of stay could be ground for deportation," Sandoval explained.
She clarified though that, as of noontime yesterday, there was no formal order from Malacañang not to allow the ICC representatives to enter the country.
The BI also does not have a list, at present, of the names of ICC representatives who might come to the country. – With Evelyn Macairan