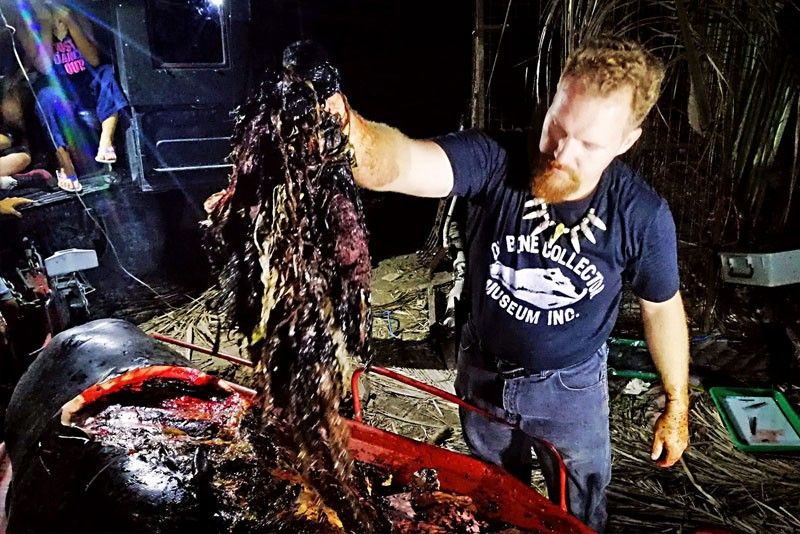 Marine biologist Darrell Blatchley shows some of the 40 kilos of plastic ingested by a beached juvenile curvier beaked whale that was stranded on the shores of Mabini town in Compostela Valley last Friday.
Photo courtesy of Blatchley
40 kilos of plastic found in beached whale
DAVAO CITY, Philippines — Forty kilos of plastic equals one dead whale.
This was the grim equation made by marine biologist Darrell Blatchley who said 40 kilos of plastic waste were found inside the belly of a juvenile male curvier beaked whale that got stranded on the shores of Mabini town in Compostela Valley last March 15.
"I couldn't believe it. I've never seen anything like this before. It was the first time that I saw at least 16 empty rice sacks and assorted plastics were just among the 40 kilos of trash found inside the body of the beached whale," said Blatchley, president of D' Bone Collector Museum Inc.
"This whale had the most plastic we have ever seen in a whale. It's disgusting," he said.
The beached whale estimated 4.6 meters long and 2.1 meters wide was found stranded along the coastline of Barangay Cadunan in Mabini town.
Blatchley said the rice sacks and other plastic waste found inside the whale's belly were one-tenth of its total weight of 500 kilos.
"The final cause of death is in for the juvenile male curvier beaked whale we recovered March 16, 2019. (Forty) kilos of plastic bags. Including 16 rice sacks. Four banana plantation style bags and multiple shopping bags," Blatchley posted on his Facebook page.
Blatchley added he will post later a full list of plastic items retrieved from the whale.
He noted the 500-kilo beaked whale was actually a lot smaller than the sperm whale found in the waters off Barangay Libudan of Samal Island, Davao del Norte in December 2016.
"The sperm whale that was found in Samal Island was so huge and many times bigger than this beaked whale but the one in Samal Island yielded only 10 kilos of plastic," he said.
According to the Bureau of Fisheries and Aquatic Resources, the local fishing community attempted to release the stranded whale in deeper water for three times when it was found in Mabini last March 15.
The whale would reportedly return to shallow water where it was later found lifeless on shore.
Reports said that upon initial observation, the whale had a prominent backbone and peanut-shaped head.