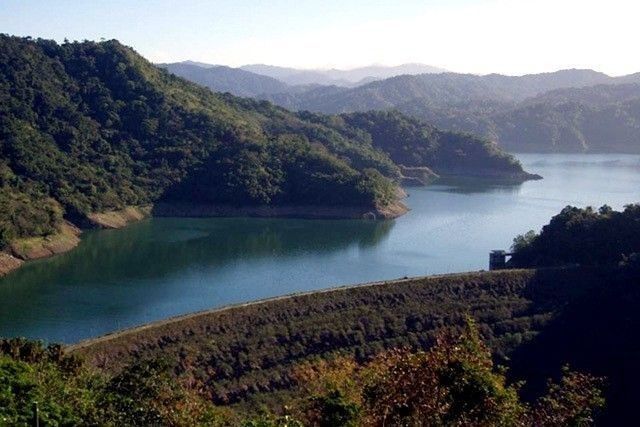 Angat Dam is the main water source of Metro Manila.
The STAR, File
Duterte orders release of water from Angat; MWSS says all waterways open
MANILA, Philippines — Amid the water crisis affecting Metro Manila and Rizal province, President Rodrigo Duterte has ordered the release of water from the Angat Dam, which a government regulator said earlier Friday has been releasing water.
Presidential spokesperson Salvador Panelo announced the president has directed the Metropolitan Waterworks and Sewerage System to demand private concessionaires Manila Water and Maynilad to release water from the dam by Friday noon.
According to Panelo, the president's directive was to release water from Angat Dam "good for 150 days, in order to supply the affected areas in Metro Manila and deliver, as well as distribute sufficient water to the residents thereof."
"Failure to act or comply with his directive, the president will personally go to them and make the responsible officers account for such failure," Panelo said in a statement.
Water levels at Angat Dam, Metro Manila's main water source, remains within normal range. The MWSS had earlier clarified that Manila Water is already getting water from Angat Dam.
Customers of Manila Water in the east concession zone have been experiencing water supply interruptions since last week.
Despite the president's directive, releasing water from Angat Dam is not under the jurisdiction of water concessionaires.
It is the National Water Resources Board that regulates the use of Angat Dam, particularly on the allocation of water supply for each area.
MWSS: All waterways open
In a press briefing earlier Friday, MWSS chief regulator Patrick Ty said to address allegations of sabotage floating around social media, said all waterways in the Angat-Ipo-La Mesa dam system are open and are being used.
This was in response to allegations that a "bypass" for water had been closed.
Ty clarifies La Mesa bypass is open and not closed as this is where Manila Water gets 1600 MLD allocation from Angat Dam. (via @News5AKSYON / @josebimbosantos)

— ONE News PH (@onenewsph) March 15, 2019
"Unfortunately, the infrastructure can only handle 4,000 million liters per day (MLD)," he said.
"Yes, there's a lot of water in Angat [and other parts of the Philippines]... but it cannot go here because of the existing infrastructure limitations in the system," he said.
Ty stressed there is no sabotage and that the shortage is not "artificial" as alleged by government critics and which Panelo raised as a possibility on Thursday.
"Where will you hide the water?" he said.
"There's no sabotage. All these conspiracy theorists... we'd like to ask them to be circumspect," he says. "Let's not add fuel to the fire."
Water allocation for Metro Manila
In a press conference earlier this week, Manila Water COO Geodino Carpio explained that only 4,000 MLD from Angat Dam is allocated for Metro Manila. This water allocation is being shared by Manila Water and Maynilad.
Manila Water had clarified that its allocation from Angat Dam is only 1,600 MLD and it uses La Mesa Dam as an additional source due to high demand.
The water level of La Mesa Dam is now below critical level, reaching a 21-year low of 68.74 meters as of Thursday morning.
Unbuilt dams
MWSS chief regulator Ty had admitted that the government was partly to blame for the water crisis in Metro Manila and Rizal province.
"It's our fault. It's the government because the Kaliwa Dam, Laiban Dam has been proposed since the Marcos time and due to lot of oppositions and accommodations for the [indigenous peoples], from the informal settlers, from this leftist group, church group, these projects keep on getting moved," Ty said in an interview with ANC's "Headstart" on Thursday.
The MWSS executive said both Manila Water and Maynilad have been pushing for alternative water sources as early as 2007 as they had foreseen that there would be a water crisis.
"I would say it's everyone's fault including us because we're not conserving water... These NGOs blocking all these alternative water sources, the government — we should have pushed it more," Ty said.