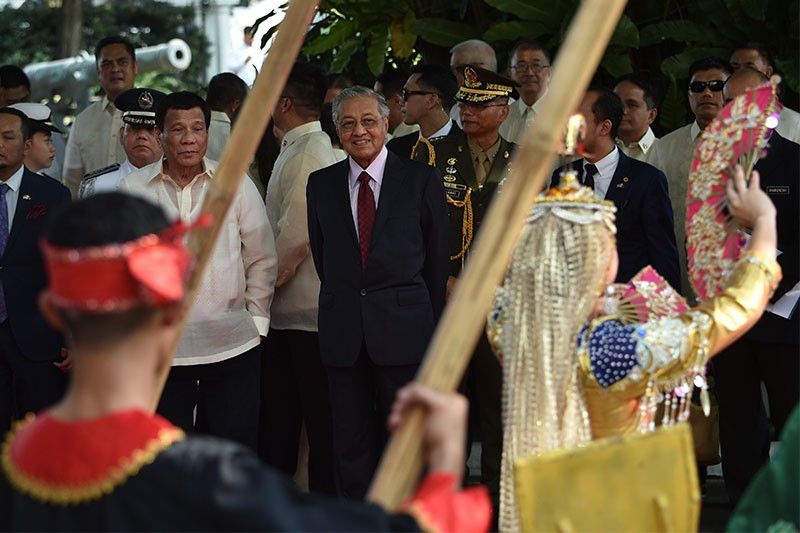 Philippines' President Rodrigo Duterte (center L) along with Malaysia's Prime Minister Mahathir Mohamad (center R) watch a dance troupe perform as part of a welcome ceremony on the Malacanang Palace grounds in Manila on March 7, 2019.
AFP/Ted Aljibe
Palace welcomes Mahathir's advice on Chinese loans
(Philstar.com) - March 11, 2019 - 2:56pm
MANILA, Philippines — Malacañang has welcomed the warning of Malaysian Prime Minister Mahathir Mohamad to be careful with loans from China.
In an interview with ANC last week, the Malaysian leader said the Philippines should avoid making the mistakes of other countries that fell into China's so-called debt trap.
"Of course, we will take his advice and the economic managers are evaluating all kinds of loans that we are having with the Chinese government," Panelo said in a televised press briefing.
Panelo reiterated the position of the country's economic managers that the Philippines is "very careful" in accepting loan offers from China.
"I think the econ managers have already explained that we are not at a disadvantage," Panelo added.
Mahathir was in Manila last week for an official visit and a bilateral meeting with President Rodrigo Duterte.
Malaysia, under the Mahathir administration, canceled a number of Chinese-funded projects amounting to about $22 billion that was previously awarded to former Malaysian Prime Minister Najib Razak.
"If you borrow huge sums of money from China and you cannot pay—you know when a person is a borrower he is under the control of the lender. So we have to be very careful with that," Mahathir told ANC.
The Duterte administration has been seeking help from other countries to fund the massive "Build, Build, Build" infrastructure project.
As of last week, the Philippines has executed nine loan agreements with other countries, including two from China, according to the Department of Finance.
"This (debt trap diplomacy) is something that of course China has been accused of, but it is also the country's concern which can regulate or limit all these influences from China," Mahathir said.
In the same interview, Mahathir also warned the Philippines against foreigner influx following the increase of Chinese workers in the country since Duterte took office in 2016.
"Foreign direct investment should not involve bringing huge numbers of foreigners to live in the country because that might disturb the political equations in the country," the Malaysian leader said. — Patricia Lourdes Viray