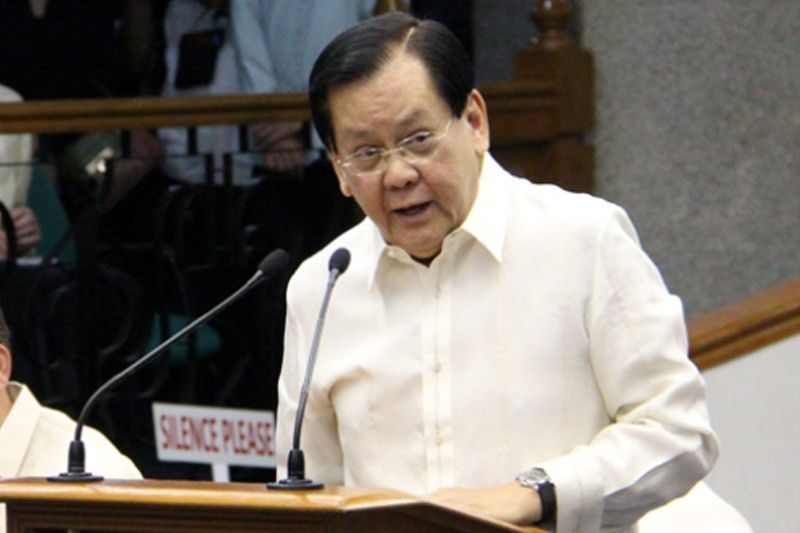 Sergio Osmeña III sets his sights on removing excise taxes on fuel and diesel if bid to return to Senate succeeds
File photo
Osmeña vows to remove TRAIN excise taxes if elected senator
none (Philstar.com) - March 7, 2019 - 6:29pm
MANILA, Philippines — Independent candidate Sergio Osmeña III, who is eyeing a return to the Senate, said he would remove taxes on diesel in the Tax Reform for Acceleration and Inclusion if elected this May.
"Presyo ng bilihin natin sa palengke, tataas rin 'yon (The price of goods in the market will rise). So you know, you have to remove the diesel tax and tax it elsewhere… because diesel affects everybody in this country," Osmeña, who lost his seat in the 2016 election, told News5 on Thursday.
Excise taxes in the TRAIN Law have been blamed for exacerbating the effects of high inflation in 2018.
In September and October 2018, when the Philippines was hit by the highest inflation in over 10 years, it was announced that the president would order the suspension of the second tranche of fuel excise taxes.
No order was issued and fuel prices eventually went down.
Osmeña had been a senator for three terms, from 1995 to 2007 and 2010 to 2016.

Osmeña is the grandson of former President Sergio Osmeña, while his brother Tomas is currently the mayor of Cebu City.
Bringing down of rice tariffs also eyed
He told News 5 that he would look at bringing down rice tariffs from the 35 percent, as mandated by the Rice Tariffication Act signed by Duterte a month ago.
The former senator believes this would lower the price of rice to about P22 per kilo.
He previously ran under the Lakas-CMD in the 1995 elections and with the Liberal Party as vice president in 1998.
This time, he said he was running as an independent to give him freedom to push his own agenda.
"Well it gives me flexibility," he said. "I would like to be independent so that if they go wrong, I can break them over the coals."
While he supported the candidacy of Vice President Leni Robredo, Osmeña said in 2016 that he would not return to his former party, calling them "incompetent."

"I would say Mar Roxas group has proven itself to be pretty incompetent and I think the Filipino people deserve better," Osmeña said then.
READ: Osmeña: LP incompetent; Phl to become laughingstock if Bongbong wins

During an interview with reporters when he filed his certificate of candidacy in October 2018, Osmeña vowed to help President Rodrigo Duterte and his agenda.
"He's been a good leader in the sense that people follow him. Now, he has to make sure he has good people under him, and this is what I will be able to help him do," Osmeña said then.
Osmeña had made it in the "magic 12" but dropped out in the February Pulse Asia survey, moving from 38.8 percent (8th to 13th) in December to 37.7 percent (10th to 15th).
READ: Go, Roxas in; Osmeña, Dela Rosa out in Pulse Asia 'Magic 12'

Osmeña was only two spots away from the top 12 in 2016, placing 14th with 12.3 million votes, behind Francis Tolentino's (13th) 12.5 million and Sen. Leila de Lima's (12th) 13.79 million votes.