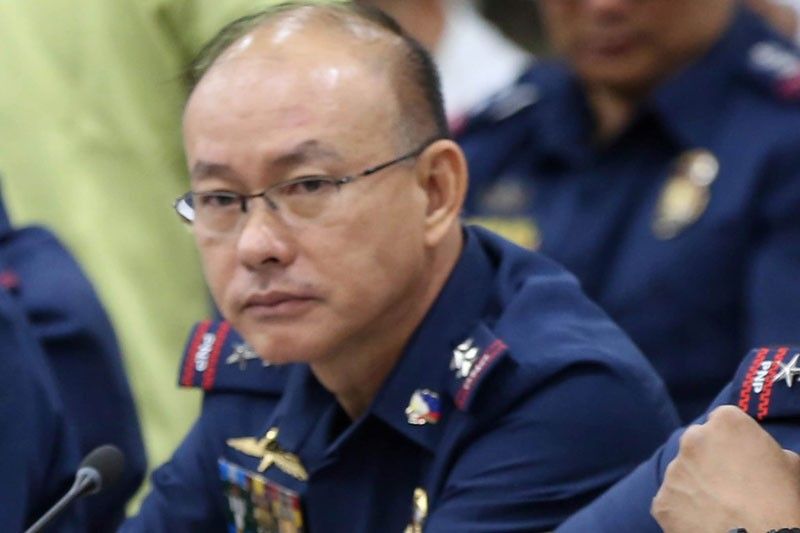 Albayalde said respondents in the SWS may not have enough awareness on extrajudicial killings.
The STAR/Boy Santos, file
PNP takes issue with poll question on extrajudicial killings
MANILA, Philippines — Survey firm Social Weather Stations should have checked respondents' awareness of extrajudicial killings and of the government's definition of them before polling away, police said Monday in response to findings that show most Filipinos fear summary killings.
In a briefing, Philippine National Police Director General Oscar Albayalde said he takes findings that suggest 78 percent of Filipinos are worried that they or someone they know would become victims of extrajudicial killings "with a full cup of salt." The figure was up from 73 percent in June 2017.
Taking issue with how SWS phrased its survey question, Albayalde said: "Who isn't afraid to die anyway?"
According to the SWS release on the survey, respondents were asked the following question:
"Gaano po kayo nangangamba na kayo o sino mang kilala ninyo ay maging biktima ng 'extrajudicial killing' o EJK? [How worried are you that you or anyone you know will be a victim of 'extrajudicial killing' or EJK?]"
RELATED: Palace: 'Grotesquely sensationalized' deaths to blame for EJK fears
He said the SWS survey "missed the crucial point of determining the respondents' awareness of EJK." He said SWS should also have checked if respondents were aware of the definition of extrajudicial killings that the government uses.
The government currently uses Administrative Order 35, which creates an inter-agency panel to investigate "the killing of a member of, or affiliated with an organization, to include political, environmental, agrarian, labor, or similar causes; or an advocate of above-named causes; or a media practitioner or person(s) apparently mistaken or identified to be so."
It has confined itself to this definition, which rights advocates have said since 2017 is restrictive.
In a 2008 ruling, the Supreme Court defined EJKs as "killings committed without due process of law, i.e., without legal safeguards or judicial proceedings." A 2009 SC ruling also recognized that "extrajudicial killings and enforced disappearances, by their nature and purpose, constitute State or private party violation of the constitutional rights of individuals to life, liberty and security."
READ: Cayetano uses restrictive EJK definition, experts say
Albayalde stressed that "a large majority continues to support the national crusade against illegal drugs" and appreciate government efforts against the illegal drug trade.
"The question itself is... parang mali (seems incorrect to me). Everyone would be scared, of course," Albayalde said, claiming that polling firms should be "responsible enough" as he alleged pollsters may be trying conditioning the minds of the public.
"We really don't know that motivated this survey... We do not know."
SWS said the questions on EJKs are "are non-commissioned, and are included on SWS's own initiative and released as a public service."
'No proven EJKs'
Albayalde also claimed that there have been no proven cases yet of extrajudicial cases under the Duterte administration.
In October 2017, the PNP claimed that there was only one clear case of EJK in 6,225 drug-related deaths it had investigated so far. That statement was revised to zero EJKs going by AO 35.
Rights group Karapatan, which is associated with the national democratic activist movement and which tallies attacks against people who would fall under the definition in AO 35, said in December 2018 that there had been 84 killings of activists and rights defenders under the Duterte administration.
In November 2018, Caloocan Regional Trial Court Branch 125 convicted three Caloocan police officers of murder for the killing of 17-year-old Kian Loyd delos Santos in August 2017.
Delos Santos was slain on the night of Aug. 16, 2017, during a "One Time, Big Time" operation of the Caloocan City police. Police claimed he was a drug runner.
Police also claimed that Delos Santos fought back. Closed-circuit television camera footage, however, showed that Delos Santos was dragged by the police officers towards the Tullahan River, where he was later found dead in a kneeling position.
The court said there was no chance for Delos Santos, a minor, to defend himself.
Improved peace and order
Albayalde said Monday that "over the years, we have improved in the peace and order situation" and that the police have been investigating alleged extrajudicial killings as well as so-called "deaths under investigation" and "homicides under investigation", which is how drug-related deaths are sometimes called.
He said that when he left the National Capital Region Police Office to become PNP chief, "almost 50 percent of the 'deaths under investigation'" under his office had already been solved.
"In some cases, suspects were already arrested. There were suspects who were identified but are at large. There were those who were nautralized (killed)," he said.