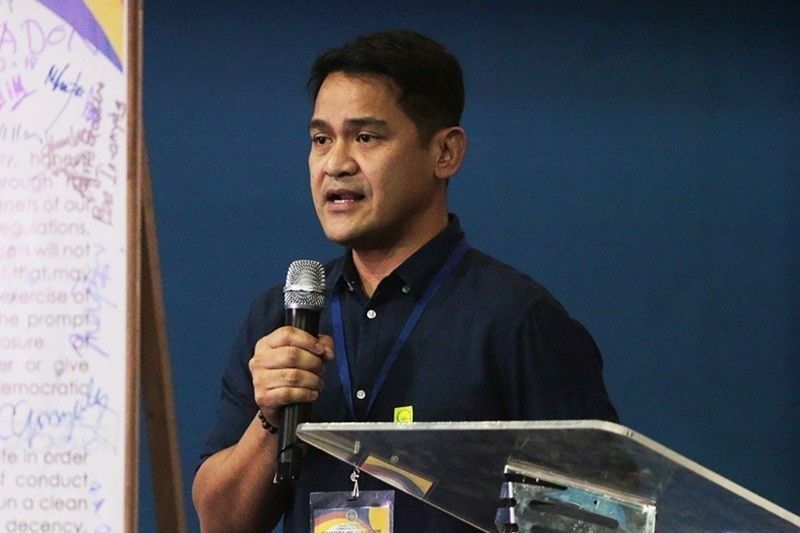 Former broadcast journalist Jiggy Manicad files his certificate of candidacy for senator.
Philstar.com/Efigenio Toledo IV
Manicad now open to decriminalization of libel
(Philstar.com) - February 26, 2019 - 11:36am
MANILA, Philippines — Former broadcaster and senatorial candidate Jiggy Manicad has softened his stance on libel, which he earlier said should remain a criminal offense.
On ABS-CBN's "Harapan 2019" debate on February 17, Manicad said he believes libel should remain a criminal act "so there will be no abuse from our ranks as journalists."
A little more than a week later, Manicad said in an interview with ANC's "Headstart" on Tuesday that he "may reconsider [his] position" on decriminalizing libel, which journalists' and rights groups have long been calling for.
Manicad explained that he realized that a journalist being branded as a criminal is not a good thing. "Talagang naglalahad ka lang ng katotohanan—if naglalahad ka ng katotohanan—yun yung point," he said.
(You are only stating the truth—if you are indeed stating the truth—that is the point.)
Internal regulation, a sense of responsibility
The former journalist however stressed that journalists should have an internal regulation and a sense of responsibility with what they write.
"Hindi ka pupuwede na magsusulat ka, magmumura ka, babanatan mo, pero yun yung abuse ng freedom na ginagawa." he added.
(You cannot just write, or curse out a person, or attack someone. That is an abuse of freedom that is done.)
He added: "We have to have our own internal rules that are strong [and rules that provide for] redress."
The United Nations Human Rights Committee recognized in 2012 that the criminal penalty for libel in the Philippines is "'excessive' and in violation of the International Covenant on Civil and Political Rights in which the Philippines is a signatory," the Center for Media Freedom and Responsibility said that year as it reiterated the call to decriminalize libel.
That call has again been revived in light of the case against Ressa. Apart from the case against the Rappler CEO, there have been 12 libel cases filed against media workers during the Duterte administration.
RELATED: Journalists reiterate call to decriminalize libel
Review of arrest procedures
Manicad, however, distanced himself from the cyberlibel case against high-profile journalist and Rappler CEO Maria Ressa saying that he has no knowledge on the basis of the case.
Earlier, he told Pilipino STAR Ngayon that the Department of Justice should look into the "procedures" in Ressa's arrest.
Recounting his experience as a former police beat reporter, Manicad said then: "We know there should be courts handling proceedings at night, in the case of Maria, she should have been given a chance to avail of legal remedies such as posting bail."
Ressa paid a bail bond of P100,000 after spending a night at a conference room in the National Bureau of Investigation headquarters.
Rappler's case sparked a stronger call from Filipino journalists to decrminalize libel.
The National Union of Journalists of the Philippines pointed out that a "dangerously vindictive government" has already "mangled law" to silence a critical news outfit "but unless stopped, these machinations will eventually endanger not only Rappler or the independent Philippine media but each and every Filipino who has ever posted online."
The Palace has meanwhile rejected the assertion that the Rappler case is meant to stifle the press.
"You are not above the law. So you are given all of the leeway and you are given all of the legal remedies that you can get... but to say that this is against press freedom, and to say that it is an affront to press freedom is a big mistake because it's not true," Presidential Communications Secretary Martin Andanar, whose office held a "press freedom caravan" so journalists in Europe "can be enlightened about the case of Maria Ressa", said.
READ: How the Presidential Task Force on Media Security works | Philippines among worst places in Southeast Asia for journalists — IFJ
'Media should not be afraid if they are on the side of truth'
Manicad also said that members of the media should not be afraid of "any dictator, any tyrant," if they are always on the side of truth.
"We are impartial, we are apolitical, we are objective, we are fair, we are truthful to our reporting then no matter who it is, even we it would be ten President Dutertes threatening, why should we be afraid?"
There have been at least 12 media workers killed in relation to thir work in the 28 months before November 2018, when the Freedom for Media, Freedom for All Network released its State of the Media report. The coalition also tallied seven cases of slay attempts, six cases of intimidation, five cases of verbal threats and five incidents of physical assault against journalists.
Duterte has openly criticized the coverage of Rappler and Philippine Daily Inquirer accusing them of being biased against him and the government.
Rappler is facing several cases in different courts, while the government has pursue legal action against the owners of the PDI, who announced in 2017 that they would be selling their stake in the media company. Duterte has also threatened to block the renewal of broadcast giant ABS-CBN's franchise.
In a January interview with ONE News' "The Chiefs," Manicad said that he does not think press freedom is under attack and the legal action against Rappler was an isolated case.
"Now, because of that handling, someone got angry and ordered an investigation, does it really translate to an attack on press freedom? How come in other networks, it's not like that?" Manicad then said in Filipino. — Kristine Joy Patag