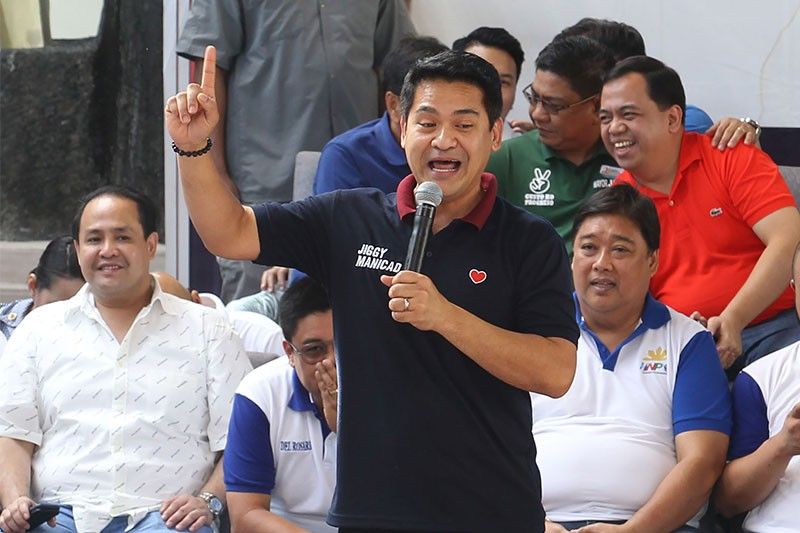 In this February 12 photo, former broadcast journalist Jiggy Manicad attends the campaign launch of the Hugpong ng Pagbabago coalition in San Fernando, Pampanga.
The STAR/Michael Varcas
Ressa should have been allowed to post bail, says former journo Manicad
MANILA, Philippines — Like any other accused, Rappler CEO Maria Ressa should have been treated fairly, former broadcast journalist and senatorial aspirant Jiggy Manicad said Thursday.
Ressa was arrested on Wednesday evening for a cyberlibel case, which stemmed from an article about a businessman published in May 2012.
Agents from the National Bureau of Investigation arrested the Rappler CEO after office hours, preventing her from making bail.
"As a former police beat reporter, we know that there should be courts handling proceedings at night, in the case of Maria, she should have been given a chance to avail of legal remedies such as posting bail," Manicad said in Filipino in a text message.
According to Rappler, a Pasay night court judge refused to accept the bail of Ressa despite having the authority to do so under Rule 114 section 17 of the Rules of Court.
Ressa had to spend the night at the conference room of the NBI Cybercrime Division in Manila.
Manicad called on the Department of Justice to review its procedures following the arrest of the Rappler chief.
"The treatment should be fair among all those who are accused. The DOJ should review their procedures in relation to this," Manicad said.
A few weeks ago, Manicad insisted that press freedom in the country is not under attack and that legal action against Rappler was an isolated case.
In an earlier interview with ONE News' "The Chiefs," the senatorial bet said the government has basis for filing charges against the online news site.
"Now, because of that handling, someone got angry and ordered an investigation, does it really translate to an attack on press freedom? How come in other networks, it's not like that?" Manicad said in Filipino. — with a report from James Relativo/Pilipino STAR Ngayon
As It Happens
LATEST UPDATE: October 14, 2019 - 4:35pm
Palace answers questions on barring of Rappler reporter Pia Ranada from entering Malacañan New Executive Building to cover. It was later clarified that Ranada is allowed to enter the New Executive Building but not Malacañan, where the president's events are held.
October 14, 2019 - 4:35pm
Pasig Regional Trial Court Branch 159 remands, or sends back, the case of violations of the Securities and Regulation Code filed against Rappler and its executives for preliminary investigation.
It says there was "undue haste in [the] transmittal of records of the case." — Philstar.com/Kristine Joy Patag
September 26, 2019 - 1:52pm
The Office of the Solicitor General says it has answered a petition at the Supreme Court filed by Rappler reporter Pia Ranada and others questioning an order to bar Rappler journalists from covering President Rodrigo Duterte's events.
The OSG says Ranada's media accreditaton has lapsed and that the Securities and Exchange Commission has revoked Rappler's certificate of incorporation.
"Under the [International Press Center] and [Media Accreditation and Relations Office] accreditation rules, a legitimate media entity must be accredited in order to cover the President."
"Even the Malacañang Press Corps By-laws require, among others, that to be a member of the MPC, it must be duly-recognized by the Presidential Communications Operations Office as a bona fide media organization, duly-accredited by the IPC and duly-registered at the SEC."
The OSG adds that despite the ban, Rappler has access to Palace press releases and briefings and can ask questions through SMS.
August 14, 2019 - 12:04pm
The Supreme Court orders the Office of the President, Office of the Executive Secretary, the Presidential Communications Operations Office, Media Accreditation Registration Office and the Presidential Security Group to comment on petitions questioning the banning of Rappler reporters and correspondents from Malacañang and from other events where President Rodrigo Duterte will be.
The petitions were filed by Rappler staff as well as by supporters from civil society and by colleagues in the media.
April 3, 2019 - 10:29am
Rappler CEO Maria Ressa pleads "not guilty" in four tax evasion cases at the Court of Tax Appeals.
Rappler Holdings Corp. (RHC) chief executive officer Maria Ressa pleads not guilty to P70.228-M tax evasion cases before the Court of Tax Appeals (CTA). @PhilippineStar

— Elizabeth T. Marcelo (@marcelo_beth) April 3, 2019
April 3, 2019 - 8:24am
Rappler CEO Maria Ressa is set to be arraigned at the Court of Tax Appeals on Wednesday, April 3, on four counts of tax evasion, she says in a tweet.
Arraignment is when a person charged with a crime enters a plea of "guilty" or "not guilty". In case the person refuses to enter a plea, the court will enter a plea of "not guilty" for them.