Journalists reiterate call to decriminalize libel
February 18, 2019 | 12:35pm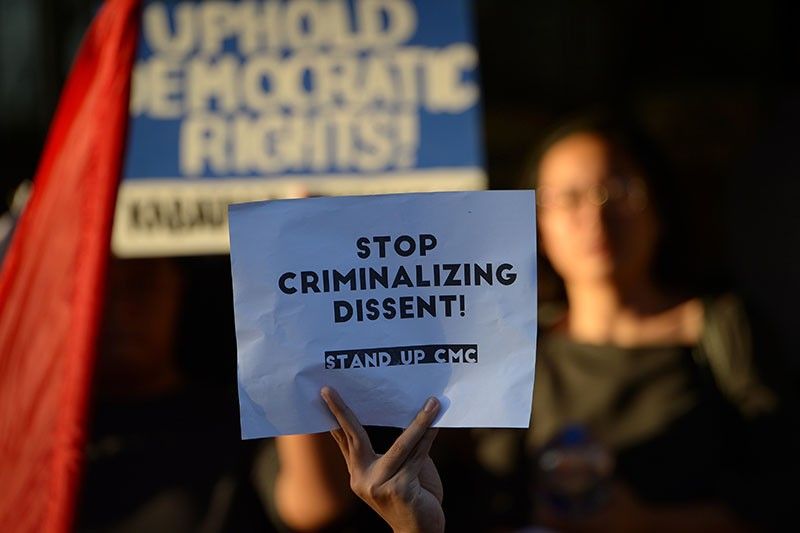 MANILA, Philippines — Journalists are reiterating the call for the decriminalization of libel in light of a case that has led to the arrest of a high-profile journalist for cyberlibel.
The National Union of Journalists of the Philippines said on Monday that the government's case against Rappler and its CEO Maria Ressa highlight the need for the decriminalization of libel.
NUJP pointed out that a "dangerously vindictive government" has already "mangled law" to silence a critical news outfit "but unless stopped, these machinations will eventually endanger not only Rappler or the independent Philippine media but each and every Filipino who has ever posted online."
Under the Revised Penal Code, libel is punishable by imprisonment for from six months to six years. The Cybercrime Prevention Act, Republic Act 10175, also includes a provision to punish online libel, as defined by the RPC.
Rappler, Ressa and former reporter Reynaldo Santos Jr. are facing a charge of cyberlibel before a Manila court. Ressa and Santos are out on bail, after paying a bail bond of P100,000 each.
"The position of the [Department of Justice] and the National Bureau of Investigation that an allegedly defamatory statement posted online will continue to be a crime unless the offending material is taken down means that anything and everything anyone posts anywhere on the web can be cause for criminal prosecution that could lead to long jail terms and crippling fines," NUJP said.
It added that "it is not inconceivable that we could witness online desertification as people attempt to wipe out any content that might be deemed, for any reason, libelous."
Cagayan de Oro-based journalists have also echoed the journalists' group sentiment as they raised, in a report from Mindanao Gold Star Daily, that the case "criminalizes journalism." The Mindanao Gold Star Daily cites veteran journalist Froilan Gallardo as saying current libel and cyber libel laws "are like swords held to the throats of journalists."
Libel law from the 1930s
Members of the Philippine press have long rallied for the decriminalization of libel, a law that has been carried over from 1932.
The Center for Media Freedom and Responsibility said in 2014 that the "libel provisions of the RPC have been problematic for free expression and press freedom since 1932...which has been used in many instances to silence journalists."
The media watchdog monitors libel cases against reporters across the country.
UP professor Rachel Khan, chair of the journalism department at the College of Mass Communication in UP Diliman, stressed that "libel has been used to harass journalists."
Speaking at DzBB, Khan added that libel "should be more of a civil act", as it would prevents the its use to theaten journalists with imprisonment.
NUJP acknowledged that getting a law passed to decriminalize libel would be extremely difficult.
"After all, our antediluvian libel law and its threat of jail time is one of the weapons of choice of corrupt officialdom against those who dare scrutinize and call out their venality and abuse," it said.
READ: A look at the cyber libel charge vs Rappler, Maria Ressa
Manicad, Malacañang: Libel a check on journalists' 'abuse'
A former member of the Philippine media is seeking a seat at the Senate, but Jiggy Manicad's stand on the decriminalization of libel differs from that held by many of his former colleagues.
In ABS-CBN's Harapan 2019 debate on Sunday night, Manicad said that he believes libel should remain a criminal act "so there will be no abuse from among our ranks as journalists."
The format of the show kept candidates from elaborating on their answers.
Manicad however refused to comment on Ressa's case, saying that it is already pending before the court.
Presidential spokesperson Salvador Panelo, meanwhile, said that in his opinion, a civil suit for a libel case would suffice, but there is a fear that journalists would abuse it.
"If you feel that your right has been violated, you should file a case. It should not be that because you are up against a high-profile journalist, you would just let it be," he said in a mix of Filipino and English in an interview with ANC's Early Edition.
He said that President Rodrigo Duterte believes that "what the law says, we should follow."
Duterte has distanced himself from Ressa's arrest, saying that he does not know businessman Wilfredo Keng, who first filed the complaint against Ressa before the NBI. He said Thursday night that he had yet to read up on the case.
Panelo also said that Ressa's case has nothing to do with "freedom of expression," asserting that Ressa is facing a legitimate case and would be given an opportunity to defend herself in court. — Kristine Joy Patag