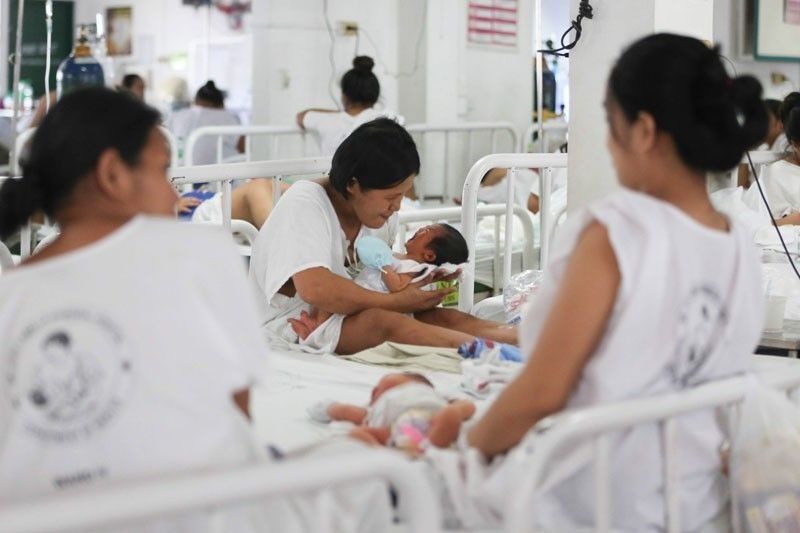 The DOH outlay includes P21.5 billion for health facilities like barangay clinics and provincial hospitals.
KJ Rosales/File
'Expanded health care lacks P170 billion'
Jess Diaz
(The Philippine Star) - February 24, 2019 - 12:00am
MANILA, Philippines — Funding for the Universal Health Care (UHC) law is short by P170 billion, the head of the House of Representatives committee on health and one of the law's authors said yesterday.
Quezon Rep. Angelina Tan said the envisioned expanded health services would require up to P270 billion in one year when the law is fully implemented in two to three years.
She said for this year, the UHC program has up to P100 billion coming from earnings and budget subsidy of the Philippine Health Insurance Corp. (PhilHealth) and from contributions of the Philippine Gaming and Amusement Corp. and Phili­p­­pine Charity Sweepstakes Office.
She added that another funding source UHC supporters are eyeing is the proposed increase in sin taxes.
Health Secretary Francisco Duque III has different figures on the program's funding requirements.
It would require P257 billion this year, of which Congress has allocated P217 billion, or a deficit of P40 billion, he said.
It is not clear where he based the P217-billion supposed available funding for this year. Congress has appropriated only P67.4 billion for PhilHealth and P98.6 billion for the Department of Health (DOH) in the proposed 2019 national budget.
The DOH outlay includes P21.5 billion for health facilities like barangay clinics and provincial hospitals.
The UHC program aims to extend free PhilHealth coverage to all Filipinos.
Tan said beneficiaries would have to register with their barangay health centers to enroll for free health insurance coverage.
She said the expanded benefits include preventive, curative, rehabilitative and palliative care for medical, dental, mental and emergency health services.
"In light of the massive resources required to push the UHC agenda, the program will rely heavily on public funding. Thus, annual allocations from the national government are critical for the program's successful implementation," she said.
She pointed out that it is with this in mind that she, her Senate counterpart Joseph Victor Ejercito and Sen. Manny Pacquiao have filed separate bills that seek to increase taxes on cigarettes and other tobacco products, Tan said.
"We have to generate a large part of the deficiency from increased sin taxes," she said.
Tan and Pacquiao have proposed to increase cigarette levies from P32.50 to P60 per pack, while Ejercito wants taxes adjusted to P90. The Department of Finance is supporting the Tan and Pacquiao proposals.
However, the House committee on ways and means chaired by Estrellita Suansing of Nueva Ecija has recommended only a small adjustment of P2.50.
Tan and other supporters of expanded health care have expressed disappointment over the recommendation. They are banking on Ejercito and Pacquiao to fight for a bigger tax increase when the proposed law is sent to the Senate.
Proponents of higher sin taxes can count on health advocacy group Action for Economic Reforms (AER) for support.
In a statement, AER's economist Arjay Mercado said the UHC Act requires a "sustainable funding source" to be effective.
"The signing of UHC into law is a victory for all Filipinos, and due recognition must be given to the reformers in the DOH, the Department of Finance and Congress for their efforts in leading the passage of this measure," he noted.
"We are calling on the Senate to immediately pass a significant increase on both tobacco and alcohol excise taxes to ensure that the measure will have a secure funding source for years to come," he added.
This way, he maintained, "we will not have to realign any funds from other agencies that have their own programs and projects that require financing of their own."
According to Mercado, a significant sin tax increase would discourage consumption of cigarettes and alcohol, which are associated with many serious diseases. – With Sheila Crisostomo