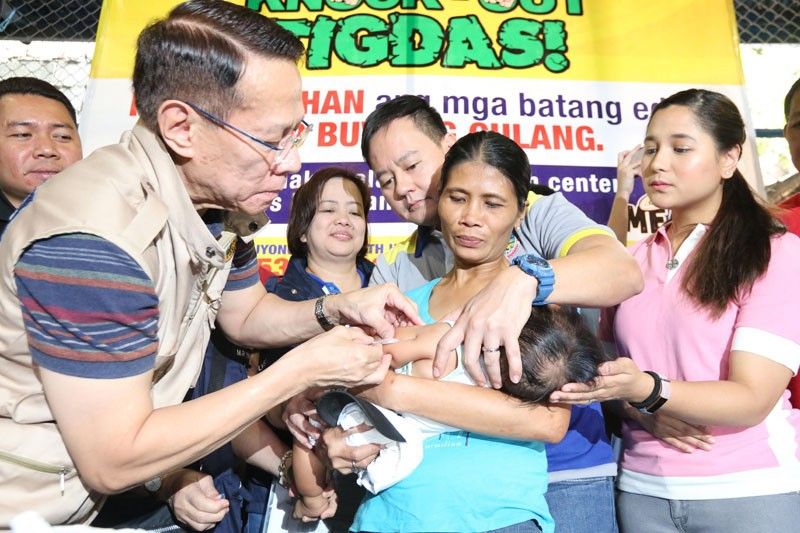 Duque earlier raised the possibility of implementing a mandatory vaccination policy.
Ernie Peñaredondo
Measles cases up: No vaccination, no enrollment policy eyed
MANILA, Philippines — The Department of Education (DepEd) is reviewing a proposal of the Department of Health (DOH) to implement a "no vaccination, no enrollment" policy in public schools as the number of measles cases rose to 11,459 with 189 deaths.
Education Secretary Leonor Briones said they have to study thoroughly the proposal to ensure that it would not impinge on the rights of students if implemented.
"We have to look at the human rights aspect," Briones said on Wednesday. "We will study it on the aspect of the Constitution, human rights."
The present guidelines on the school-based immunization program allows parents to decline vaccination for their children by not signing the required consent form.
While the proposal for mandatory vaccination is under review, Briones said they need to think of other ways to convince parents that the risk of measles vaccination is not similar to that of the controversial anti-dengue vaccine Dengvaxia, which was given to some students under the school-based immunization program.
The DepEd chief said she met with Health Secretary Francisco Duque III to strengthen efforts to address the measles outbreak in some regions.
Among the commitments made by the agency include gathering of data on how many school children are afflicted with measles, follow-up on students without consent forms and categorize children on whether or not they have been vaccinated.
"We are working together in areas with outbreaks," Briones said.
Duque earlier raised the possibility of implementing a mandatory vaccination policy.
He said there is an existing executive order issued by then president and now Speaker Gloria Macapagal-Arroyo in 2007 that requires the immunization of children before they enter elementary and pre-school.
The policy, however, does not provide for sanctions for failing to comply.
"We are looking at countries where immunization is mandatory. We have no law yet on this but this is something that merits serious consideration," Duque said.
Measles cases hit 11,459
The DOH recorded a total of 11,459 measles cases, including 189 deaths, from Jan. 1 to Feb. 20 this year.
The figure was 329 percent higher compared to the 2,673 measles cases posted during the same period last year, according to Duque.
"We are hoping and praying for the measles outbreak to end, but it's still increasing," the health chief said.
Duque said the DOH is exerting all efforts to immunize 95 percent of the target population to control the spread of measles nationwide.
He said measles cases are expected to drop by the first week April if they would be able to immunize young children and others vulnerable of acquiring the infection.
Meanwhile, the DOH office in Cagayan Valley has declared a measles outbreak in the region after clustering of cases was observed in four provinces.
"Our regional office recommended the declaration of measles outbreak after measles cases were recorded in Cagayan, Isabela, Nueva Vizcaya and Quirino," Duque said.
But he said the DOH is unlikely to declare measles outbreak in the entire Cagayan Valley region since only 66 cases were recorded in the whole region.
Although measles cases increased from six to 82, Duque said the prevalence was much lower than in other regions. – With Victor Martin
Related video: