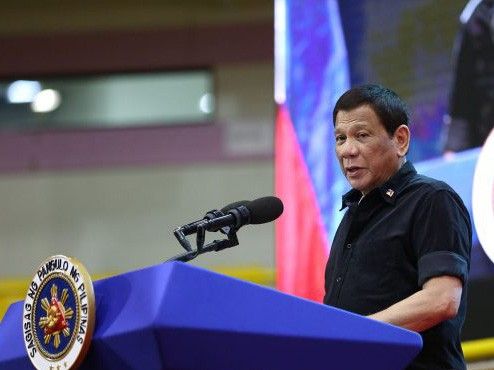 President Rodrigo Roa Duterte delivers his speech during the Peace and Order Summit for Barangay Officials held at the Ibalong Centrum for Recreation in Legazpi City, Albay on Feb. 8, 2019.
Presidential photo/Karl Norman Alonzo
Duterte admits: My drug war 'enemy' is my own government
(Philstar.com) - February 9, 2019 - 11:35am
MANILA, Philippines — President Rodrigo Duterte conceded on Friday that waging a war on illegal drugs where his own government is his enemy was not an easy task.
Duterte, a former city mayor, beat his more moneyed rivals and won the race to Malacañang in 2016 promising to eradicate crime and solve his country's drug menace in three to six months. He later sought a six-month extension to his drug crackdown, saying he was shocked by the magnitude of the problem when he became president.
In a speech in Legazpi City, Albay, Duterte admitted he was wrong to assume he can meet his self-imposed deadline of eliminating narcotics.
"I boasted that I can end the illegal drugs trade in six months. I really thought I could do it," the firebrand leader said in Filipino.
"How can I solve it in six months, my enemies are the Bureau of Customs, police generals. They're all in [Ninoy Aquino International Airport]. My enemy is my own government," he added.
Human rights watchdogs say most of the fatalities in the government's anti-narcotic drive are extrajudicial killings committed by cops, something the Duterte administration has vehemently denied.
Upon taking office, Duterte bared a list of mostly public officials allegedly linked to illegal drug trade.
Despite instigating a chilling war on drugs, multi-billion peso worth of methamphetamines, or "shabu" as it is known, reportedly slipped through the Bureau of Customs twice in two years. — Ian Nicolas Cigaral