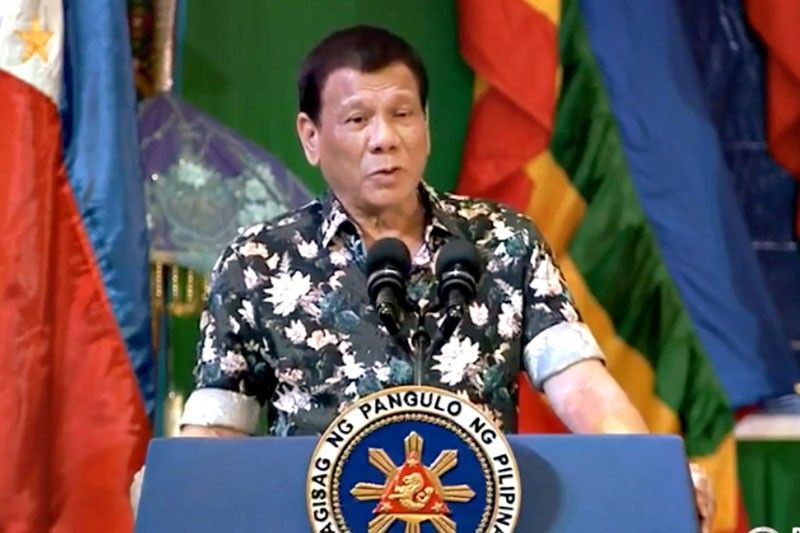 President Duterte makes a final pitch for the measure that would establish a Bangsamoro region in Mindanao, during a peace assembly in Cotabato City yesterday.
Jaime Laude
Duterte pitches for Bangsamoro Organic Law approval
Duterte to Nur Misuari: Let's talk
COTABATO CITY, Philippines — As Muslim Mindanao stands on the threshold of greater autonomy, President Duterte yesterday called on the people to vote "yes" for a law that would make this possible and "bring genuine peace" to the region.
"Let us use the plebiscite to finally correct the injustices against our Moro brother. My Moro brothers and sisters, vote yes to the BOL," the President said at a peace assembly here for the ratification of Republic Act No. 11054 or the Bangsamoro Organic Law (BOL).
The BOL would pave the way for the replacement of the Autonomous Region in Muslim Mindanao (ARMM) with the Bangsamoro Autonomous Region in Muslim Mindanao. BARMM promises greater autonomy to regions it will cover.
"Your approval of this law will not only serve as a testament to your determination to bring genuine peace in autonomous Mindanao. Your approval of this law will not only serve as an expression of your desire to end more than half a century of armed struggle in the region, it will also serve as a testament to your determination to bring peace," the President said.
Moro Islamic Liberation Front (MILF) chairman Al Haj Murad also urged the Bangsamoro people – both Muslims and Christians –to go out and vote on Monday.
"To our brothers and sisters in the Christian faith, IPs we offer you the hand of peace," he said, referring to indigenous peoples.
The President emphasized the long and tedious path to peace in Mindanao.
"This landmark law was not built entirely from scratch, it echoes the aspirations and principles in past peace agreements, embodied in the different Moro fronts. Indeed it is a product of blood, sweat and tears of many great men who came before us," Duterte said.
"We listened to the indispensable sentiments and concerns of Muslims, Christians, lumads and other indigenous peoples and various stakeholders who also call Mindanao their own," Duterte added.
The President even quipped he would not return to Central Mindanao anymore if the BOL doesn't get enough votes.
He likewise stressed that the Bangsamoro people should take the plebiscite as an opportunity to heal the wounds inflicted by centuries of colonization.
"Together let us take this opportunity of healing and reconciliation as brothers and sisters and Filipinos," he said.
Despite his usual profanity, Duterte acknowledged this time that God must be good to Filipinos because He allowed peace efforts to go this far.
"Salam. God must be good to us, the fact that we have reached this point after so many years of negotiations and interactions, Inshallah. God is great. Allahu Akbar!" Duterte said.
"I remind you the power to chart your course is now in your hands. The future depends on you," Duterte stressed, addressing the Bangsamoro people.
"Lands will be distributed justly; resources divided by the Moro who are there in possession of the land. I know it is your territory but I would have to put it under land reform for all of you. I will help you with seedlings and fertilizers," Duterte said.
"Until such time that the Bangsamoro will come to prosper, then that would be the time that the Bangsamoro has come of age," the President added.
The Chief Executive also said he would have to convince local government units to get loans so they could help the people develop agriculture in the area.
"The problem has always been poverty. People have no work and they have no food. It is sad that until now they still subsist on cassava when other nations already sent men to the moon. We have to understand the needs of the people," Duterte said.
The President likewise acknowledged the role of Moro National Liberation Front chair Nur Misuari in ending hostilities with the MILF.
"Though he's not here, he's a critical factor in the overall process. He's my good friend; I hope to talk to him in the coming days, as we agreed, tapusin muna natin 'to (Let's get this done first)," the President said.
Officials make appeal
The President's officials made their own pitch for BOL, especially in Sulu, with defense chief Delfin Lorenzana calling the law's ratification "our chance to make our present situation better."
If the yes vote wins in the plebiscite, "We shall pass on a more prosperous Mindanao to the next generation," Lorenzana said.
"What is happening right now is history in the making," he added.
"This is our dream. Even though I am not a Muslim, I grew up in a Muslim-dominated area in Maguindanao, I am with you in dreaming of a prosperous Mindanao," Lorenzana said.
"The Bangsamoro people's aspiration for social justice, equality, peace and prosperity is shared by all peace-loving Filipino people," he said.
With Lorenzana in Sulu were Interior Secretary Eduardo Año Jr., Presidential Peace Adviser Carlito Galvez Jr., Cabinet Secretary Karlo Nograles, Deputy Presidential Peace Adviser Nabil Tan and Armed Forces of the Philippines chief Gen. Benjamin Madrigal.
Lorenzana spoke before thousands of residents gathered at the gymnasium of the Mindanao State University.
"We will now have a Bangsamoro government with more power, more autonomy and more resources… This is the time to tell the whole country and rest of the world that we will vote Yes to the BOL this Jan. 21," Año said, drawing applause from the crowd.
Galvez, for his part, assured the residents of Sulu of a peaceful and orderly plebiscite on Monday as he had reached out to various stakeholders in his previous meetings in the province to ensure their cooperation.
"Don't be scared. Let's be united. Let's vote. We should protect the plebiscite. This is a rare opportunity given to us to decide and finally chart our own destiny under this new law for peace in Mindanao," Galvez said.
"This is a law for peace. This law is for justice. This law will bring more development to the Bangsamoro," he stressed.
But it might not be smooth sailing for BOL in Sulu as its political leadership led by Abusakur Tan II is opposed to the ratification of the law and is more open to federalism.
"No. I do not favor that (federalism) because that's already extreme case and we don't see any to such effect," Lorenzana said.
He said the Tans may have no choice but to eventually back BOL because Sulu is part of ARMM.
He admitted the opposition to BOL raised by officials and people of Cotabato City and Isabela in Basilan might be a problem because the cities were not part of ARMM.
Meanwhile, the Philippine National Police (PNP) said it has foiled a plan by an ISIS-affiliated group to disrupt the plebiscite on Monday.
Police Regional Police Office 12 Director Eliseo Rasco bared the arrest on Tuesday in Cotabato City of Abubakar Pagayao, alias Jing or Kario, who confessed to being a member of the Asnsar Khalifah Philippines (AKP).
Rasco said they received information that the AKP was planning to conduct bombing activities to cause trouble during the plebiscite.
Found in Pagayao's possession was a fragmentation grenade.
PNP chief Director General Oscar Albayalde said local terrorist groups remain the biggest threat to security during the plebiscite. – Roel Pareño, Jaime Laude, Romina Cabrera, Jose Rodel Clapano