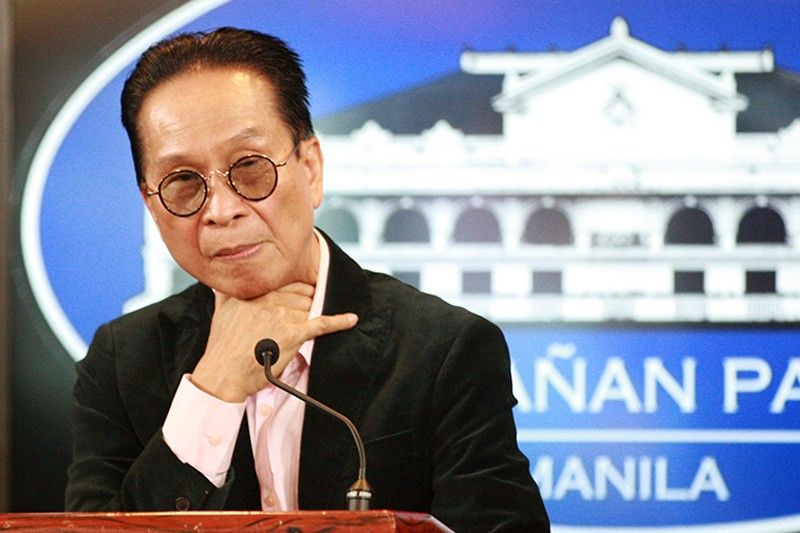 Salvador Panelo believes there's not much that can be done about the 'word war' between Duterte and the Catholic Church
File photo
Palace on 'word war' between Duterte, Church: Let it be
MANILA, Philippines — What would it take to end the "word war" between President Rodrigo Duterte and the Catholic Church?
"According to Bishop Soc (Villegas) it does not affect the church. Eh di wala (so nothing)," Presidential Spokesperson Salvador Panelo told Malacañang reporters Thursday afternoon. "They're just engaged in polemics."
Duterte began stepping up his criticism of the Church in 2017 and in 2018, attacking the Church has become a part of almost every public speech of the president.
Lingayan-Dagupan Archbishop Socrates Villegas, former Catholic Bishops' Conference of the Philippines president, told DZMM in an interview Wednesday night, "I am more worried for the president than the Church."

READ: A look at the Church's 'tirades' vs Duterte
"Because the Church has been there for 2,000 years guided by God, that is our faith," Villegas said. "The Church has gone through more challenges within those 2,000 years."
The archbishop and outspoken critic of Duterte said, "I'm worried about our president, because it's not good for his health and stature." In the end, Villegas said, "it will be he who is the victim and not the Church."
Panelo then suggested that the public should let the "word war" be.
"The president cannot be stopped from speaking his mind on any particular matter, to his mind it is important," the spokesperson said. "In the same way, you cannot stop the bishops from speaking for themselves. Regardless of what they say," he added.
In his past speeches, Duterte has accused bishops of living luxurious lifestyles, womanizing, corruption, among other accusations. While Catholic Church leaders often hit the president for the war on drugs, alleged human rights abuses and violent rhetoric.
Duterte frequently brings book "Altar of Secrets" by investigative journalist Aries Rufo to public events — a book brought to light alleged corruption and sex scandals in the Philippine Catholic Church — to make his point about his belief that the Church is being hypocritical when it criticizes his administration.
READ: Duterte willing to be crucified if priests refute 'Altar of Secrets'

Duterte said last week that he is "willing to be crucified" if priests could dispute allegations in Rufo's book.
Rufo was a practicing Catholic and senior investigative reporter at news site Rappler before his sudden passing in 2015.
He wrote in an essay for news site Union of Asian Catholic News in 2013 that he did not write the book to "destroy" the Church as some hardline Catholics had accused him of in the past.
"We try to portray a Church that is divine and human as well, a local Church trying its best to institute reforms. Taking baby steps to respond to the changing times without compromising its principles and dogma," he said.

While Panelo did not say they wished to censor the Church he said, "if you are men of the cloth, your real job is supposed to be the spiritual awakening of the faithful. Don't meddle in the things the state does for the betterment of the country."