Migrante hits Duterte for rape remarks
January 13, 2019 | 12:00am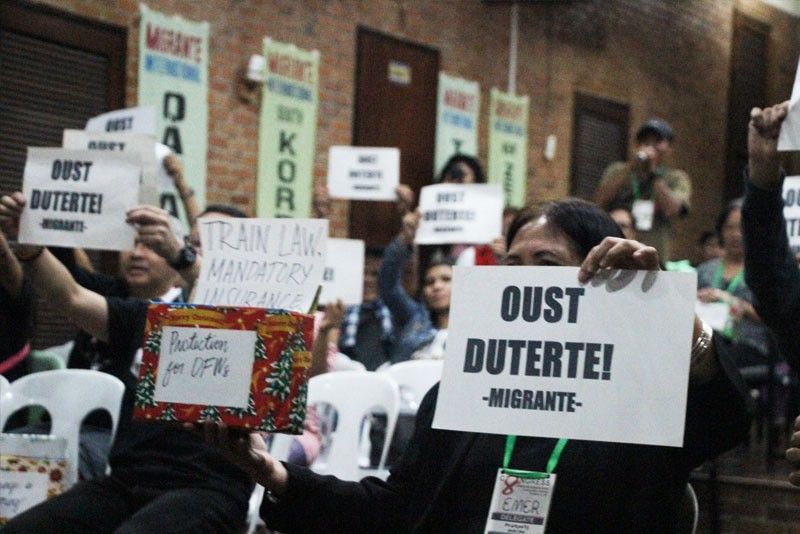 MANILA, Philippines — Overseas workers group Migrante International yesterday criticized President Duterte over his recent rape remark on women migrant workers.
Migrante chair Joanna Concepcion said that instead of ensuring justice for all rape victims and protecting female migrant workers, Duterte's remark "justified the commission of heinous crimes against them."
"We can never accept your statement that it's our fate to be raped and enslaved in a foreign country. Mr. Duterte, it is your government that sent our mothers and sisters abroad to be enslaved through your labor export program," Concepcion said in a statement.
In a recent speech in Masbate, Duterte said, "For those working as slaves, rape comes with the territory. It's part of the culture."
Arman Hernando, chairman of Migrante Philippines, said Duterte's alleged criminal neglect is distressing enough for the migrant workers to condemn "the inhuman regime."
"Yet again, this latest remark of yours deserves greater condemnation. Your slave society thinking as reflected in your remark has put them in greater danger because it aggrandizes the abuse of their foreign employers," Hernando said.
The group urged Duterte to retract the statement and apologize to the women migrant workers.
It asked Duterte to tell the migrant workers about the immediate and comprehensive programs that his government would take to free them from the bonds of overseas slavery.