Duterte says transport strike group 'committing a rebellion'
October 17, 2017 | 12:58pm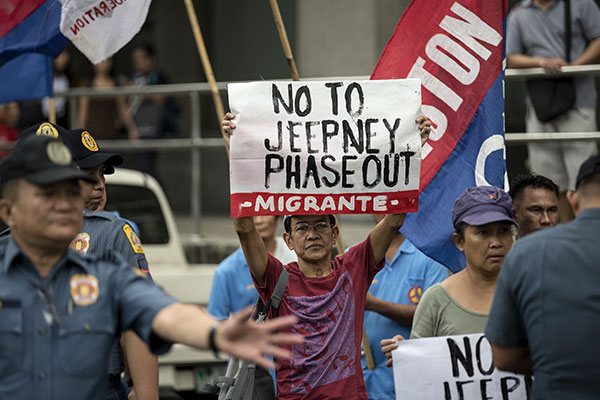 MANILA, Philippines — President Rodrigo Duterte on Tuesday accused a transport group of committing rebellion for holding strikes that forced Malacañang to suspend classes and work in government.
Pinagkaisang Samahan ng mga Tsuper at Operator Nationwide (Piston) is leading the protest of around 200,000 drivers and operators who are against the phase-out of jeepney units that are 15 years or older starting in 2018.
The drivers and operators said the plan to replace their units would result in huge amounts of debts despite the low-interest rates and subsidy that the government was offering them.
READ: Why some transport groups oppose jeepney phaseout
Reacting to the transport strikes, Duterte said Piston and "the rest of the left" are making a "big deal" out of the jeepney phase-out, adding that the transport group and the communists are in a "one big conspiracy."
"Itong Karapatan, itong KMU, itong Piston, they are just the legal fronts of the Communist Party of the Philippines... It's a one big conspiracy but they are at the same time—all of them—are committing right now rebellion. Tulungan lang yan sila," Duterte said in a televised speech in Camarines Sur.
"It's a one big conspiracy, mayroon sila, kita mo yung Piston may star pa ng... that's the logo of the communists. Wala na akong nakita dyan sa Russia pati sa China, itong mga buang nalang na ito," he added.
Under the Revised Penal Code, Rebellion is committed by "rising publicly and taking arms against the government for the purpose of removing from the allegiance to said Government or its laws, the territory of the Philippine Islands or any part thereof, of any body of land, naval or other armed forces, depriving the Chief Executive or the Legislature, wholly or partially, of any of their powers or prerogatives."
The Land Transportation Franchising and Regulatory Board earlier claimed that Monday's stoppage of jeepney operations barely had an impact and recommended to the Palace not to suspend Tuesday's work and classes.
It also claimed that the two-day strike was part of a ploy to destabilize Duterte's administration but the agency did not release any evidence to support this.
Piston has denied that the protests were part of supposed moves to topple Duterte. On Tuesday morning, presidential spokesperson Ernesto Abella said the Palace has "no formal proof" that Piston is linked to destabilization attempts against Duterte.
For their part, Defense Secretary Delfin Lorenzana and Armed Forces Public Affairs Office chief Col. Edgard Arevalo early this month said they have not monitored any destabilization plans.
READ: Alvarez, AFP: No destab moves, but…
In the same speech on Friday, Duterte said that while he allows Piston to conduct transport strikes for as long as it wants, they must follow the government's implementation of jeepney phase-out or their units will be destroyed.
"And here comes Piston and the rest of the left, sinasakyan nila, make it a big deal. So ako naman, sabi ko ganoon, sige eh di mag-demonstrate kayo, walang ano sakin even if you do that twice or thrice a month," Duterte said.
"Kaya, I'll give you until the end of the month or until the end of the year. Sumunod kayo because January 1, pag may makita ako dyan mga dyip ninyo walang, di narehistro, luma, guguyurin ko yan sa harap ninyo. If you want, gusto ninyo ng gulo, marami man akong pulis," he added.