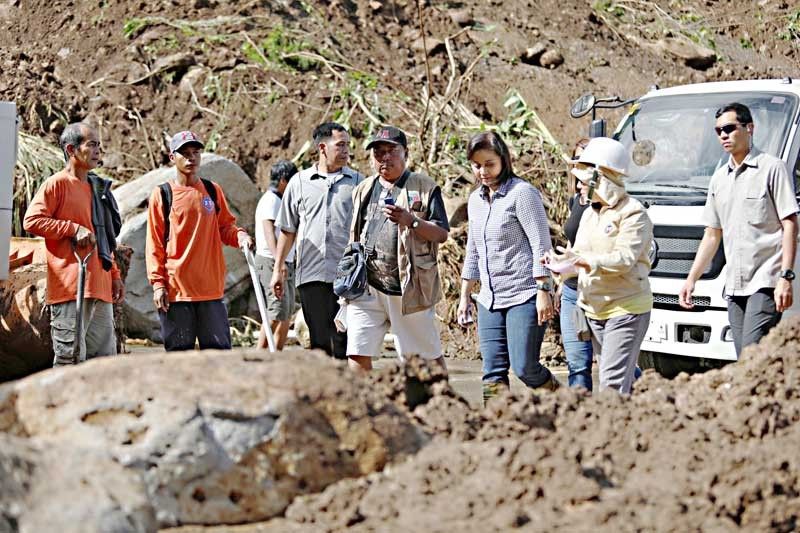 Vice President Leni Robredo visits Barangay Patitinan in Sagñay, Camarines Sur yesterday to check the extent of damage in the area following a landslide.
Tropical Depression Usman death toll climbs to 87
Jaime Laude
(The Philippine Star) - January 3, 2019 - 12:00am
MANILA, Philippines — The death toll from Tropical Depression Usman in Bicol, the Visayas and Southern Tagalog has reached 87, with 20 others missing, the National Disaster Risk Reduction and Management Council (NDRRMC) reported yesterday.
NDRRMC spokesman Edgar Posadas said the figures are still subject to validation by the Department of the Interior and Local Government (DILG)'s Management of the Dead and the Missing (MDM).
Posadas said Usman also directly affected 45,348 families or 191,597 people from 457 barangays in Bicol, Eastern Samar and the Cavite-Laguna-Batangas-Rizal-Quezon (Calabarzon) region, as well as in Mindoro-Marinduque-Romblon-Palawan (Mimaropa).
Of the displaced families, 41 of them totally lost their houses either to landslides or flooding in Bicol, Calabarzon, Mimaropa and Eastern Visayas.
The highest number of fatalities came from Bicol with 70, Eastern Visayas with 13, Mimaropa with three and one from Calabarzon.
Office of Civil Defense (OCD) regional officials said 17 came from Albay, 25 from Camarines Sur, 15 from Camarines Norte, seven from Masbate and six from Sorsogon.
The victims either perished from the series of landslides or widespread flooding that hit their villages at the height of heavy to moderate rains dumped by Usman before New Year.
In its initial report, the regional OCD yesterday said the body count had already reached 102, while 23 remained missing, most of them from the worst landslide-hit Patitinan village in Sagñay town in Camarines Sur.
The regional OCD said 60 bodies were recovered in Camarines Sur, 15 in Albay, 13 in Camarines Norte, seven in Masbate and seven in Sorsogon.
The NDRRMC also recorded 13 deaths in Eastern Visayas – eight from Northern Samar and five from Samar province.
In Oriental Mindoro, three people were also reported to have drowned in massive flooding in the island province. Another victim of drowning was reported in Laguna.
Of the 20 people missing, 15 were reported from the Bicol region and the rest from Eastern Visayas.
Usman, upon making landfall in Calbayog City two days before New Year, also caused injuries to 40 individuals; 18 from Camarines Sur, one in Camarines Norte, six in Sorsogon, seven in Albay, all in Bicol and seven from Oriental Mindoro and in Marinduque.
Officials said the widespread flooding caused by Usman in the Bicol region damaged P431 million worth of crops.
The Department of Agriculture (DA), in its updated report to NDRRMC, said the rice sector was hardest hit with 21,441 hectares of rice fields and 6,525 metric tons of produce valued at P366 million damaged.
At least 13,127 farmers in Quezon, Oriental Mindoro, Albay, Camarines Norte, Camarines Sur, Catanduanes, Masbate, Sorsogon and Samar were affected.
Losses in high-value crops reached P39.3 million and affected 529 hectares of fruit trees, vegetable plantations and root crops in Albay, Camarines Sur, Masbate and Sorsogon.
Corn production loss was placed at P23 million and affected 4,255 hectares in Albay, Camarines Sur, Masbate and Sorsogon.
As for livestock, losses have been reported in Camarines Sur and Catanduanes with nearly 2,000 animal heads affected amounting to P2.01 million.
Damage to fisheries was also reported in Camarines Norte amounting to P807,500 worth of tilapia, crab, shrimp and milkfish.
The DA is set to dispatch recovery intervention teams to the affected areas to deliver seeds and other farm inputs to ensure that farmers will be able to replant.
Attached agencies like the Philippine Crop Insurance Corp. and the Agricultural Credit Policy Council have also been directed to fast-track damage assessment for insurance payments and prepare recovery loan funds.
The National Food Authority (NFA), meanwhile, has released more than 6,000 bags of rice for the victims of the typhoon in Calabarzon, Mimaropa, Bicol and Eastern Visayas.
The NFA has so far released 5,785 bags for Bicol, 432 for Region 4 and 45 for Region 8.
Market monitoring teams were also deployed to ensure that NFA rice would be sold at government prescribed prices and unscrupulous businessmen are not taking advantage of the situation.
Rep. Carlos Roman Uybarreta of 1-CARE urged President Duterte to impose price controls on fuel and other basic commodities in the Bicol and Eastern Visayas regions.
Uybarreta said the President could do this by placing the two regions under a state of calamity.
The Chief Executive could then order the Department of Trade and Industry (DTI) and the DILG "to implement price controls for at least six months to allow affected residents to recover," he said.
Uybarretta said the imposition of price limits would prevent unscrupulous traders from taking advantage of the destruction caused by the typhoon and increase prices.
Uybarreta, who comes from Sorsogon and Camarines Norte, also urged the government to delay the collection of the new fuel tax increase in Bicol and Eastern Visayas.
The estimated amount of damage is expected to increase further as the ongoing disaster assessments on the havoc wrought by Usman to road networks and infrastructure in Bicol and Eastern Visayas, including the destroyed rice fields in the several heavily flooded fishery and agricultural towns of Capiz in Western Visayas, are completed.
The Department of Public Works and Highways (DPWH) said 16 national road sections in the Bicol region were closed due to landslide and flooding.
Local officials declared a state of calamity in Camarines Sur, Albay and Sorsogon.
Oriental Mindoro, the flood-hit Calapan City and the towns of Boco, Naujan, Socorro, Pola, Pinamalayan, Bansud and Bongabong were also placed under a state of calamity due to the massive destruction to agriculture and infrastructure.
Vice President Leni Robredo called for permanent relocation of families living in landslide prone areas in the country after Usman left scores of people dead in Bicol region.
Robredo visited the wake of landslide victims in Sagñay, Camarines Sur.
She said 30 persons were killed while 16 remained missing in Sitio Igot alone.
"There were many areas where landslides occurred. That's why we have to find permanent solution on this. These areas should no longer be inhabited," the Vice President said.
Robredo, who had served as representative of Camarines Sur, said government authorities must be stricter in the enforcement of danger zone regulations.
"They should not allow people to come back to these places," she added.
Department of Social Welfare and Development (DSWD) Secretary Rolando Bautista has ordered the department's regional office to speed up release of burial assistance to the storm victims.
DSWD spokesperson Glenda Relova added the agency will also provide housing assistance of P15,000 to those whose homes were damaged and P30,000 to families whose homes were totally destroyed.
Relova said the DSWD has so far tallied 69 totally destroyed houses in Camarines Sur. – With Louise Maureen Simeon, Jess Diaz, Rainier Allan Ronda, Cet Dematera, Edu Punay, Helen Flores