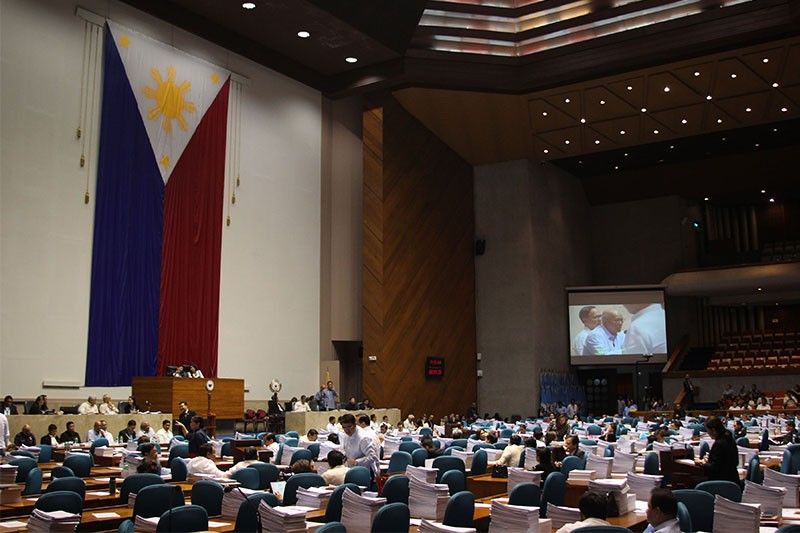 With a total 235 affirmative votes, 28 negative votes and one abstention, the Senate and the House of Representatives jointly approved the motion of Senate Majority Leader Juan Miguel Zubiri and House Majority Leader Rolando Andaya to extend martial rule in Mindanao from January 1 to December 31, 2019.
STAR/Michael Varcas
'Mindanao martial law extension contrary to Constitution'
MANILA, Philippines — Extending the declaration of martial law in Mindanao for another year would be contrary to the Constitution, Sen. Francis Pangilinan of the Senate minority said Wednesday.
In a joint session on Wednesday, 223 members of the House of Representatives and 12 senators voted in favor of extending martial law in Mindanao until Dec. 31, 2019.
Pangilinan was one of five senators who voted against the resolution to extend the proclamation for the third time.
"Prolonged martial rule in a large area affecting the lives of millions of our citizens is authoritarian and contrary to our constitutional democracy," Pangilinan said in explaining his vote before Congress.
Pangilinan pointed out that the government has yet to show concrete projects for the rehabilitation of Marawi City after over one year and a half of martial law in the entire Mindanao.
"Finally we reiterate that the martial law declaration now extending for a period of two years is contrary to our Constitution. We in government no longer have the moral ascendancy to go after these terrorist organizations and armed groups who disregard our laws and our democracy when we do so in violation of our own Constitution," Pangilinan said.
Lagman: Martial Law declaration 'functio officio'
Rep. Edcel Lagman (Albay) also stressed that Proclamation 216, which initially declared martial law and suspended the privilege of writ of habeas corpus in Mindanao, has become "functus officio" or expired when President Rodrigo Duterte declared that Marawi has been liberated from terrorists in October 2017.
Following Duterte's declaration, Defense Secretary Delfin Lorenzana also announced the stop of combat operations against those who siezed the war-torn city.
Rep. Gary Alejano (Magdalo Party-list) also said the extension of martial law in Mindanao does not have basis under the 1987 Constitution.
"Martial law declaration is an extraordinary measure to fix security problems for a short period of time. Just a short time, my dear colleagues," said Alejano, who is one among 28 House representatives who voted against the extension.
The Magdalo lawmaker also raised concern that martial law has become ordinary in Mindanao, making it more disturbing.
"Martial Law is being equated to governance or the lack of it," Alejano said.
'Police, military can do their jobs without martial law'
Sen. Risa Hontiveros, meanwhile, emphasized that the police and military can fulfill their mandates even without martial law.
"The AFP and PNP does not need any more instruments but the Constitution itself that already has ordinary but strong powers, like calling out powers of the president and there is no more need for martial law for the AFP and PNP to perform their mandate," Hontiveros said.
Hontiveros also warned that the third extension of martial law in Mindanao poses new threats as it covers the May 2019 elections.
"Because in addition to fears already expressed — fears that have not been allayed by a government that continues to run roughshod on human rights and civil liberties — I am afraid of what martial law might mean for the democratic right to vote, I continue to vote no," she said.
Reds order attacks in response to extension
In a statement on Wednesday afternoon, the Communist Party of the Philippines, which has opposed martial law and whose insurgency is among the government's justifications for the extension, warned that "further extension of military rule will result in more killings, abductions, torture and worse abuses against the people."
The party, which will mark its 50th founding anniversary this month, called on the Filipino people "to further intensify their protests against martial law in Mindanao, de facto nationwide martial law, and against Duterte's tyranny and terrorism."
In a move that could be seen as proving the government right, the CPP also called on the New People's Army "to mount tactical offensives across the country in response to the extension of martial law in Mindanao."
It said that guerriillas "must exert all possible effort to punish the worst fascist units and officers of the AFP who have committed grave crimes against the people."
Duterte: Another extension needed to end rebellion
In a letter dated December 6, President Rodrigo Duterte asked the House of Representatives and the Senate to extend the proclamation of martial law in Mindanao for another year.
The president based his request on the security assessment of the police and military that rebellion still persists in the region.
"A further extension of the implementation of Martial Law and suspension of the privilege of the writ of habeas corpus in Mindanao will enable the AFP, the PNP, and all other law enforcement agencies to finally put an end to the ongoing rebellion in Mindanao and continue to prevent the same from escalating in other parts of the country," Duterte said in the letter.